McConnell, GOP and Trump Will Have 'Hell to Pay' If They Don't Pass Universal Background Checks, Pelosi Says
In Democrats' continued push to pressure Senate Republicans and the White House to support increased gun control legislation, House Speaker Nancy Pelosi said Monday that GOP members of Congress and President Donald Trump would have "hell to pay" if Congress fails to pass universal background checks.
"Some of the gun violence prevention groups have made it — upped the ante even further to say that, if this bill is not passed, Mitch McConnell and the Republicans in the Senate and the president will have hell to pay," the California Democrat said at a press conference flanked by other top lawmakers, including Senate Minority Leader Chuck Schumer. "So, let's save time. Let's just get it done — now."
Monday marked the end of Congress' 6-week summer recess, and Democrats made it clear they hope to refocus the national attention on gun control bills following several mass shootings that took place during the lengthy hiatus. On the table are so-called "red flag" laws to address mentally ill people owning firearms, limitations on magazine capacities for assault-style weapons, and, most importantly for Democrats, increased background checks to include nearly every private and commercial transaction involving a gun, eliminating the gun show and online loopholes. All of the policies will be discussed during a hearing by the House Judiciary Committee on Tuesday.
But even though it's been more than one month since more than two dozen people were killed in separate shootings in Texas and Ohio, Senate Republicans have still not pinned down what can pass the GOP-controlled chamber and what the president will sign. Majority Leader Mitch McConnell has made it clear that the ball is in Trump's court as he awaits for the president to signal which measures, if any, he should put up for a vote.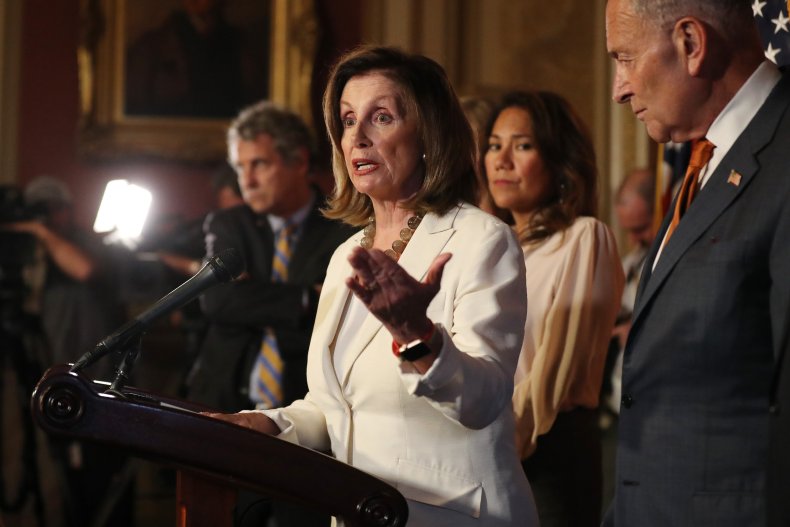 "I've spoken to [Trump] a few times in the last month. And he's all over the lot," said Schumer, a New York Democrat. "I mean, he tells people right after an incident, 'I'm going to get the strongest bill ever.' And then he fades back from that. But the pressure is not going away."
Schumer insisted pressure continues to grow for Trump and McConnell, despite no major changes having taken place since Democrats started lobbying their GOP colleagues to take immediate action.
"It keeps growing and growing because there's more gun violence. Look at the number of incidents that occurred while we were away," he said. At least three mass shootings occurred in August, killing 38 people. "It's a different era. Never have we had 93 percent of the American people for background checks. Never have we had 80 percent of gun owners for background checks. Never have we had so many people in the [National Rifle Association] for background checks."
Trump's public position throughout August on which gun control measures he supported heavily wavered between aggressively advocating for increased background checks to saying lawmakers should only focus on mental health policies because the country already had strong enough background checks in place.
Congressional Democrats have demanded McConnell allow a vote on a House-passed universal background check bill from February, something the Kentucky Republican has said will not occur unless Trump gives the go-ahead because the effort would otherwise be futile with the president's veto power.
"This just sits with Mitch McConnell at his desk, gathering dust, and we know that it is the Republican leader and the Republican president who can do something about it," said Senator Debbie Stabenow (D-MI). "Not point fingers at each other but actually take action to do something about it.
During his first remarks made on the Senate floor after returning from recess, McConnell made no mention of gun control legislation.
"What courage does it take to support legislation that will save lives?" Pelosi said. "So, here we are once again, asking the 'Grim Reaper,' and informing the 'Grim Reaper' that this bill is—these bills are alive and well in the public, that public opinion, public sentiment will weigh in. And as I have said, in our meetings across the country, we will make this issue too hot for him to handle."
Representative Veronica Escobar (D-TX), Senator Sherrod Brown (D-OH) and Dayton, Ohio, Mayor Nan Whaley were also present for the press conference.