McConnell Says 'Highly Unlikely' GOP Majority Selects Biden SCOTUS Pick in 2024 As Liberals Push Breyer Retirement
Senator Minority Leader Mitch McConnell suggested Monday that if Republicans were to retake the chamber, they'd likely block President Joe Biden from filling a Supreme Court vacancy.
Speaking to conservative radio host Hugh Hewitt, McConnell said it would be "highly unlikely" that a Republican-led Senate would allow Biden to put a new justice on the high court in 2024—the year the next presidential race will take place.
"In fact, no, I don't think either party if it controlled, if it were different from the president, would confirm a Supreme Court nominee in the middle of an election," McConnell told Hewitt.
The Republican leader was asked if a GOP majority would take the same route in 2024 as it did in 2016 when it blocked President Barack Obama's nomination of Merrick Garland to fill the seat vacated by late Justice Antonin Scalia.
The GOP abandoned its own precedent last year when President Donald Trump filled the vacancy left by the death of Justice Ruth Bader Ginsburg just months before the November election.
"What was different in 2020 was we were of the same party as the president," McConnell said Monday.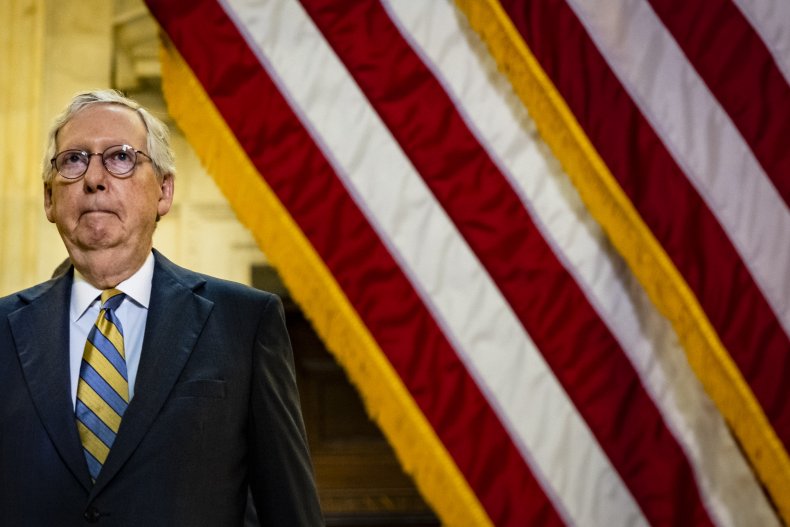 Hewitt then asked McConnell if a Supreme Court justice were to retire in 2023, and there are 18 months before the presidential election, would a Biden nominee get "a fair shot at a hearing?"
"Well, we'd have to wait and see what happens," the Kentucky senator responded.
McConnell's remarks come amid a push from liberals for Justice Stephen Breyer to retire when Democrats have the advantage in the 50-50 split Senate. Breyer, who was appointed to the bench by President Bill Clinton in 1994, is now the oldest judge on the bench.
The "Breyer Retire" effort was launched by the group Demand Justice in April to push the 82-year-old justice to step down so Biden can appoint the first Black woman to the court.
Mondaire Jones, a Democratic congressman from New York, was one of the first lawmakers to call on Breyer to abdicate his seat so the party could place a younger liberal on the bench.
"There's no question that Justice Breyer, for whom I have great respect, should retire at the end of this term. My goodness, have we not learned our lesson?" Jones told Cheddar News in April.
When asked about whether Breyer should step down before 2024, New York Representative Alexandria Ocasio-Cortez said Sunday she would "probably lean towards 'yes.'"
"I would give more thought to it, but I'm inclined to say yes," Ocasio-Cortez told CNN's State of the Union.
But the White House said in April that Biden wouldn't pressure Breyer to retire.
"He believes that's a decision Justice Breyer will make when he decides it's time to no longer serve on the Supreme Court," press secretary Jen Psaki told reporters.
Newsweek reached out to the White House for a response to McConnell's remarks, but didn't receive a response before publication.