McConnell Undecided on Ketanji Brown Jackson After GOP's Child Porn Attack
A little more than two weeks after Senate Minority Leader Mitch McConnell said there was "no question" Supreme Court nominee Ketanji Brown Jackson was qualified to sit on the court, McConnell has made an about face and now has questions for Jackson.
This comes after Missouri Republican Senator Josh Hawley accused Jackson of being lenient on child pornography offenders.
McConnell was grilled Sunday morning on Face the Nation, and says he is now undecided on President Joe Biden's first Supreme Court nominee. McConnell said he will now wait until Jackson's hearing to end before making his decision.
"I'm going to listen to the evidence, I'm going to listen to the hearings, and by the way, she'll be treated much better than Democrats have typically treated Republican nominees like Clarence Thomas and Brett Kavanaugh," McConnell said. "It'll be a respectful, deep dive into her record which I think is entirely appropriate for a lifetime appointment."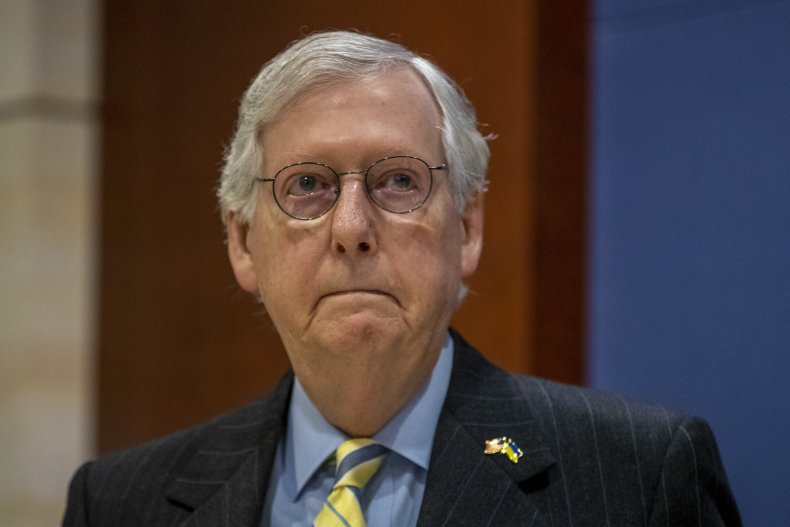 Hawley last week claimed that Jackson has been soft on "child porn offenders" as both a judge and policymaker.
"Judge Jackson has a pattern of letting child porn offenders off the hook for their appalling crimes, both as a judge and as a policymaker," Hawley tweeted on Wednesday. "She's been advocating for it since law school. This goes beyond 'soft on crime.' I'm concerned that this a record that endangers our children."
Hawley's claims have been debunked by some analysts and fact-checkers, but the accusations will likely resurface for Jackson, who looks to become the first Black woman to serve on the highest court in the land.
Illinois Democrat Senator Dick Durbin said Sunday that Hawley's accusations against Jackson were "inaccurate and unfair."
"Judge Jackson has been scrutinized more than any person I can think of. This is her fourth time before the Senate Judiciary Committee," Durbin said on ABC's This Week. "In three previous times, she came through with flying colors and bipartisan support, the last time as soon as just last year."
All of this comes as McConnell, the top Republican senator, revs up for the hearings while retreating from his earlier remarks of there being "no question" Jackson was qualified to serve on the court.
McConnell said he has already spoken with Jackson at his office, and that he asked her opinion about packing the court, to which he said she dodged the question. McConnell also noted justices Ruth Bader Ginsburg and Stephen Breyer, who opposed expanding the court beyond its nine members.
"She wouldn't do that. So, in the meantime, the committee will ask her all the tough questions. I haven't made a final decision as to how I'm going to vote," McConnell said Sunday.
"Typically, these Supreme Court nominees of both parties have never answered any of the questions. What they typically say is that, 'Something might come before me and I don't want to prejudge how I might actually vote,'" McConnell continued.
McConnell last June voted against Jackson's nomination to the DC Circuit Court of Appeals.
Jackson, 51, was nominated by Biden last month. Her hearing begins Monday and is scheduled to conclude Thursday.