McConnell Urges Biden to Name Russia Sponsor of Terrorism After Kyiv Visit
Senate Minority Leader Mitch McConnell urged President Joe Biden to label Russia a state sponsor of terrorism following his visit to Ukraine's capital city this weekend.
McConnell made the remarks just days after Senators Richard Blumenthal, a Connecticut Democrat, and Lindsey Graham, a South Carolina Republican, introduced a resolution calling for the Russian Federation to be designated as such.
"I think it's a good idea and I would support that," McConnell told reporters Sunday in Stockholm when asked about the resolution, according to The Hill. "The president could do it on his own and I would urge him to do it."
The U.S. state sponsor of terrorism label is one of the most prominent diplomatic sanctions, and is reserved for countries who have "repeatedly provided support for acts of international terrorism," according to the State Department. Only four countries are currently designated as state sponsors of terrorism: North Korea, Cuba, Syria and Iran.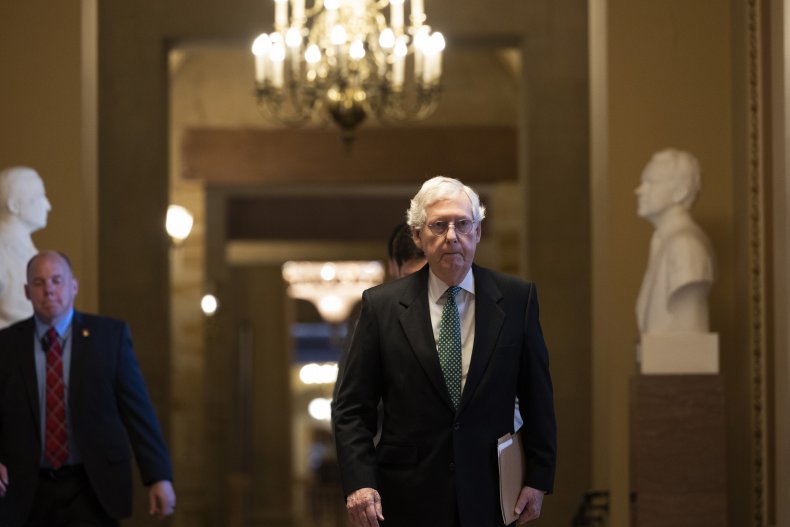 In response to the resolution Tuesday, White House officials said it's looking into giving Russia the designation, but noted that specific sanctions that come with the label, including trade restrictions, arms embargoes and foreign aid suspensions, have already been imposed against Moscow.
"We'll continue to watch and to determine whether Russia's actions in Ukraine merit and qualify for additional authorities" beyond the sanctions already put in place, State Department spokesman Ned Price told reporters on Tuesday, according to CNBC. "If we feel those authorities are appropriate, we won't hesitate to apply them."
McConnell's support for the resolution came a day after he met with Ukrainian President Volodymyr Zelensky in Kyiv. The Kentucky Republican joined several other GOP lawmakers to pledge support for the war-torn nation, calling the effort "overwhelmingly bipartisan."
Last week, he urged both sides of the Senate to pass a new $40 billion aid package for Ukraine after the House of Representatives approved the bill. However, that package was temporarily halted after Kentucky Republican Senator Rand Paul refused to vote for it unless it contained a provision to assign an inspector general to oversee how the money is spent.
Even with Paul's objection, the Senate is expected to pass the aid package with majority bipartisan support sometime this week. McConnell said Sunday that it could be approved as soon as Wednesday.
"I think it's important for the United States to help, important for the free world to help, important for the Ukrainians to win, and hopefully not many members of my party will choose to politicize this issue," he added.
Since the war in Ukraine began in late February, Russia has been accused of committing grim war crimes, including massacring innocent civilians and attacking schools, homes, and hospitals.