Zelensky Shares Video of Meeting McConnell in Kyiv While Paul Stalls Aid
As Republican Senator Rand Paul stalls U.S. aid for Ukraine, Ukrainian President Volodymyr Zelensky said a visit from Senate Minority Leader Mitch McConnell signals bipartisan support for the country.
McConnell joined several other Republican lawmakers in Kyiv Saturday to show support for the war-torn nation. Zelensky shared a video of the meeting on social media, which also shows GOP Senators Susan Collins of Maine, John Barrasso of Wyoming and John Cornyn of Texas walking throughout the capital city.
"The visit of the U.S. Senate delegation led by the leader of the Republican minority in the upper house of Congress Mitchell McConnell is a strong signal of bipartisan support for Ukraine from the United States Congress and the American people," Zelensky wrote on Instagram. "Thank you for your leadership in helping us fight not only for our country, but also for democratic values ​​and freedoms. We really appreciate it."
McConnell has condemned the war in Ukraine since Russia first invaded the country in late February. In a rare show of unity with Democrats, the Kentucky Republican encouraged "both sides" of the Senate to pass an additional aid package for Ukraine after the House of Representatives approved $40 billion in new assistance.
"I strongly support the next package of lethal military assistance, which the House has passed with an overwhelming bipartisan majority," the Senate minority leader said Thursday on the Senate floor. "I hope the Senate can reach an agreement to consider and pass this legislation today. The Ukrainians need it. We need to do it today."
However, Paul halted the package until next week by refusing to vote for the measure unless it contained a provision to assign an inspector general to oversee how the money is spent. He was the sole Republican senator to break with McConnell.
"No matter how sympathetic the cause, my oath of office is to the national security of the United States of America," Paul, who also represents Kentucky, tweeted Friday. "We cannot save Ukraine by dooming the U.S. economy."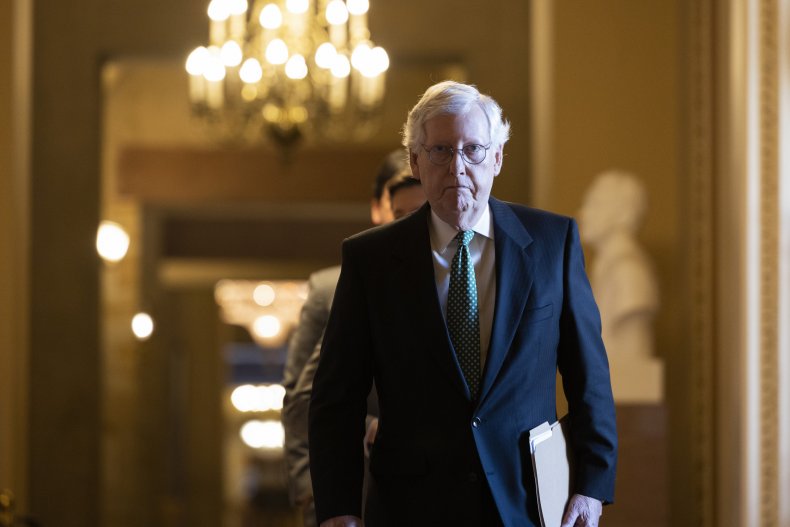 In a later interview, Paul added that that the U.S. doesn't need to be a "sugar daddy" for Ukraine or act as the world's "policemen." His comments were met with criticism from Democrats and Republicans, with McConnell urging him to consider how aiding Ukraine effects U.S. national security.
"It's clear from the junior senator from Kentucky's remarks, he doesn't want to aid Ukraine," said Senate Majority Leader Chuck Schumer, a New York Democrat, according to CBS News. "All he will accomplish with his actions here today is to delay that aid, not to stop it."
Even with Paul's objection, the Senate is still expected to pass the aid package next week, with Schumer forced to take procedural steps before sending it to President Joe Biden, according to The Washington Post.