McDonald's Employee on the Run After Shooting Manager: Police
A McDonald's employee is on the run after he allegedly shot his manager during an argument at a restaurant in Georgia, according to police.
The employee, later identified as 21-year-old Christopher Jean-Pierre, has been on the run since the shooting happened at a McDonald's on Moreland Avenue in Atlanta on Friday, June 3, police said.
According to the Charlotte Observer, police arrived at the McDonald's at about 4:15 p.m. local time and found a woman had been shot multiple times.
The woman, later identified as manager Elizabeth Williams, was taken to the hospital in a critical condition, WSBTV reported.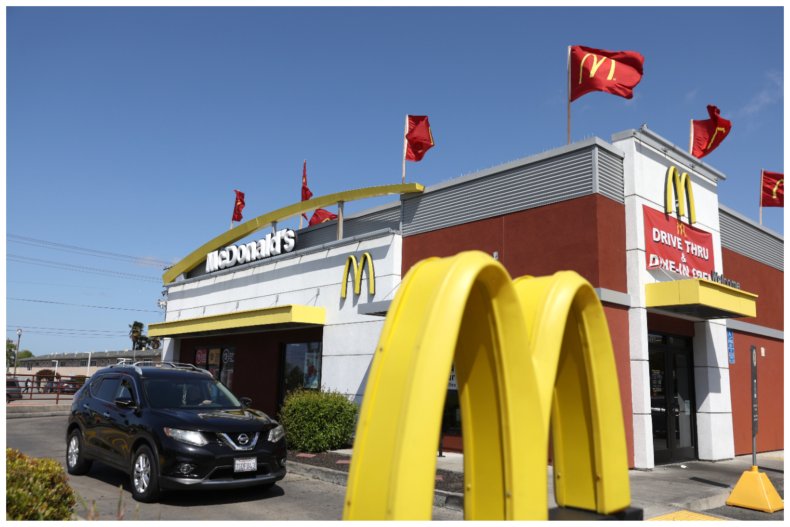 According to the Gun Violence Archive, a database that collects information about shootings from across the U.S., there have been 77 gun-related incidents in Atlanta this year that have resulted in injury or death.
Police said Jean-Pierre got into an argument with his manager and was asked to leave, the Charlotte Observer reported.
Police said Jean-Pierre later returned to the restaurant and confronted the manager outside before he allegedly shot her several times.
He then fled the scene of the shooting and has not been seen since, according to the outlet.
Jean-Pierre is wanted on counts of aggravated assault, aggravated battery, criminal attempt to commit murder as well as several other charges, police said.
Danesha Smith, the owner of the McDonald's told McClatchy News: "Our top priority is always the safety and well-being of our employees and customers at our restaurants.
"We are deeply disturbed by this incident and our thoughts are with our employee at this time. We are fully cooperating with local law enforcement in their investigation."
Anyone with any information about where Jean-Pierre is has been asked to call the police or 911.
Newsweek has contacted the Atlanta Police Department and McDonald's for comment.
The National Safety Council said every year millions of Americans report having been victims of workplace violence.
It added that, in 2020, assaults in the workplace resulted in 20,050 injuries and 392 fatalities.
Newsweek has reported on numerous cases where shootings have happened at fast-food restaurants.
On May 13, McDonald's employee Britrain Marcelus Gray, 23, was shot and killed at a Maryland drive-thru. Police said they believed Gray had been targeted.
In April, a Jack in the Box employee was shot during a dispute about dipping sauce after a customer become irritated when they were told they would be charged more for extra buttermilk sauce.
In May, a shooting happened at a Taco Bell drive-thru at a Santa Rosa Taco Bell after two men got into an argument while they waited for their food.