McDonald's Apologizes for Stopping Man Adding Cheese to a Vegan Burger
McDonald's refused to serve a man a slice of cheese because he ordered a vegan McPlant, with a video of the interaction racking up millions of views online.
Louis Wright, a vegetarian, says he was denied the request when placing an order for the meat-free burger, so he decided to go back and try again, and this time he was filming.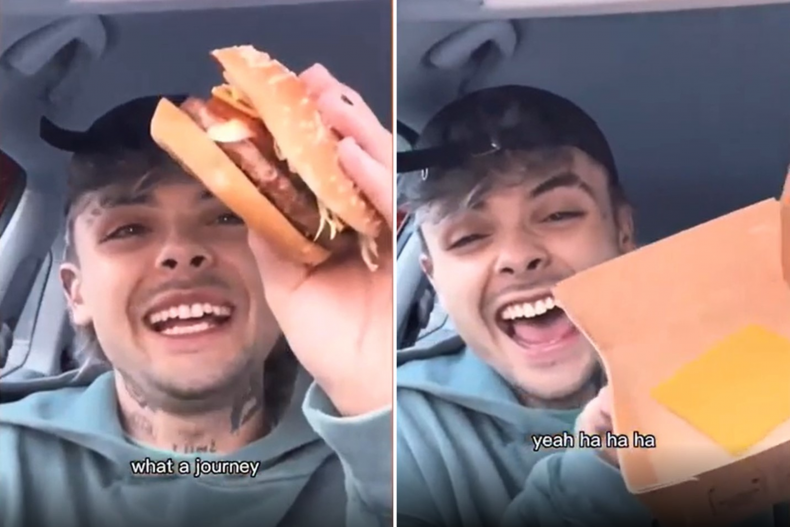 Wright, from England, told Newsweek: "I'm a vegetarian so I love the McPlant. I just don't like vegan cheese, and I've never had a problem before swapping it out.
"I've done it multiple times at other McDonald's and have never had a problem before."
The McPlant, the fast-food giant's first plant-based burger option, launched fully in the U.K. on January 5, 2022.
The website describes it as: "A vegan burger made with a juicy plant-based patty co-developed with Beyond Meat featuring vegan sandwich sauce, ketchup, mustard, onion, pickles, lettuce, tomato, and a vegan alternative to cheese in a sesame seed bun. Vegan certified."
McDonald's says the vegan cheese in the McPlant is made from "coconut oil and pea protein. It's a vegan slice that melts and tastes great."
Wright shared the order fail to his TikTok account, @itsyourboylouis, where it has received more than 10 million views since being posted on Tuesday.
In the footage, Wright orders a medium McPlant meal at a drive-thru, and asks for the vegan cheese to be replaced with regular cheese. But he's told the request can't be fulfilled, as it "goes against the whole vegan thing."
Undeterred, the musician then asks for the McPlant with no cheese, but asks for a single slice of regular cheese to be sold separately.
Initially, Wright was told the order was fine, and after paying for it, a worker then comes over and says: "You can't do that, I'm afraid, because it's a vegan product."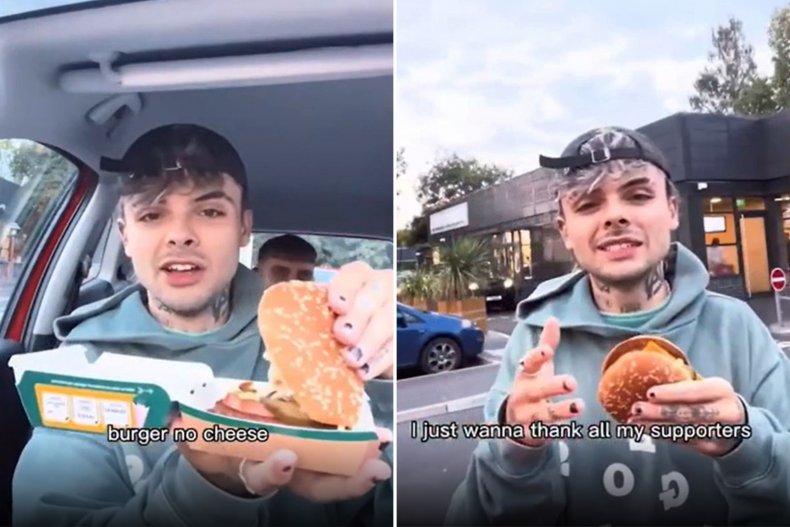 Wright says he will pay for a full-price cheeseburger, in a separate box, but wants only the cheese. However, his request is still denied.
"I'm talking separate product now," he says to staff, "so having the McPlant, no cheese, then I'll have a cheeseburger with nothing except for the cheese in a box. I'll pay full cheeseburger price."
Another worker, said to be the manager, then comes over and says they won't sell him the items separately.
"I'm not going to sell it to you," the man says, as Wright replies: "That's not for you to say whether I can put the cheese in my burger or not."
"You can't put normal cheese in the burger," the man says.
A spokesperson for McDonald's told Newsweek that their guidance on vegan products may have been "misinterpreted" on this occasion.
The spokesperson said: "We apologise that the customer was disappointed with their experience on this occasion.
"Our McPlant is a Vegan Certified product, and we understand that the team member was following our advice to restaurants, which is not to customise the product with non-vegan ingredients to protect its integrity.
"However, we accept the guidance may have been misinterpreted on this occasion, and the restaurant team have been made aware. We'd encourage the customer to contact our customer services."
The clip ends with Wright not being served the cheese, as he told Newsweek: "I think when it comes to dietary requirements and ethical decisions, the restaurants and food venders should take very high attention to detail, hence why they wouldn't serve me the real cheese in the burger, due to it being dairy-free (I assume.)
"Due to this, I suggested the idea of just serving the cheese separately, which I did not think would be an issue (I was wrong). The restaurant has a duty of care, which I understand, but the final decision is made by the customer on what they consume."
Wright added he thought he should have been served the cheese, but said: "I think as a society we have created this 'suing' culture, which has caused people (like this manager) to be so concerned with being in trouble that it's caused such an illogical reaction."
The chart below, provided by Statista, shows America's fastest drive-thrus.
"I would like to add that I don't wish any trouble to come to this manager," Wright said. "He was obviously having a bad time and seemed too proud to back down, but it's cool. I wish him the best. I do want my cheese next time, though."
A follow-up clip shared to his TikTok shows Wright trying another drive-thru, which sold him the McPlant and a separate slice of cheese.
The viral video struck a chord with TikTok viewers, as Pixels & Purls Embroidery Kits wrote: "It's almost like vegetarians don't exist."
Liv commented: "This is so dramatic. "It's not vegan if it has cheese" like I'm not vegan I'm vegetarian. I want cheese."
And TikToker Ng0115ng wrote: "Ask for a cheeseburger with vegan cheese."