McDonald's Fan Says 'Request Round Egg' As Staff Show How Scrambled Is Made
A man claiming to be a McDonald's worker has revealed exactly how they make their scrambled eggs, part of the chain's iconic breakfast menu.
The man, who goes by name of Tizzy Tay, shared a clip to his TikTok page, @ayehoes_itstay, last month as he filmed the entire cooking process.
"McDonald's scrambled eggs are made like this," the on-screen text says, as it shows him putting down a rectangular mold on top of a grill.
He squirts liquid on top, believed to be butter, before grabbing a carton of egg mixture and pouring it on top, stopping to grab another carton after the initial one ran out.
Tay adds lashings more of what's thought to be butter, along with what looks like water, as he gently simmers the eggs.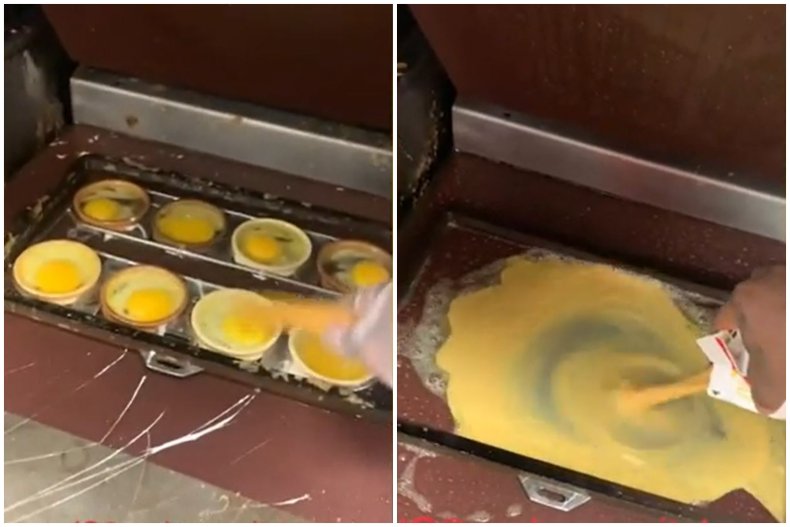 Using a plastic tool he ensures the eggs don't stick, as he separates the mixture while it cooks.
Finally the cooked eggs are transferred onto a recognizable serving dish, as he portions it up and takes it to where cooked food is stored, ready to be served.
"#Mcdonalds scrambled eggs are made like this," he captioned the video, which has amassed more than 3.5 million views.
Tay shared a few other videos showing various cooking processes, including two more scrambled egg clips.
While he also filmed the round folded egg preparation, cracking an egg into the signature round mold for the former, available in breakfast McMuffins.
But it was the scrambled method that attracted the most attention. Commenting on the viral video, Dan Hopps joked: "Yeah I'll take some egg product with my butter thanks bro."
Cassie Ching thought: "Like making prison license plates but edible???"
Yeetyeet pointed out: "Ofc it's made like that, it's McDonald's, not a fancy 5 star restaurant."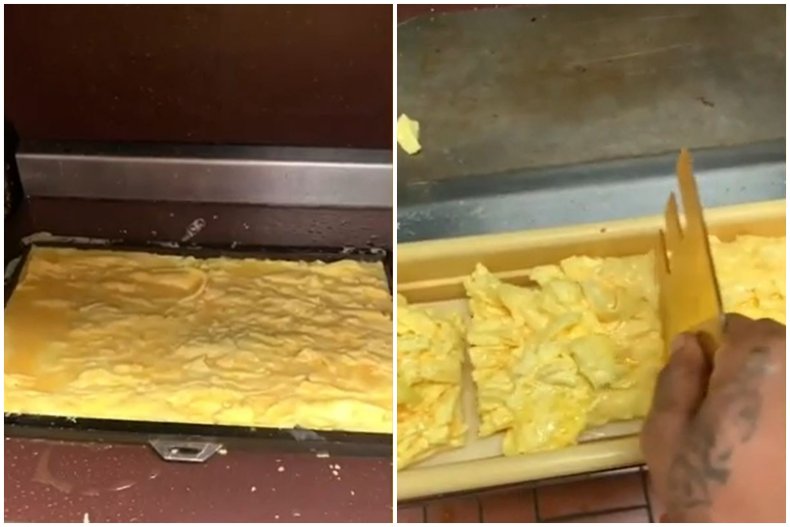 Jasmine Lashay advised: "Working there in my high school days, just request round egg. It's the real egg."
Seattle.Food.Diva said: "So they're made fresh on site when ordered? Perfect."
Layy layy commented: "Add some salt, pepper, and cheese and we good."
KayKay replied: "Enough butter dawg we don't even use that much."
Yongul replied: "People littéraly bent over them actually preparing Their eggs. You can buy liquid egg in the damn store what's the diff."
Andress Patino said: "That's how I make my eggs beat 'em in a bowl into a yellow liquid then pour Into a hot surface."
Alex reckoned: "No wonder they taste fake."
Blondew7personalities wrote: "Just scrambled eggs in a Carton looks bussing."
While Zach added: "Mmmm satisfyingly disgusting. Let's not pretend we didn't already know this."
McDonald's serves up a variety of egg styles in their breakfast menu, including round, scrambled, folded and sausage burrito eggs.
Its website claims each menu item sees the eggs cooked a little differently, explaining for scrambled: "Our scrambled eggs are made with liquid eggs that are cooked fresh on our grill with real butter."
While the site's FAQs confirmed they use "liquid real butter" to prepare the scrambled version, matching the method seen in Tay's clip.
The scrambled eggs are a key component in McDonald's big breakfast, which the site described as: "Our full, satisfying Big Breakfast is perfect for any morning.
"Wake up to a breakfast meal with a warm biscuit, fluffy scrambled eggs, savory McDonald's sausage, and crispy golden hash browns."
While there's also an option to add hotcakes to the dish, which has 750 calories, at certain restaurants.
A spokesperson for McDonald's confirmed to Newsweek all their breakfast items are made with "real eggs," stating it's merely the preparation method which differs.
They said the round eggs use "USDA Grade A, freshly-cracked egg" in a ring to achieve the "iconic round shape" to fit the McMuffins.
The folded eggs use "pre-cooked" ingredients which are prepared on the grill, as the spokesperson claimed the cooking method in Tay's clip "is not reflective of McDonald's gold standard procedures."
The spokesperson also clarified the scrambled eggs are cooked fresh on the grill—with real butter.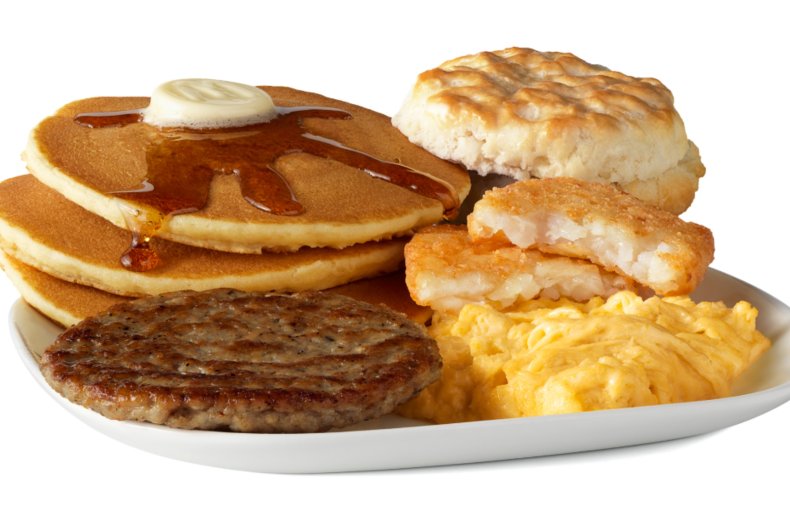 Update 6/9/22, 5:26 a.m. ET: This article was updated with additional information, comment from McDonald's, and videos and photos from @ayehoes_itstay.