McDonald's Worker Says Customer Accosted Her Over $1 Price Hike
A McDonald's employee is tired of verbal abuse over the company's price tags, she said in a video that went viral this week.
Jade Fisher, a 20-year-old drive-thru worker, said a customer berated her over the price of an iced coffee on Monday. Her video about the incident has garnered 480,000 views on TikTok.
"This lady just came through here and ordered six hazelnut iced coffees," Fisher said. "So I ring them up, I tell her the price. She's like, 'Oh, they're supposed to be $1.'"
Fisher replied that the drinks actually cost $2.29 each. The customer pushed back, saying they had cost her $1 at the same drive-thru that morning.
The employee explained that iced coffees were $1 each in the morning as part of a promotion, but went up to $2.29 after 10:30 a.m.
According to Fisher, the woman responded, "Y'all have it advertised as $1, so you need to sell it to me as $1."
Fisher said she would check with her manager about any other promotions—none applied. The customer continued to accost her, yelling in her window, "You need to give them to me for $1!"
Record inflation has taken a hit on the drink deals at McDonald's restaurants. For years, the U.S. value menu has offered soda and other cold beverages of any size for $1 each—a promotion that withstood the 2008 financial crisis and much of the COVID-19 pandemic.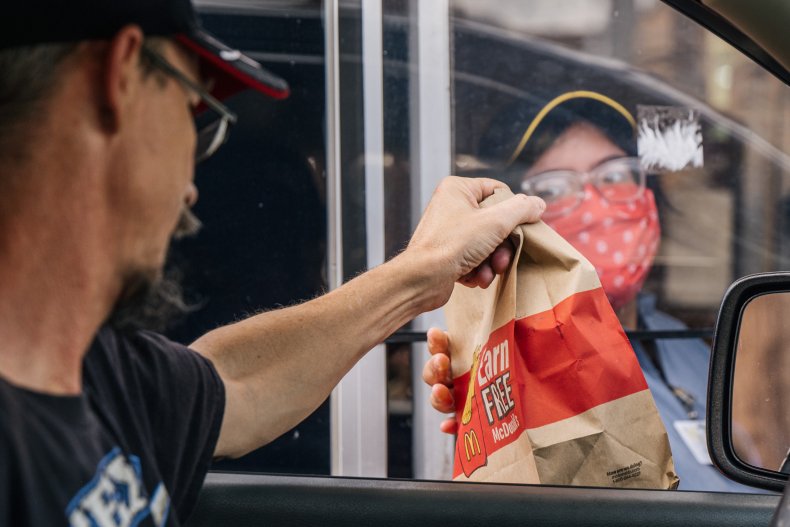 But amid rising food, paper and labor costs, some franchisees have ditched the deal in recent months. Out of the company's 56 U.S. markets, 16 have voted to advertise the McDonald's value menu rather than the dollar drinks, according to a report in the Wall Street Journal. Though $1 drinks still exist at many restaurants, some are turning the deal into a limited-time promotion.
While inflation dipped slightly in July, food prices continued to soar. The price of food was up 10.9 percent from July 2021, according to the Bureau of Labor Statistics.
Fisher vented in a follow-up video, "Inflation is a real thing."
"I don't understand why people get mad at the workers," she said. "We don't make the prices. You go talk to corporate, and corporate's going to tell you exactly what I'm saying: Inflation."
TikTok viewers rallied to support the drive-thru worker.
"I don't know what century people think they are in, but from what I know nothing is a dollar anymore!!!" said a viewer.
Many users said they also worked in the food service industry and experienced similar confrontations.
"They always complain about the prices as if we can just control them," said one commenter. "It's not our fault that the prices go up and there isn't anything that we can do."
Newsweek reached out to Fisher and McDonald's for comment.