Meadows Will 'Rat Trump Out' in DOJ Jan. 6 Probe, Glenn Kirschner Predicts
Former federal prosecutor Glenn Kirschner predicted Friday that Donald Trump's former White House chief of staff Mark Meadows will "rat" the former president "out" to Justice Department investigators as part of the probe into January 6, 2021.
CNN reported on Thursday that Trump had been told by advisers to "cut contact" with Meadows, who is seen by some legal analysts as a potential key witness against the former president. The news organization also reported that Trump's legal team "is in direct communication with Justice Department officials" in connection to the January 6 probe.
Kirschner, who now works as a legal analyst for MSNBC and NBC News, and has called for Trump's indictment, cited this reporting by CNN in a video shared to YouTube and Twitter on Friday. He said that the former president's attorneys talking with the Justice Department was a "last ditch effort" to prevent an indictment. The legal expert also pointed to reporting by Rolling Stone that said Trump's legal team is attempting to place blame for any alleged criminal behavior on "fall guys."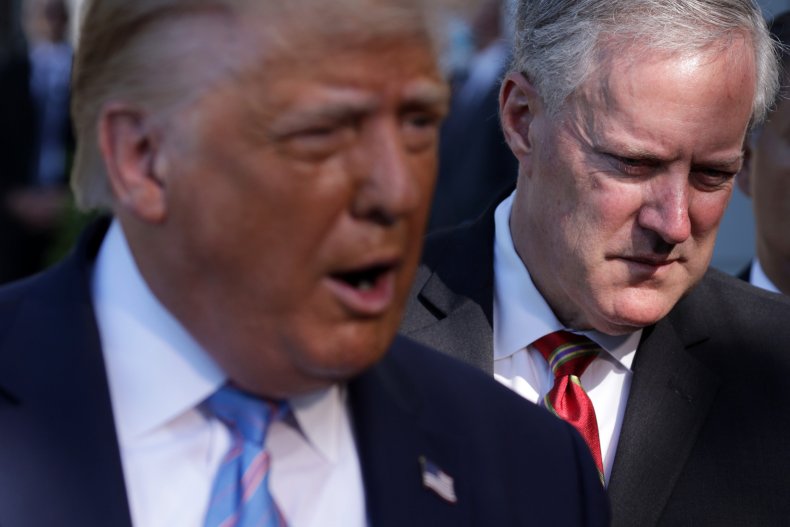 "Who is one of the marquee fall guys?" Kirschner asked. "Mark Meadows."
"And do you really think Mark Meadows is just going to sit quietly by and take the fall for Donald Trump? Maybe just volunteer to dive under the bus? No," the attorney added. "He's going to cut his losses. He's going to cooperate. He's going to flip. He's going to turn state's evidence. He's going to rat Trump out. He's going to snitch."
Newsweek reached out to Trump's press office for comment.
The ex-president says that he did nothing wrong on January 6 or in his effort to overturn President Joe Biden's election win. Trump continues to also say that the election was "rigged" or "stolen" from him. He describes all investigations targeting him and his allies as part of a partisan "witch hunt."
Despite Trump's claims, no evidence has emerged showing the 2020 election was fraudulent. To the contrary, dozens of legal challenges brought by the former president and his allies failed in state and federal courts. Meanwhile, audits and recounts consistently reaffirmed Biden's win.
Top Trump administration officials and prominent Republicans have repeatedly said that there is no evidence that the election was stolen. Former Attorney General William Barr, who was widely viewed as one of Trump's most loyal Cabinet members, has called the claims of widespread voter fraud "bullsh*t."
Whether Trump will face an indictment from the Justice Department remains to be seen. Attorney General Merrick Garland has been tightlipped publicly about the investigation. At the same time, Garland has said that nobody is off limits in the probe.
"No person is above the law in this country. I can't say it any more clearly than that," he said in July. His remark came in response to a question about whether the Justice Department would hypothetically indict a former president.
Charging a former president would be an unprecedented step in the United States since no former head of state has ever been indicted for a crime. While some analysts have warned about the repercussions of such a move, Kirschner previously warned that the ramifications of not doing so would be worse.
"It's time for the Department of Justice, it's time for our federal government writ large, to take the maiden legal voyage and hold a criminal former president accountable for his crimes," Kirschner said.
The former federal prosecutor said that if Trump is not prosecuted, it would be like giving the former president "a pass." He also said it would be a pass "from everything from obstructing an official proceeding up to and potentially including treason."
"That sends the unmistakable signal to all future presidential candidates or presidents seeking to retain power after they lost the election that they have DOJ's permission to do everything Donald Trump did to either acquire power or retain power," Kirschner said. "And I don't think our nation can, you know, survive another go around of that."
Barr in comments to CBS News on Friday assessed that evidence is "building" against Trump in the January 6 investigation by the Justice Department.
"I'm sure what they're doing is getting deeper and deeper into it," the former Trump administration official said. "So, I think what Merrick Garland is trying to do here is trying to say, 'Hey look, I am looking hard at this, and if we find any crime, we will prosecute it.'"