Trump 'Demonstrably Guilty' of Crime on Jan. 6: Laurence Tribe
Laurence Tribe, professor emeritus of constitutional law at Harvard University, said Saturday that he believes Donald Trump is "demonstrably guilty" of committing a crime on January 6, 2021, listing several possible charges the former president could face from the Justice Department.
Although it was long known that the Justice Department was criminally investigating the events of January 6 and efforts to overturn the 2020 election results, The Washington Post first reported on Tuesday that Trump's actions were being looked into as part of that probe. Meanwhile, the House select committee investigating the Capitol riot has held eight publicly televised hearings laying out what many analysts view as damning evidence and testimony against the ex-president.
Tribe, who has previously predicted Trump will face indictment, gave an assessment of the information that has become public during an interview with Australia's National Public Radio on Saturday. The legal expert said Trump appears to have "corruptly" interfered to obstruct an official proceeding on January 6.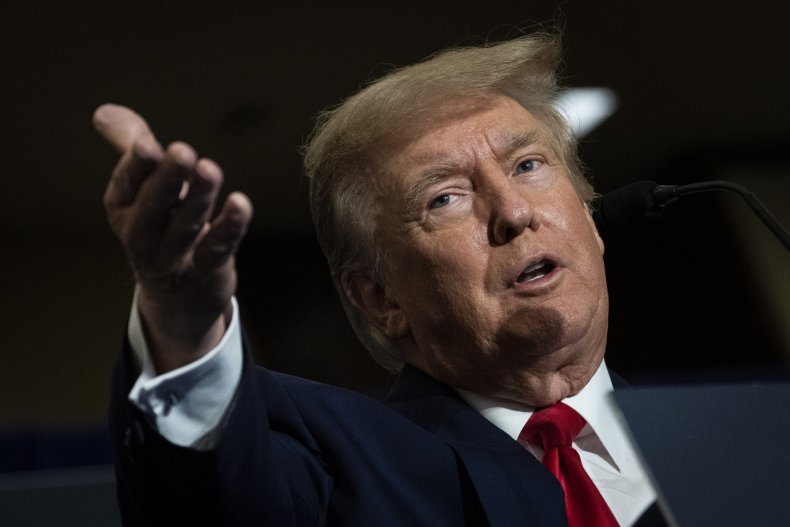 "He is, I think, demonstrably guilty—and the evidence of course needs to be presented in court and subject to cross-examination—but I think he's demonstrably guilty of obstructing an official proceeding," Tribe said.
Hundreds of Trump supporters attacked the U.S. Capitol on January 6 in an apparent effort to obstruct the formal certification of President Joe Biden's electoral college victory. That attack came directly after Trump told them to walk to the federal legislative branch of government and "fight like hell." The then-president had been spreading misinformation for months, claiming that Biden's victory was fraudulent.
If Trump is ultimately charged with the crime of obstructing an official proceeding, he could face a fine and up to five years in prison if convicted.
Tribe floated the possibility that the former president could also be indicted for seditious conspiracy, saying there was "very strong evidence" of guilt. The constitutional law expert also suggested Trump could face charges of defrauding the country as well as aiding and abetting a violent insurrection.
Trump "is like the arsonist who sets fire to something and then watches it burn, instead of taking the hose that he alone has and putting out the fire," Tribe said, who assessed that it "really looks like" the Justice Department is "gearing up" to indict the former president.
Attorney General Merrick Garland has been tightlipped about his investigation and whether Trump will face charges. However, he said publicly that nobody is above the law.
"No person is above the law in this country. I can't say it any more clearly than that," Garland said earlier this month. He was responding to a question over whether the Justice Department would consider bringing charges against a former president.
The House select committee hearings have featured testimony from former top Trump administration officials. Several have testified how the former president was told repeatedly that his claims about widespread voter fraud were without merit. Others have said that Trump did not want to say or do anything to stop the riot at the Capitol, while some have suggested he was happy that the attack was taking place.
Trump insists he did nothing wrong on January 6 or in his effort to overturn Biden's win. He continues to argue that the 2020 election was "rigged" or "stolen," and that all investigations targeting him or his allies are part of a "witch hunt."
Despite the former president's claims, no evidence has emerged showing that Biden's win was fraudulent. To the contrary, dozens of election challenge lawsuits filed by Trump and his allies failed in state and federal courts. Even judges appointed by the former president ruled against the lawsuits. Meanwhile, audits and recounts—including in areas where the election was overseen by pro-Trump Republicans—have consistently reaffirmed Biden's win.
Former Attorney General William Barr, who was widely viewed as one of Trump's most loyal Cabinet members, has said repeatedly that the claims of widespread voter fraud are "bulls**t."
"I thought, boy, if he really believes this stuff, he has lost contact with—he's become detached from reality if he really believes this stuff," Barr testified before the House select committee.