Mass Shootings and News Media: A Connection?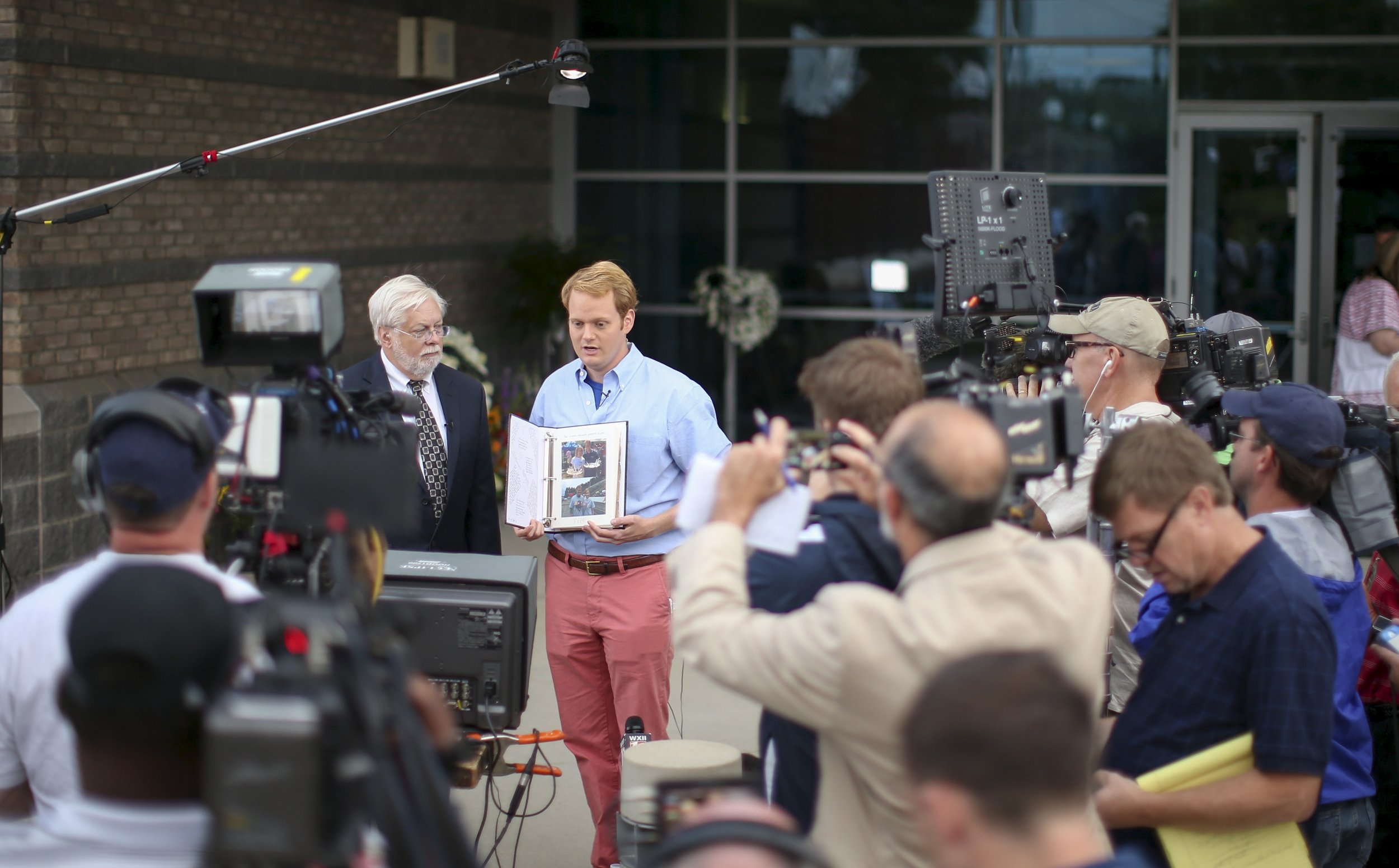 In July, researchers presented a terrifying idea: mass killings and school shootings may be contagious. Using a mathematical contagion model typically applied to the spread of diseases, the study found that 30 percent of mass killings and 22 percent of school shootings appeared to have been inspired by previous events. One possible reason, says lead author Sherry Towers, is media coverage.
"What we found was, in ones that didn't get a lot of media attention there was no contagion, and in the ones where we did see a lot of media attention, that's where we saw the contagion," Towers says.
Towers and her colleagues found that 13 days was the period of contagion in which a copycat killer or shooter might most likely strike. That length of time is problematic in the current media landscape, in which journalists tweet breaking news as it unfolds and seek to scoop other reporters by a matter of seconds.
There are also other reasons reporters who cover mass shootings—such as the one Thursday at Umpqua Community College in Roseburg, Oregon, in which at least 10 people are believed dead—must use caution, journalism experts and gun-violence prevention advocates say. Releasing misinformation or even accurate information too quickly can traumatize or re-traumatize survivors, or innocent people could be identified as suspects, as the New York Post did following the Boston Marathon bombing in 2013.
"Be careful about rushing out with unconfirmed or early information or social media rumors, which turn out to be inaccurate or which will propagate myths," Bruce Shapiro, executive director of the Dart Center for Journalism and Trauma at the Columbia University Graduate School of Journalism, says via email.
Shapiro adds, "Be attentive to the dignity of victims and survivors as you choose images and conduct interviews, and don't get seduced by the rush for 'gotcha' interviews with supposed witnesses or experts who turn out to have little to say."
For local news organizations, Shapiro says, "be prepared for the emotional impact of covering such a tragedy on your reporting teams."
Viewers could see and hear that impact on local Oregon stations Thursday as reporters covered the community college shooting. In August, that was the case as well at WDBJ7 in Roanoke, Virginia, where reporters had to cover the killings of two of their own after on-air shootings.
On the Dart Center website, Shapiro and Dr. Frank Ochberg add that journalists should "screen your experts" and "treat manifestos with caution." ABC News had to deal with the manifesto issue following the Roanoke killings. ABC said it discovered the faxed manifesto two hours after the incident. The outlet contacted the police and provided the fax to them, and only published the manifesto in part.
Outlets were less careful when reporting on Dylann Roof's pseudo-manifesto after killing nine at a church in Charleston in June; Mother Jones and other media published the 2,000-word document in full, even after it was no longer available online in its original form.
Shapiro and Ochberg also write, "To reduce copycats and lionizing, reporters have a special responsibility to portray with precision and accuracy the estrangement of these perpetrators, and to scrupulously avoid language or images that could romanticize their actions."
Broadcast journalist Anderson Cooper took that to heart following the James Holmes movie theater shooting in Aurora, Colorado in 2012, saying on-air, "Before we go any further, I just want to say that I'm only going to mention the alleged shooter's name a few times over the course of this next hour. Too often after a shooting like this the killer's name becomes well known, and months, even years later, the killer's name is recalled, but the victims', the survivors' names are not. I think that's wrong."
Sometimes reporters know information about the shooters even before the police do, as was the case in Marysville, Washington last October, when Jaylen Fryberg shot five friends before killing himself. (Four of the victims later died.) "The media blew up right away," Marysville Police Chief Rick Smith has previously told Newsweek. "They were putting Jaylen's face out on TV way before we really had any information internally."
Laura Cutilletta, senior staff attorney at the Law Center to Prevent Gun Violence, says journalists should not treat mass shootings as one-off stories. "We believe that the media should include in its coverage that 88 additional people will die today due to guns and 274 more will be injured by guns and survive but their lives will be forever changed," she says by email moments after the Umpqua shooting. "These daily gun deaths and injuries receive little attention, but each one is a tragedy that could be prevented."
There are many examples of reporters making mistakes in their handling of mass shootings. Following the Sandy Hook Elementary School shooting in 2012, media initially identified the shooter as Ryan Lanza, Adam Lanza's brother. ABC misidentified the Aurora, Colorado gunman as Jim Holmes, and even suggested there was a tea party connection to the shooting because the network had found tea party-related posts online by a Jim Holmes in Colorado.
Mental health experts from the Centers for Disease Control and Prevention and elsewhere have said that suicide can also be contagious, and reporters must be wary when covering this as well. The World Health Organization and the American Foundation for Suicide Prevention issue guidelines to journalists. Among the suggestions are to withhold information about the suicide itself (such as method of killing and where it happened) and to refrain from using the word "commit," which sounds criminalizing.
"It's important that news organizations learn from past mass shootings," Shapiro says. Sadly, there is no shortage of examples.