Meet the Cuddly Cat Stealing Hearts Online for Years With Her 'Trust Falls'
A man who has been recording his cat's adorable sleeping positions for the last seven years has captured viral attention after his video re-surfaced on Reddit this week.
Shared on Wednesday on the subreddit r/aww, the video shows Nala the cat hilariously "flopping" into her owner's arms multiple times.
Originally shared by Alexander Fredriksen-Sylte in 2015, the new post featuring the video has received over 69,000 upvotes and delighted Reddit users.
"This is incredibly heartwarming and just so cute," said one comment. Another viewer wrote: "The head tilt to snuggle up just a little closer melted me."
A mix of Maine Coon and Norwegian Forest cat, Nala will soon turn 12 years old and is still doing her "flops" today.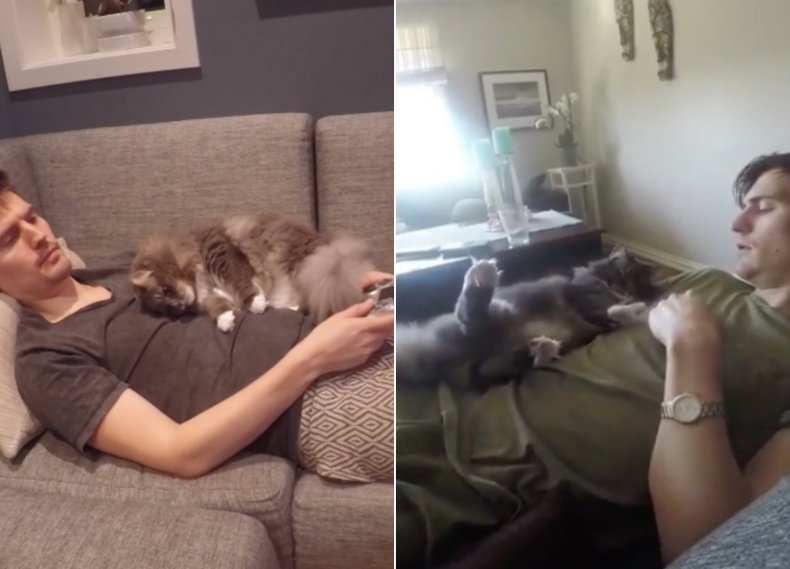 A journalist in Oslo, Norway, Fredriksen-Sylte lives with his family and cat Nala in the countryside just outside of Oslo. He told Newsweek: "I met Nala for the first time in 2013 when I first met my wife and witness her trust fall for the first time. I grew up with cats and remember how surprised I was seeing Nala slide down into the crook of my wife's arm—I had never seen anything like it!"
His wife says that Nala used to sleep on her neck when she was a kitten, and that "the flop" grew from the strong bond they had. Lucky enough to be accepted into the club, Fredriksen-Sylte is a journalist who loves to take pictures and record videos and started recording Nala's adorable behavior.
Cats are often wrongly accused of not being as affectionate as other pets, but in an article for Psychology Today, Jessica Pierce, Ph.D., said that while cats may not obviously show it, they do love their owners and will express their love in different ways. "Cats are very subtle animals," wrote Pierce. "Your cat will show she likes you by hanging around near you. She may sleep next to you or rest her paws on your lap."
Reddit was overjoyed with the re-surfaced clip of Nala. One user wrote: "Not to be dramatic, but I would die for this cat," and another commenter referred to the flop as "trust falls."
In 2020, Fredriksen-Sylte shared a re-created video of the original with updated shots of Nala doing her famous "flop."
When asked why he thinks people love the videos so much, he said: "I imagine that many might experience the same surprise I initially had when I met Nala. Watching videos of pets, babies and good deeds that can bring a smile to your face is something many of us never get tired of. I'm happy Nala can contribute to that and that these videos live on for years."
Nala's fame has reached true world-wide status, the little cat from Oslo has been visited by a Japanese TV crew and has actors following her on Instagram. "It's surreal, but by now we have grown used to the fact that she is the star of the family," said Fredriksen-Sylte.