Meet Spain's New 'Weirdo' Podemos Politicians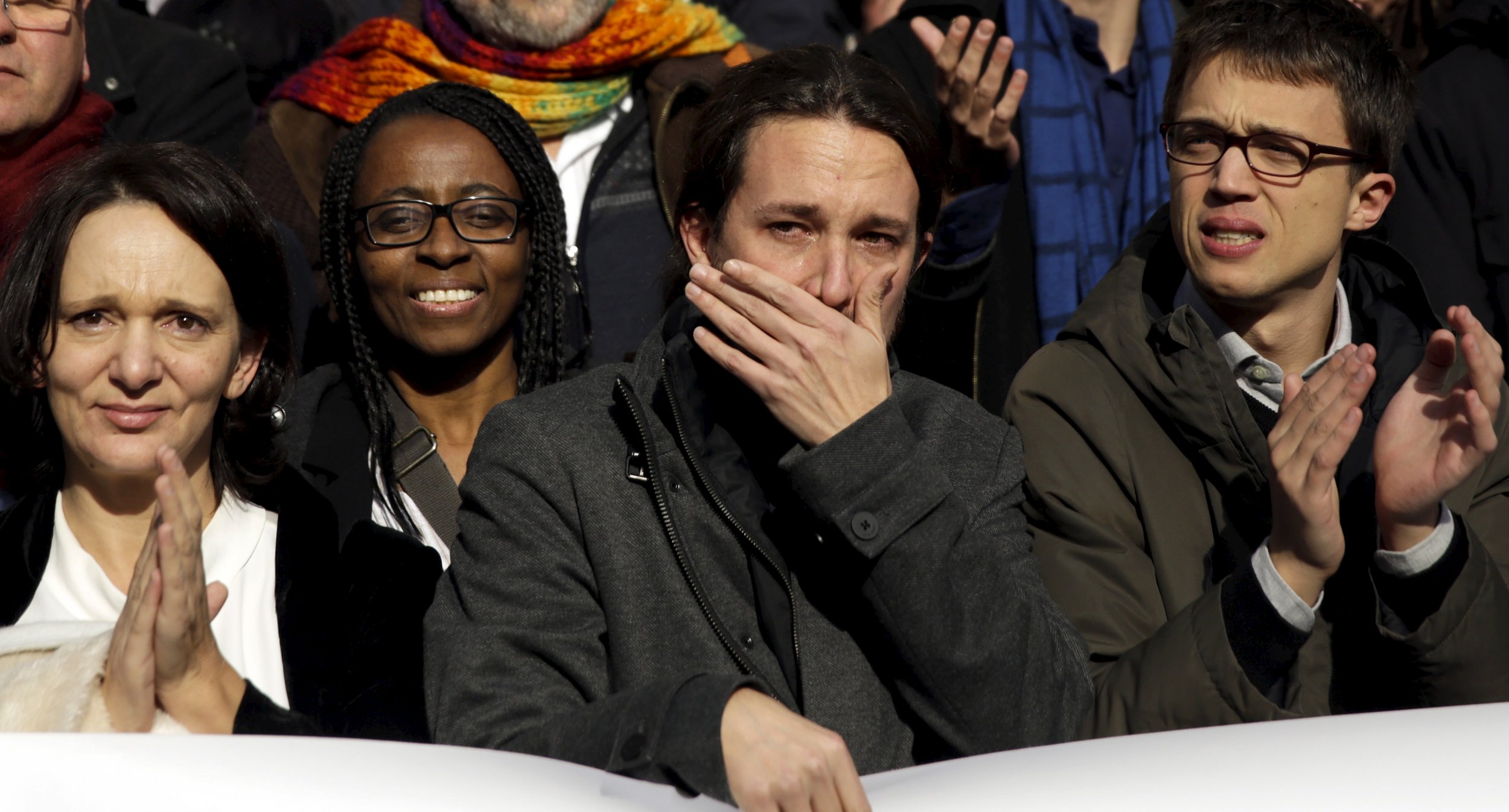 They are the leftist political force whose anti-austerity stance saw them surge to power in Spain's 2015 general election.
The country may still be without a government thanks to an inconclusive result, but one party emerged triumphant from December's general election. Podemos, the far-left party formed in 2014, went from holding no parliamentary seats to occupying 69. It finished third behind the country's two main parties, the conservative People's Party (PP) and its traditional center-left rivals, the Socialists (PSOE), who have alternated power for more than three decades.
Here's all you need to know about the radical new force in Spanish parliamentary politics.
The media love them
"So used to appearing in front of television cameras that they confused Congress with the set of a TV program." That was the verdict of Spanish daily El Pais on the arrival of the 69 Podemos deputies on Wednesday. Given that some chose to arrive flanked by a parade of cyclists, and others at the head of a traditional marching band, the paper might have a point. The fiercest criticism was reserved for Carolina Bescansa, the party's head of political and social analysis, who brought her baby son Diego into the chamber. She was accused by feminist groups and other parties of using her son for a stunt, but Podemos said in a statement that this was "a symbolic gesture to defend women who have to be able to bring together family, personal and work life and cannot do so today."
They have few political friends
A poll published on Sunday in El Pais says that the Spanish electorate would much prefer a coalition government to another round of elections, with 61 percent favoring an agreement between the parties, Reuters reports. But for that to happen, an awkward multi-party marriage must take place. The PP and the PSOE could form a grand coalition propped up by new liberal party Ciudadanos—an option PSOE have ruled out—or PSOE, Podemos and other left-wingers could form a "progressive coalition." The chief obstacle to the latter is Podemos's stance on independence for Spain's northeastern Catalonia region. Podemos would like the region to be able to hold a referendum like the one Scotland ran in 2014, while the PSOE is opposed to the idea.
They have youth on their side
The party's leader is Pablo Iglesias, 37, a ponytailed politics lecturer with no previous experience of public office. A charismatic figure, he made a name for himself via a Russell Brand-esque YouTube discussion show called La Tuerka (a play on the Spanish word for nut or screw). Iglesias has thought hard about how to use the media to the party's advantage. He said of La Tuerka: "It was like our gym... We practiced the techniques of communication that allow people to understand you." Inigo Errejón, a central figure at the top of the party, is 31 but looks younger—at Wednesday's opening of parliament, social media users photoshopped his head onto the body of Bescansa's baby son. Both Iglesias and Ciudadanos leader Albert Rivera, 36, have used their relative youth to drive home their claims to represent a new generation and a new style of politics. But this claim could be at risk due to unconfirmed allegations that the party has received funds from Iran. Iglesias told AFP that Podemos's financial arrangements are clean and transparent and that he would be happy to cooperate with any investigation.
They dare to be different
Podemos MPs don't look like traditional Spanish politicians—a senior PP advisor last year described them as "weirdos". Alberto Rodríguez, the Podemos deputy for Stanta Cruz de Tenerife in the Canary Islands, was openly criticized for his dreadlocks. But, the party appears dedicated to celebrating difference—among the new intake is Rita Bosaho, Spain's first black female member of parliament. "We're going to carry the voice of the people to the institutions," Bosaho tells Newsweek. "Spanish people are diverse and this is going to be reflected in the congress."
They're less radical than you think
Much has been made of Podemos's opposition to the austerity policies of Spain's last center-right government, their dedication to open policy making, and railing against La Casta (The Caste)—the elite which they see as running Spanish politics. An "economic plan for the people" released in 2014 calls for a "restructuring" of Spain's national debt, steps to make the European Central Bank more democratically accountable, and includes a raft of left-wing domestic economic policies such as a higher minimum wage, a 35-hour working week and taxing the rich harder. But Podemos decided before the election to ditch its most radical policies: a call for a basic income for Spanish citizens, plans to nationalize the energy and health sectors, and the possibility of defaulting on some of Spain's debt. Iglesias himself has criticized other left-wing parties for their unwillingness to compromise, and the party has undergone a small but significant shift towards the center ground.
Ones to watch:
Pablo Iglesias, 37, politics lecturer: Podemos's charismatic leader, never afraid of using the media and his fame to get his points across: "Reality is defined by words. So whoever owns the words has the power to shape reality," he once told the Financial Times.
Carolina Bescansa, 42, professor of sociology: One of Podemos's most senior figures, the arrival of her baby in the chamber is unlikely to be her last shot at Spain's political establishment.
Inigo Errejón, 31, doctor of political science: Podemos's baby-faced deputy, tasked with building and strengthening the internal party organization.
Rita Bosaho, 50, former nurse: Spain's first black female MP, who says her personal priorities include tackling gender violence and the refugee crisis.
The outsider:
Juan Carlos Modenero, 53, political scientist: A founding member of Podemos who quit in early 2015 citing the party's increasingly mainstream approach. He now teaches at Madrid's Complutense University where Bescansa, Errejón and Iglesias all worked.