Megan Fox's Reaction to Machine Gun Kelly's Billboard Win Melts Hearts
One of the stand-out moments from last night's 2021 Billboard Music Awards was Megan Fox and Machine Gun Kelly's PDA-filled red carpet appearance.
The new couple provided a number of extremely loved-up photo opportunities at the event and the actress, 36, appeared more in love and proud than ever when her beau was accepting his awards on stage.
The pop-punk singer—whose real name is Colson Baker—won the Top Rock Album for his album "Tickets to My Downfall" as well as the award for Top Rock Artist later in the show.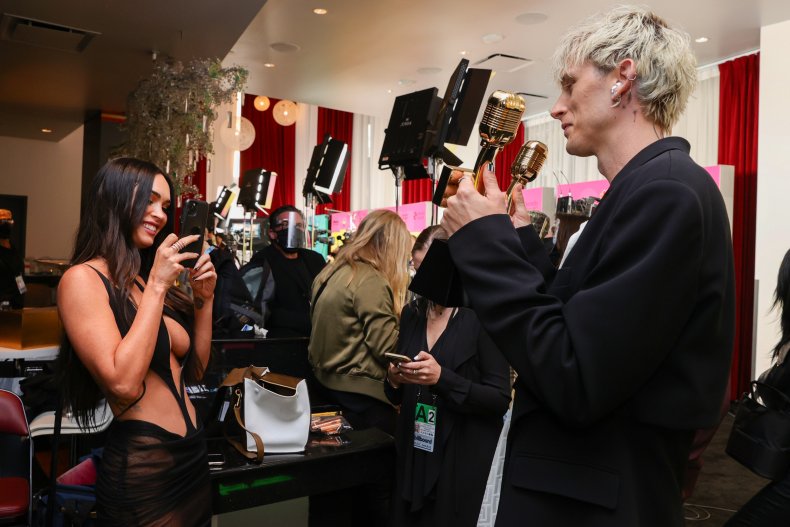 While accepting the award, the singer, 31 thanked his fans, family, and management before gesturing to Fox to give her a shout out as his "twin soul who showed me love."
While he was on stage, Fox was shown watching her boyfriend adoringly and a photo of the moment is going viral and melting fans' hearts.
"Machine Gun Kelly winning an award while Megan Fox looks like this while watching him receive said award is chef's kiss," reads one tweet.
While another added: "now who's doin it like machine gun kelly & megan fox."
"I need someone to look at me the way Megan Fox looks at Machine Gun Kelly," said another.
Similarly, a photo of Fox taking a picture of Baker with his award is proving heartwarming to fans.
As one tweeted: "This picture of Megan Fox taking a picture of Machine Gun Kelly with his awards is so cute!!"
Another added: "megan fox is always so proud of mgk."
Fox had previously called Baker her "twin flame."
"I knew right away that he was what I call a twin flame," she said during an appearance on "Give Them Lala.... And Randall" podcast in July.
"Instead of a soul mate, a twin flame is actually where a soul has ascended into a high enough level that it can be split into two different bodies at the same time. So we're actually two halves of the same soul, I think. And I said that to him almost immediately, because I felt it right away."
The Transformers actress separated from her husband Brian Austin Green last year after nearly 10 years of marriage.
Baker spoke about finding love at first sight with Fox during an appearance on The Howard Stern Show.
"It was my first experience with being open to love and stuff like that," he explained. "I definitely wasn't set up to believe that that's something that could ever exist."