Megan Rapinoe Meets with Senators to Push Forward Equal Pay Plans, Says Currently 'Nobody's Potential is Able to be Reached'
U.S. Women's National Team (USWNT) star Megan Rapinoe sat down with two Washington senators over the weekend to step up her fight for equal pay.
Earlier this month, Rapinoe played a crucial role in helping the U.S. to retain their World Cup title but her impact off the field has been arguably even greater. The 34-year-old has become an outspoken campaigner for equal pay and has strongly criticized President Donald Trump's policies.
On Sunday, ahead of Reign FC's game against the Chicago Red Stars, Rapinoe met Senator Patty Murray (D-WA) and Senator Maria Cantwell (D-WA) in Tacoma, Washington to champion her cause again.
Speaking to the senators, the USWNT's co-captain advocated equal pay not just for women athletes, but across society as a whole.
"I'm very thankful to be in the position to sit next to you guys, the people who are actually making change," Rapinoe was quoted as saying by Yahoo! Sports.
"This is part of what it means to everybody take their own personal responsibility and to do what they can in whatever lane they can be most productive and most successful and most impactful in."
Rapinoe has attracted criticism from some quarters for her fight for equal pay, but she insisted the gender pay gap was affecting men as well as women.
"The effects of equal pay is not just on the woman's wallet," she explained. "It's on her children's wallet, it's on her community's wallet. It's sort of on the whole world. It affects men too, I think a lot of guys don't realize that. Every time a woman is not paid equally, everyone is not and nobody's potential is able to be reached."
Along with her USWNT teammates, Rapinoe filed a gender discrimination lawsuit against the U.S. Soccer Federation in March. In the lawsuit, the players stated they should be paid as much as their male colleagues, particularly given they have been more successful than USMNT.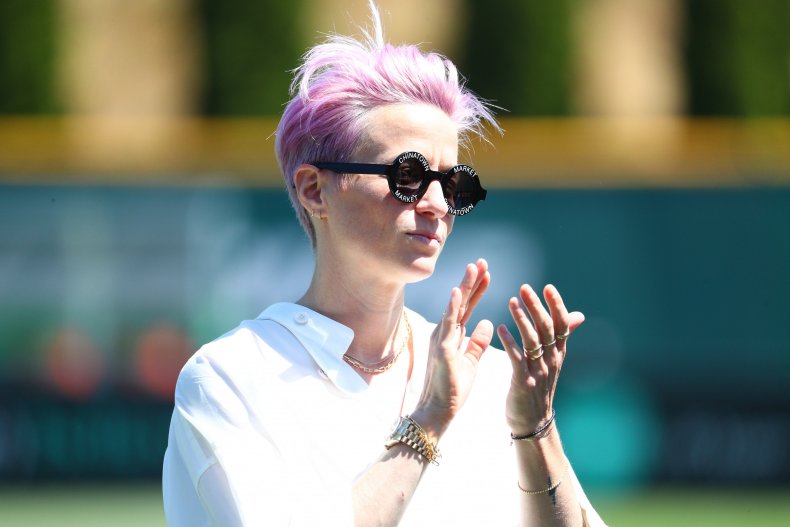 The filing also alleged gender discrimination has impacted USWNT's coaching, medical treatment and training facilities, as well as travel arrangements.
When the players held a celebration rally in New York earlier this month, the crowd broke into a huge "equal pay" chant.
Following her chat with Rapinoe, who did not play in Reign FC's 4-0 loss on Sunday, Cantwell took to social media to explain she had taken steps to eliminate the gender pay gap among U.S. athletes.
"I've introduced a bipartisan plan to ensure equal play for Americans who represent our country in global athletic competitions, like the World Cup or the Olympics," she tweeted. "Currently men and women can be paid differently for representing Team USA in the same sport."
Earlier this year, Cantwell and Murray proposed and sponsored the Paycheck Fairness Act. Designed to close loopholes in the Equal Pay Act, the bill was rejected by the senate, despite being passed by the House of Representatives in March. The impact of the gender pay gap on women across the U.S. is shown in the below graph from Statista: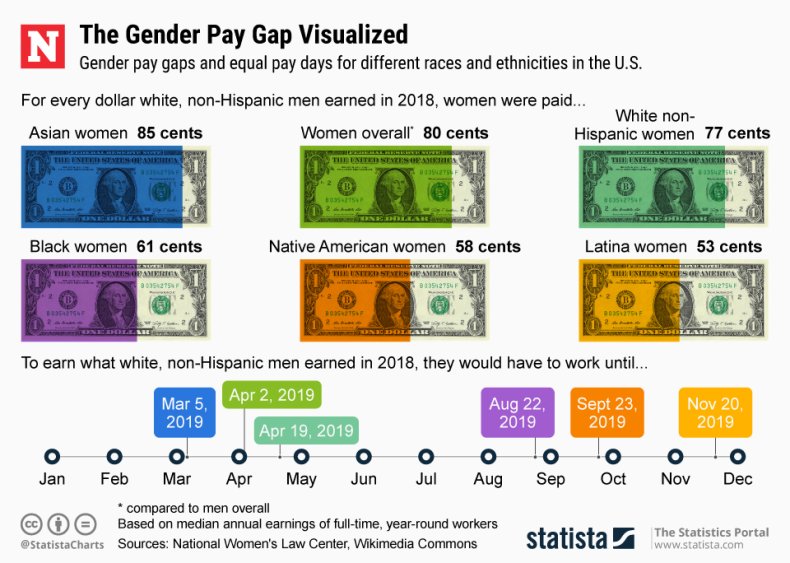 In July, Rapinoe explained she and her teammates will not be accepting an invitation to visit the White House to celebrate their World Cup triumph, doubling down on remarks she had made earlier this year.
"I don't think this makes sense for us at all," the U.S. co-captain said in an interview with CNN host Anderson Cooper. "I can't imagine anyone of my teammates would want to be put in that position. There's so many other people that I would rather talk to, and have meaningful conversations that could really affect change in Washington, than going to the White House."