Megaupload Mogul Kim Dotcom Loses Latest Bid to Avoid U.S. Extradition, Vows to Fight Back
The founder of file-sharing website Megaupload, Kim Dotcom, is "prepared to fight to get justice" after New Zealand's Court of Appeal ruled Thursday he should be extradited to the U.S.
That was the position given after he and three former Megaupload staffers— Mathias Ortmann, Bram van der Kolk and Finn Batato—lost their latest bid against being sent to the U.S. There they would face charges linked to his former website, which was shuttered back in 2012 amid U.S. accusations that it was facilitating major copyright crimes. German-born Kim Dotcom denies the allegations against him.
The court this week upheld a prior ruling by the Auckland High Court, which said he could be extradited. The case, which can still be appealed, has now passed through three courts. Dotcom, who was granted New Zealand residency in 2010, was arrested two years later in a dramatic mansion raid.
Dotcom's lawyer, Ira Rothken, said his team was disappointed with the appeal court's decision, and revealed that he will continue to fight the case by bringing it to the New Zealand Supreme Court. "We have now been to three courts each with a different legal analysis—one of which thought that there was no copyright infringement at all," he tweeted, later adding: "This is a marathon and not a sprint."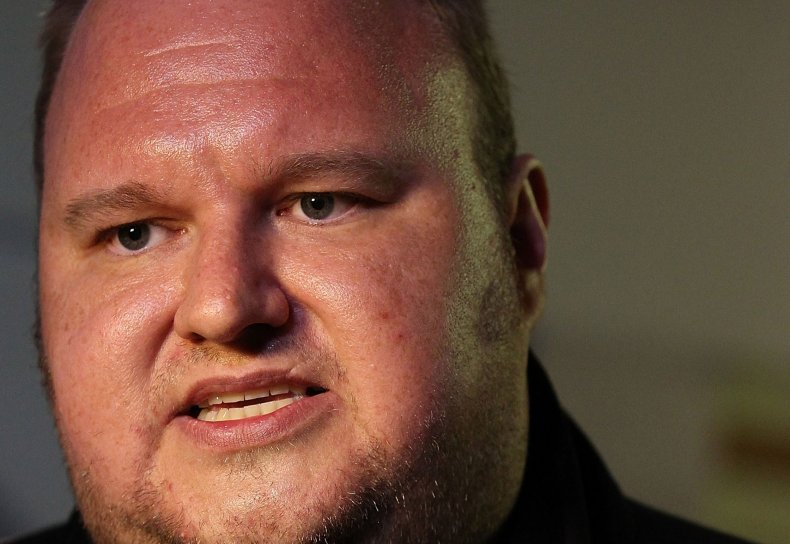 And in a letter posted online, Dotcom struck a defiant tone.
"I am prepared to fight to get justice, whether it is for me of others," he wrote.
According to the U.S. indictment against the founder and his website—which once had a reported income of $175 million—the copyright breaches were vast.
The U.S. Department of Justice (DoJ) filing branded the Megaupload team as a "worldwide criminal organization" that caused an estimated harm "well in excess of $500 million." But Dotcom, who says he has never visited America, argues that he was not responsible for how others used the platform.
The accused could face decades in prison, if convicted in the U.S.
In his July 5 media statement, Dotcom continued: "To say that I am extremely disappointed by the decision of the Court of Appeal today is an understatement.
"The court's interpretation of the relevant copyright provisions cannot be right. The precedent set is concerning and has ramifications in New Zealand outside my case. The decision exposes Internet Service Providers to criminal liability for the misuse of their services by users, as it [claims] against me.
"My legal team are confident that the Supreme Court will hear the appeal given there are such significant legal issues at stake," he added. "Many important cases in New Zealand are not won in the Court of Appeal…but are won when they reach the Supreme Court. My case will be one of those.
"I thank my family and the many people out there that continue to support us in this battle."
The rebel internet entrepreneur, born Kim Schmitz, tweeted Thursday: "A judgement in complete denial of the legislative history and intention of the Copyright Act.
"Therefore, it has the value of toilet paper. We will now appeal to the Supreme Court."
Alongside the legal appeals, Dotcom is also reportedly suing the New Zealand government for billions of dollars in damages. Earlier this year, he unsuccessfully tried to subpoena Barack Obama.