Meghan, Duchess of Sussex and Prince Harry's Anniversary: How The Royal Couple Have Broken the Mold
Sunday is the one-year anniversary of Harry and Meghan, Duke and Duchess of Sussex—a royal couple like no other. He's a bad boy-turned-war hero-and-doting dad. She's an American, bi-racial former actress and divorcée.
Just a few decades ago, the pair might never have married. But times have certainly changed since Prince Charles wed Lady Diana Spencer—an aristocrat born to a viscount and viscountess.
Future sovereign Prince William certainly shook things up when he married Kate Middleton, a "commoner." But Meghan and Harry have truly "broken the mold," royal expert Richard Fitzwilliams told Newsweek.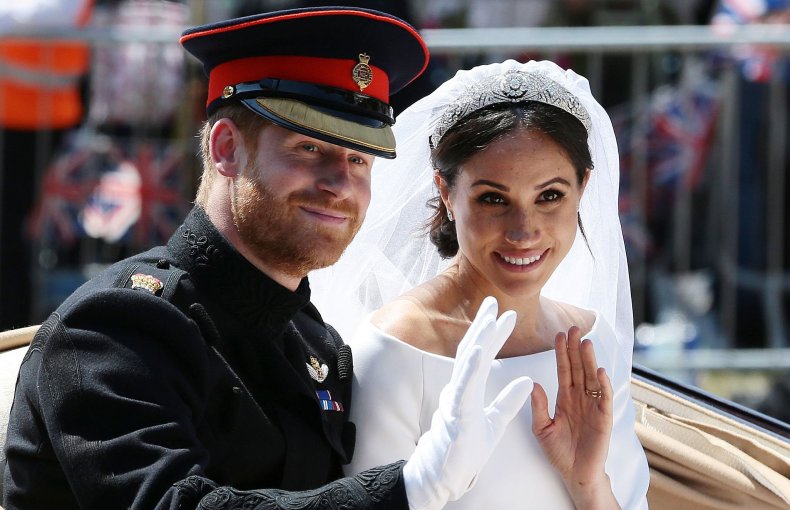 On the one hand, the couple is revitalizing the royal family and bringing its once-stuffy image up to date. On the other, they're commanding a singular platform with "global reach," Fitzwilliams said. With an international "clout" like no other, the British royal family are "the ultimate soft power." Combine that with the couple's celebrity links—whether it's Meghan's independent fame or the pair's A-list friends—"there's no doubt that you've got a completely unique couple," he added.
The couple's distance from the throne has given them a degree of freedom not enjoyed by, say, Prince William and Duchess Catherine, who will in all likelihood one day be King and Queen Consort, he added. Like the Sussexes, the Cambridges are actively involved in numerous charity endeavors, for example, but they don't have the freedom to present themselves in quite the same way as do Meghan and Harry.
"There are limits to what [Kate and William] can do when it comes to being independent," Fitzwilliams said. "Kate had, or felt she had to, go through the Lindo Wing photo opportunity," for example, he added.
The pair are already using this singular platform to promote the messages they care about. They use immensely popular Instagram account—another facet of their broad international reach—to shine a light not just on their own activities, but on causes they are passionate about. Although kensingtonroyal—Kate and William's account—has more followers at 8.8 million, Harry and Meghan's, sussexroyal, has gained almost the same number in less than two months.
Using their official accounts to promote charitable causes is a natural step for the duchess, who previously crafted a profile not just as an actress, but as a social influencer with her lifestyle blog, The Tig. She's been an activist for many years, appearing on Nickelodeon's Nick News in 1993 to discuss her letters campaign against a sexist Procter & Gamble ad. Now, she knows how to channel her fame into awareness of the social causes she cares about.
More recently, Meghan has promoted women's rights for charities like One Young World and for the United Nations. In January she became a royal patron of the National Theatre, of women's employment charity Smart Works, of animal shelter Mayhew and of the Association of Commonwealth Universities.
With her background, Fitzwilliams said, Meghan "will be a champion of diversity, there's absolutely no question." Her membership makes the British royal family feel relatable to far more people than it did just a few years ago. Meghan "means a great deal to persons of color," Fitzwilliams said, adding that she's "perfectly positioned to inspire."
Harry's social activism is inspired by his mother, Princess Diana, who is remembered not simply for her marriage to Prince Charles, but as an icon of philanthropy. "The People's Princess" is remembered in particular for visiting people suffering with HIV/AIDS in the 1980s—a period when patients faced enormous stigma.
The prince himself is well-known for setting up the Invictus Games, a sports competition for injured veterans and the mental health charity Sentebele, for example. A cause close to his own heart, as well of those of his brother and sister-in-law, Harry is currently working on a television series about mental health with Oprah Winfrey:
"[The couple] intend to continue as a dynamic charitable duo inspired by Diana," Fitzwilliams said. "When you're looking at Invictus, when you're looking at a charity like Sentebale, when you're looking at the mental health links with Oprah...Harry's talked so openly about this."
"They will not only do the monarchy a pile of good, but they also have the power to do good in a very substantial way, and they know it," he added.
The couple's relationship with the media—traditional and social—isn't always positive. Although their Instagram posts are flooded with compliments, the Duke and Duchess still face "hideous" trolling online, Fitzwilliams said.
Traditional media coverage of the couple has been mostly complimentary, Fitzwilliams said. But Meghan's family, for example, have faced intense tabloid scrutiny. Her reportedly estranged father is a favorite subject of many is a favorite topic for many publications.
Harry has long had a difficult relationship with the press. After all, his mother was killed in a car crash while fleeing paparazzi. His own life has been heavily scrutinized since birth. And just this week the prince received a "significant" settlement and an apology from a news agency that took revealing photographs of the couple's Cotswold home from a helicopter. Fearing for their safety, his lawyer said, the couple felt unable to stay at the property.
"That incident just showed that there are still paparazzi dangers, although I do think they are much less than they were in Diana's day. But they still exist, and you only need one incident to have ghastly consequences," Fitzwilliams said. "The level of intrusion...is absolutely abominable."
Their desire for privacy has led to some unusual choices—for example, failing to announce exactly where Meghan gave birth. But, like naming their baby the untraditional Archie Harrison Mountbatten-Windsor, this can be seen as more evidence the couple are doing things their way, he added.
And the couple's protection over their domestic lives certainly hasn't isolated them from the public. Harry and Meghan's ability to mingle with the public is "extraordinary," Fitzwilliams said, and it's helped in large part by the duchess's existing experience with fame. Used to the red carpet, Meghan has always been articulate, he said, adding: "This is the ultimate red carpet."
Their anniversary is a remarkable moment for the unique, and uniquely-positioned, couple. It's "historic," Fitzwilliams said. "There's no question—as to the royals, they've had an electrifying effect."
In times of political turmoil, people take comfort in the stalwart stability of the royal family. We may not know what our leaders will do next, Fitzwilliams said, but "we know we can always rely on the Queen." Harry and Meghan have broken the mold of an institution that's not always easy to change. But it needs to adapt to survive, Fitzwilliams said.
Like a growing number of royal watchers around the world, he can't wait to see what the couple do next.