Actress Playing Meghan Markle in Lifetime Movie Wanted To Avoid 'Tabloid Cartoon'
The actress playing Meghan Markle in a new Lifetime movie says she wanted to "approach it with care," with filming starting two months after the bombshell Oprah Winfrey interview.
Sydney Morton plays the Duchess of Sussex in Harry & Meghan: Escaping the Palace, which premieres on Lifetime on Labor Day, Monday, September 6 at 8pm.
While the project was announced last year the green light was only given in March, the same month Meghan told the world an unnamed royal expressed concern about how dark her child's skin might be.
The duchess also described feeling suicidal amid negative press coverage in January 2019.
Morton told Newsweek: "Playing Meghan, because she is a living breathing person and I'm playing her pretty much right now in her life, I definitely felt a responsibility to be respectful and very grounded and make her a three-dimensional person and not portray her as this tabloid cartoon.
"I think that it's a different thing when you're playing someone who is alive and experiencing things in real-time you definitely want to approach it with care."
Morton used Meghan's extensive back catalog of public appearances, speeches and her acting career in Suits to get a sense of her subject during a period of quarantine ahead of filming, which began in May.
Morton told Newsweek: "The news was literally coming out as we were filming. It's a rare thing to be filming something in what feels like real-time. Maybe we got the scoop.
"The audition announcements came out only a couple of weeks after the Oprah interview. Within three weeks of that we were in Vancouver so it moved very quickly."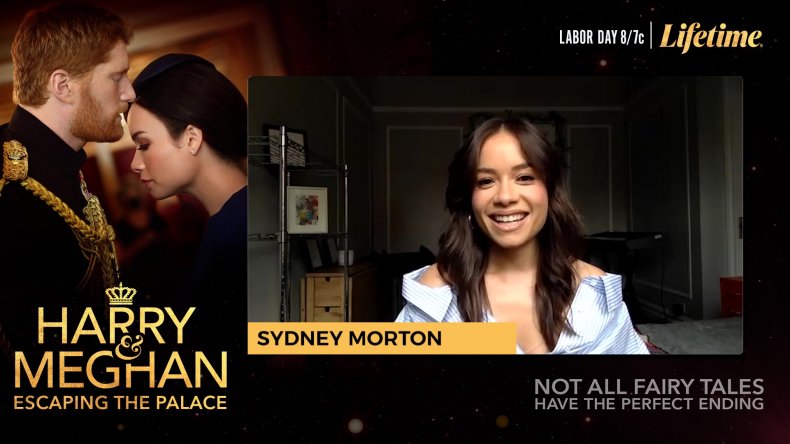 Lifetime's third installment of Harry and Meghan's story recreates their royal exit, including the dramatic CBS tell-all in which the couple sparked a tidal wave of global headlines and a fierce debate about racism and the monarchy.
Some of their lines are lifted straight from real life while other scenes are heavily dramatized.
The same month filming began, Prince Harry's mental health docuseries The Me You Can't See aired on Apple TV, containing allegations of "total neglect" from the royals over their pleas for help dealing with the media.
The casting was close to home for Morton, who says she has friends and colleagues within the acting world that know Meghan personally and were able to vouch for her.
Morton said: "I think that Meghan is extremely intelligent and graceful and well-spoken and navigates an extreme amount of eyes on her and attention and scrutiny with a lot of grace.
"She very rarely missteps I think that she is very careful with her words as she has to be in her position. I really admire it because it's a lot of pressure.
"She keeps it cool under pressure when she's out and about. I think maybe that is very taxing on her as she mentions in some interviews including the Oprah interview. She's a strong woman to handle that scrutiny with so much grace."
Lifetime will air Harry & Meghan: Escaping the Palace on Labor Day, after reshowing previous installments of the trilogy.
Anyone looking to binge can start with William and Kate at 1 p.m., followed by Harry & Meghan: A Royal Romance at 3 p.m. and Harry & Meghan: Becoming Royal at 5.30 p.m.