Meghan Markle Black Lives Matter Speech Supported by Majority of U.K.—Poll
Meghan Markle was right to back Black Lives Matter according to almost half of people in Britain, exclusive polling for Newsweek reveals.
The Duchess of Sussex told graduating students of Immaculate Heart, her old school, that "George Floyd's life mattered" as protests erupted across America at the beginning of June.
Experts previously told Newsweek her comments would have been impossible while she was still a member of the royal family and no working royal has commented.
However, 49 percent of people said Meghan was right to support Black Lives Matter in online polling of 2,000 adults, conducted for Newsweek by Redfield & Wilton Strategies.
Of those, 22 percent said they "strongly agree" while 27 percent said they "agree," compared to nine percent who disagreed and 10 percent who strongly disagreed.
Only 30 percent said they knew what Meghan said in the video recorded for graduation day, while 67 percent said they did not know.
However, of those aware of the details, 56 percent agreed with what Meghan said compared to 19 percent who disagreed.
In the emotional video, Meghan said: "As we've all seen over the last week, what is happening in our country and in our state and in our hometown of LA has been absolutely devastating.
"And I wasn't sure what I could say to you.
"I wanted to say the right thing and I was really nervous that I wouldn't or that it would get picked apart and I realized the only wrong thing to say is to say nothing.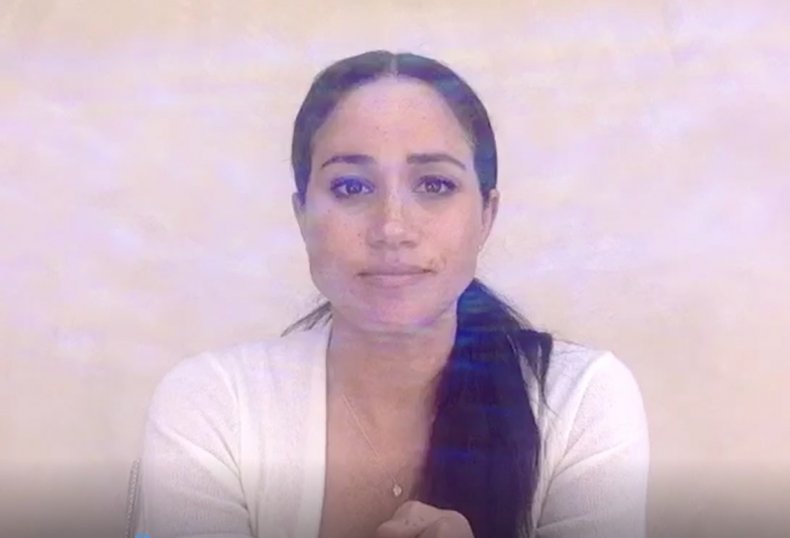 "Because, George Floyd's life mattered and Breonna Taylor's life mattered and Philando Castile's life mattered and Tamir Rice's life mattered and so did so many other people whose names we know and whose names we do not know.
"Stephon Clark, his life mattered."
Her words went down well with students, with some reduced to tears as they heard the duchess describe her own experiences of watching ash falling from the sky during the L.A. race riots of the 1990s.
Dickie Arbiter, Queen Elizabeth II's former press secretary, told Newsweek this month: "What's happened in the states is an absolute tragedy and it should never have happened but unfortunately it did happen.
"Had Meghan and Harry still been in the U.K. and working members of the royal family that speech couldn't have happened.
"I'm talking about the whole speech, end of. It's highly politicized because of the very nature of what it is.
"And it's starting to voice opinions about the internal affairs of another country. I don't think the queen has to say anything.
"It is a social issue for the United States and it is not for a head of state to voice an opinion, whether the queen or the president of France or whoever."