Meghan Markle's Court Apology Will Fuel Piers Morgan But She May Still Win—Experts
Meghan Markle's apology for misleading an English court could embolden her critics, such as Piers Morgan, but—however uncomfortable—may not cost her the case, experts have told Newsweek.
The Duchess of Sussex sued The Mail on Sunday in October 2019 for publishing a letter she sent her father, Thomas Markle, and more than two years later the suit continues.
In previous court filings, the duchess' lawyers argued she had "intended the detailed contents of the Letter to be private, and certainly did not expect them to be published."
She won a victory in February but the newspaper appealed.
During that appeal, the duchess' former communications secretary, Jason Knauf, handed private messages Meghan Markle had sent him to the Court of Appeal. They including a text that read: "Obviously everything I've drafted is with the understanding that it could be leaked so I have been meticulous in my word choice but please do let me know if anything stands out to you as a liability."
Meghan's lawyers have previously insisted she did not co-operate with the authors of flattering biography Finding Freedom.
Knauf's cache of correspondence includes emails in which both Harry and Meghan appeared to authorize him to disclose information to the authors, including an accusation her half sister Samantha was a bad mother.
Eric Schiffer, chairman of Reputation Management Consultants, told Newsweek the revelations only "highlights and reinforces what people like Piers Morgan and other detractors have been saying."
"It was not her best moment and I'm sure that she regrets it greatly but we'll have to see how its going to play out with the court and whether the court has a view that her credibility has to be more carefully analysed," he said.
"To the general public, I don't think it's a huge body slam. But some of her detractors will be able to take a victory lap and it reinforces the messaging that they're putting out that her credibility is questionable."
He added: "For those on the other side they are gleeful at that disclosure and they recognise that on some level its debilitating and I'm sure was upsetting to Meghan but what defines these things are not process but result.
"We will have to see how the court at the end decides and that will be how history will look at this too."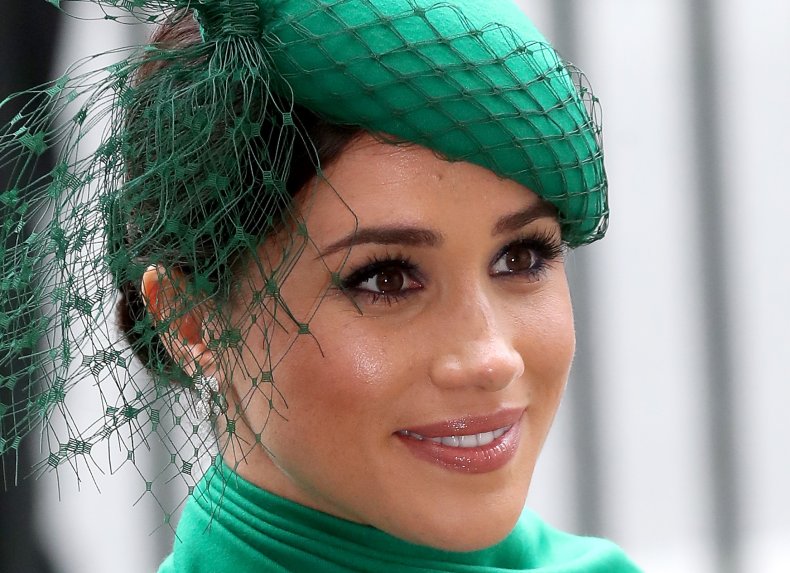 Meghan was forced to apologize to the court, though said she did not intend to be misleading and had not found the emails Knauf produced because she searched the title Finding Freedom—a title the book had not yet been given when the messages were sent.
Her witness statement read: "I did not have the benefit of seeing these emails and I apologize to the Court for the fact that I had not remembered these exchanges at the time.
"I had absolutely no wish or intention to mislead [The Mail on Sunday] or the Court.
"In fact, had I been aware of these exchanges at the time of serving the Re-Amended Reply, I would have been more than happy to refer to them as I feel they strongly support my case."
The following day—Thursday, November 11—she was featured on the front page of Britain's biggest selling newspaper, The Sun, mocked up as Little Miss Forgetful, a treatment that is unlikely to have amused the duchess, a vocal feminist.
As for Piers Morgan, he Tweeted the front page alongside several others and added: "I've now had 8 months to carefully reflect on my statement that I don't believe a word Meghan Markle says....
".... and I still don't."
He added: "The 'end game' is that the Sussexes are stopped - by the Queen - from ruthlessly exploiting their royal titles for 100s of millions of dollars whilst simultaneously trashing the Royal Family & Monarchy.
"It's shameful."
However, Amber Melville-Brown, global head of media and reputation at international law firm Withers, told Newsweek the messages may not lose her the case.
She said: "You can have a reasonable expectation of privacy while hedging your bets and taking some preparatory steps towards reputation protection in the event of a disclosure, without wanting or causing that disclosure, should it occur.
"Whether that is the case for Meghan here remains a matter of hot debate and argument."
She added: "Of course, it doesn't feel particularly comfortable to read someone planning so carefully for an exposure of private information that they wish to remain private.
"But it is certainly the case, whether or not it is in this particular instance, that individuals miss a trick if they did not seek to protect themselves against all eventualities."
The stakes are high for Meghan because losing would mean a trial in which she would have to testify and also hand over more private messages relevant to proceedings.
The Mail on Sunday have also indicated in past filings that they want to force five of her friends to hand over their messages too.
If that happens, Meghan could face more reputational damage spanning months into the future.
The appeal hearing ran over three days last week and the judges deferred their decision, which will be handed down in the coming weeks.
An early court filing by Meghan's lawyer read: "[Meghan] intended the detailed contents of the Letter to be private, and certainly did not expect them to be published to the world at large by a national newspaper, and without any warning."
Meghan's lawyer Justin Rushbrooke QC told the High Court in September: "[Meghan] and her husband did not collaborate with the authors on the book [Finding Freedom], nor were they interviewed for it, nor did they provide photographs to the authors for the book."