The British Royals Don't Do Politics, but Here's What Meghan Markle Said About Donald Trump Before She Joined the Family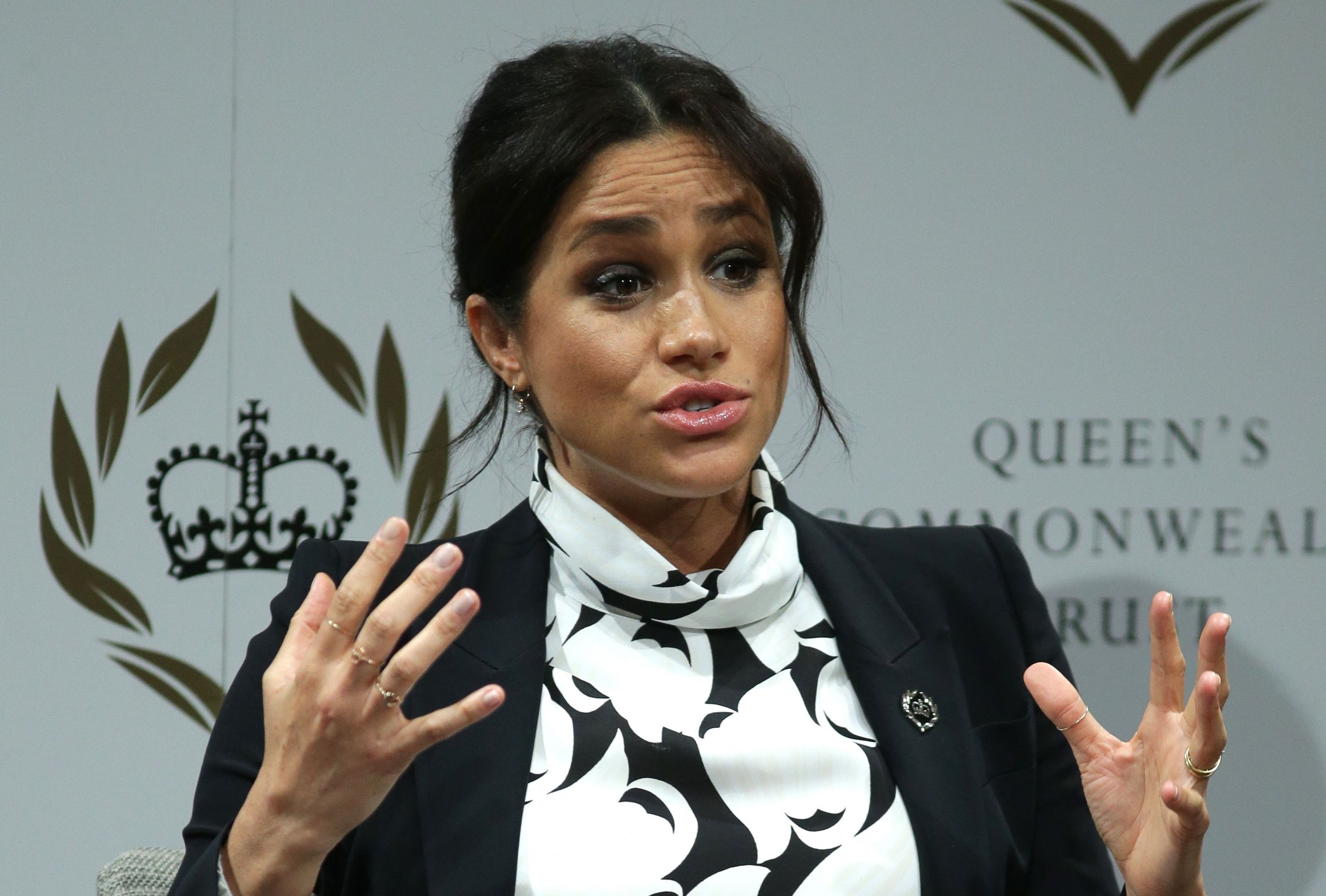 The British Royal family are famously tight-lipped about politics. Although the Queen is regularly briefed on the state of the U.K. and the wider world, she remains "strictly neutral" in politics and does not vote in elections.
Other members of the family are sometimes more open with their views, but they are still expected to exercise reserve in public. Heir apparent, Prince Charles, has attracted considerable scandal for the private "black spider" memos he's sent to politicians over the years.
Meghan, Duchess of Sussex—a former actress and a celebrity in her own right—is in an unusual position for a royal. She was politically active in her previous career, so some of her views are well-documented.
If it weren't for the fact that she's still missing official events after giving birth to her child, Archie Harrison Mountbatten-Windsor, the Duchess's previous remarks about President Donald Trump could have made his imminent U.K. visit a little awkward.
Meghan famously decried the future president in a 2016 interview on The Nightly Show with Larry Wilmore. A Hillary Clinton fan and ardent campaigner for women's rights, Meghan blasted Trump as a misogynist.
She told the comedian: "Of course Trump is divisive—think about female voters alone. I think it was in 2012, the Republican Party lost the female vote by 12 points. That's a huge number and as misogynistic as Trump is—and so vocal about it—that's a huge chunk of it."
Earlier in her career, Meghan worked as a briefcase model on Deal or No Deal—a show Trump sometimes appeared on to promote his own TV series, The Apprentice. Citing fellow briefcase model Tameka Jacobson, a biographer claimed in 2018 that Meghan was one of many to give the businessman "a wide berth" when he was on the set.
It's worth noting that some critics accused the biography itself—Meghan: A Hollywood Princess by Andrew Morton—of sexism, as Grazia previously noted.
In 2014, Meghan referred to Trump's "notoriety" in an interview with his daughter, Ivanka, on her now-defunct blog lifestyle The Tig. But the actress did not expand on her use of the word, instead praising Ivanka's business savvy.
"She's not just carved a niche for herself under her father's famed Trump notoriety, she has undoubtedly created her own empire," Markle wrote. "It's so easy to knock the girls who come from privilege—to assume they rested on their laurels and garnered accolades simply by being fancy from the womb."
Meghan's now-deleted social media accounts offer a greater insight into her political views—and their stark differences to Trump's. Although it's hard to track them all down, some are archived online and others were documented at the time.
Most notably, in the summer of 2017, Meghan advised her Instagram followers to read Noam Chomksy's Who Rules the World—a 2016 book described by The New York Review of Books as an "unsparing…polemic designed to awaken Americans from complacency." A 2017 edition of the book includes an afterword probing the election of Trump.
Per The Independent, Meghan called the book, which "exposes the hypocrisy at the heart of America's policies and actions," a "great read."
She previously told South African outlet News24 that she was very mindful of the impact of her social media accounts on young women. "I really try to make sure that whatever I put on my social media is something that I'm proud of," she said during an interview about her work with the United Nation's One Young World. "I know how much it resonates."
After finding out that Meghan liked his book, Chomsky praised the future princess in return, telling The Guardian in December 2017: "I've heard about the [royal wedding], but didn't know about Markle's interests. Naturally pleased to hear it. Sounds as though she may, for many reasons, shake up the royal family."
Describing his view of Trump, Chomsky told the newspaper: "Apart from the pathological megalomania, he is an astute enough politician to understand that his only hope for power is to keep his adoring base in line, and they relish the fact that he is lashing out at those they see as their enemies and persecutors: Muslims, elites, foreigners… Not unknown in history, and not with welcome outcomes."