Meghan Markle Appearing To Be Ignored at Windsor Goes Viral: 'Rude!'
A video of a member of the public appearing to ignore Meghan Markle during the royal's walkabout at Windsor Castle, England, on Saturday has gone viral on TikTok, gaining more than 11 million views in 24 hours.
Meghan met with crowds of the British public for the first time since stepping down from her role as a senior working royal in 2020, as people lined Windsor Castle's long walk to pay tributes after the death of Queen Elizabeth II.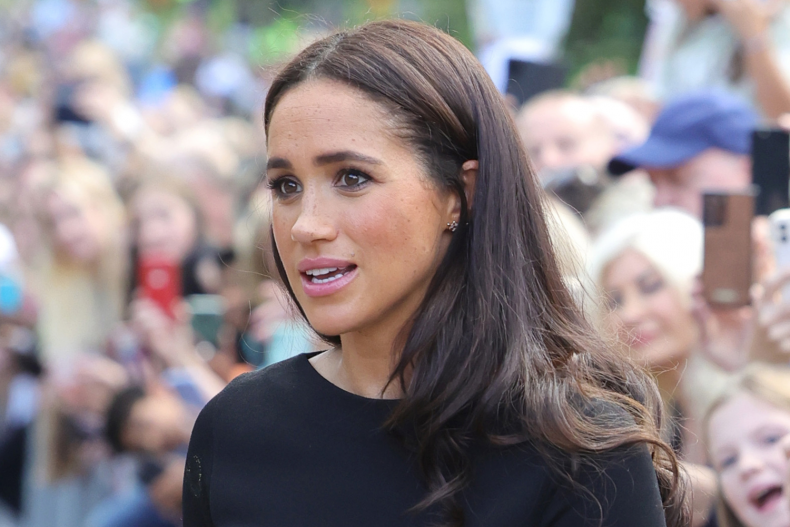 The duchess and her husband, Prince Harry, were visiting Europe to attend a number of charity events when news that the queen's health was a cause for concern was announced on Thursday at 12:30 p.m. U.K. time.
Six hours later, a statement from Buckingham Palace read: "The Queen died peacefully at Balmoral [in Scotland] this afternoon."
On Saturday, Meghan and Harry surprised mourners who had gathered outside Windsor Castle by appearing alongside Prince William and the Duchess of Cambridge, now the Prince and Princess of Wales, for the first time in more than two years.
The couples arrived at the gates of the castle together in one car, driven by Prince William, and after viewing flowers together, they separated to meet well-wishers on either side of the long walk.
News coverage of the event showed Meghan meeting the public, speaking with small children and shaking hands.
In a clip from this footage that has now gone viral online, captioned "rude !! poor Megan," a woman in the crowd appears to ignore the duchess before going on to share a reserved smile with an onlooker.
Though Meghan's popularity in the U.K. hit an all-time-low before the queen's Platinum Jubilee in June, her general reaction from the public has been favorable, with many during the Windsor walkabout taking photographs and calling for handshakes.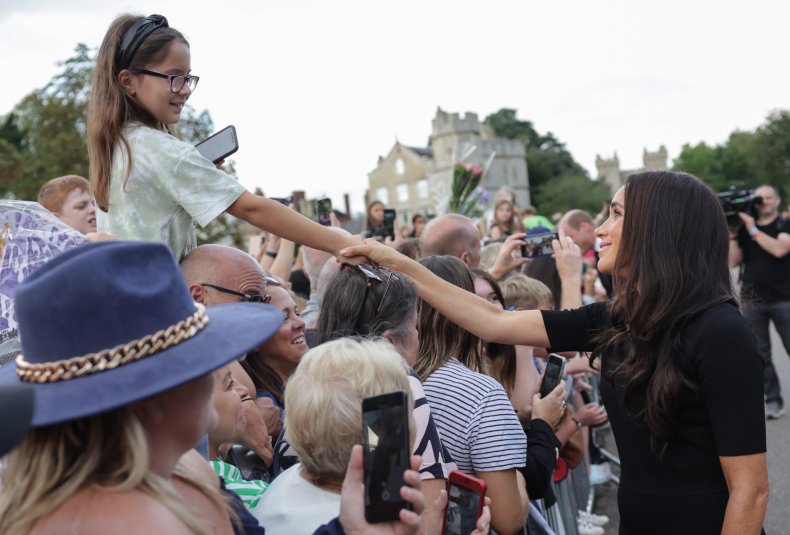 Commenters on the viral video have leapt to the duchess' defense, with one TikToker writing: "how certain people can be so mannerless 😑"
"It says more about them as people than her. Why can't people just be kind," said another.
Despite this, a number of comments supported the unidentified woman for her response to Meghan. "Definitely would not shake her hand , well done 👏 👏," appears one post.
"I saw this and thought 'fair enough' - the woman knows who she likes and who she doesn't. Good for her for not being two faced," expressed another.
In contrast to the viral clip, another widely shared video showed Meghan receive a warm hug from 14-year-old Amelka Zak.
Speaking to CNN, the teen said she wanted to show Meghan that she was "welcome" in the U.K.
"We were just waiting for her to come, and she came near me and asked my name and how my day was, how long I was waiting," Amelka said.
"And I asked her if I could have a hug, and she hugged me back. It was quite an amazing moment. I'm still shaking now."
Meghan has visited Britain only three times since moving to the U.S. with Harry in 2020. She has said the hostile tabloid media and unsupportive royal family and household were factors in making the decision.
At the One Young World Summit in Manchester, England, on September 5, the first of the Sussexes' charity events of their European visit, the duchess announced that she was happy to be back in the country.
"It is very nice to be back in the U.K., and it is very nice to be back with all of you at One Young World," Meghan opened her keynote address, before going on to describe what a "full circle" moment it was to attend the summit in Britain with Harry, having last attended in 2019 at the Royal Albert Hall in London.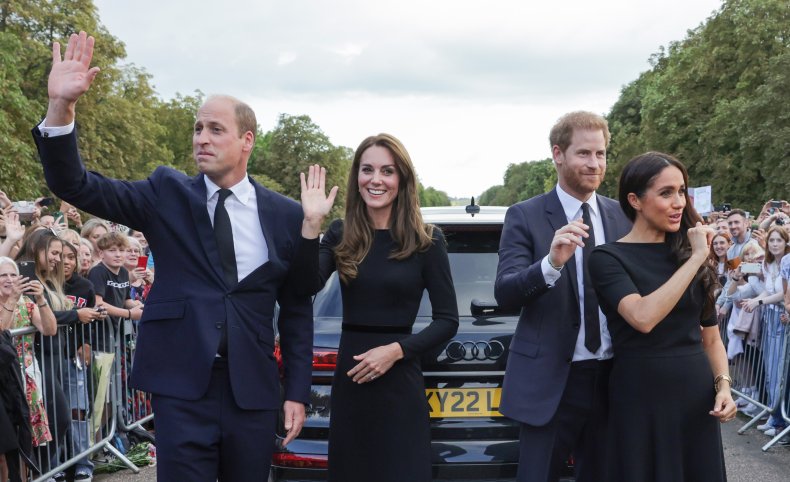 The Sussexes are expected to remain in Britain until the queen's state funeral, which will take place on September 19 at Westminster Abbey in London. On Monday, Prince Harry released a personal tribute to his grandmother, saying he treasured the memories of her meeting Meghan for the first time.
"Granny, while this final parting brings us great sadness," the prince said in a statement released through his Archewell organization, "I am forever grateful for all of our first meetings, from my earliest childhood memories with you, to meeting you for the first time as my Commander-in-Chief, to the first moment you met my darling wife and hugged your beloved great-grandchildren.
"I cherish these times shared with you, and the many other special moments in between. You are already sorely missed, not just by us, but by the world over."
Do you have a question about Queen Elizabeth II, King Charles III or their family that you would like our experienced royal correspondents to answer? Email royals@newsweek.com. We'd love to hear from you.