Meghan and Harry Hit New Low in U.K. Poll Before Queen's Platinum Jubilee
Meghan Markle and Prince Harry have crashed to a new all-time low in the eyes of the British public as they prepare to appear in public in support of Queen Elizabeth II.
The Duke and Duchess of Sussex are preparing to travel to Britain for Platinum Jubilee celebrations which begin on June 2.
They are expected at a Service of Thanksgiving for the Queen's Reign, on June 3, alongside other royals, including disgraced Prince Andrew.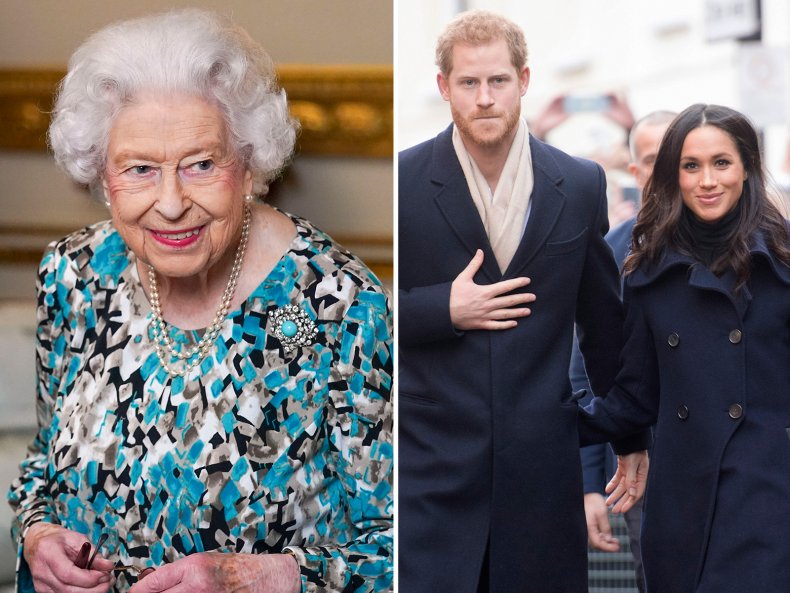 However, even as Meghan prepares for her first public appearance in the U.K. since quitting royal duties in 2020, a new poll by YouGov paints a grim picture of attitudes to the couple in the country they left behind.
Meghan was viewed negatively by 63 percent, almost two thirds, of 1,692 British adults surveyed between May 18 and 19.
By contrast, 23 percent viewed her positively giving the duchess a net approval of -42, down from -39 in the pollster's last survey.
Prince Harry was disliked by 58 percent and liked by 32 percent giving him net figures of -26, down a point since YouGov's last survey.
A YouGov press release read: "In this latest round of figures, Harry and Meghan's popularity has dropped again, with scores for both fringe royals hitting new lows."
They have traditionally been viewed more positively among young people than among older Brits but even within Gen Z, support appears to be narrowing.
In the latest poll, 42 percent of 18-to-24-year-olds said they saw Harry positively compared to 33 percent who saw him negatively, giving a net figure of +9.
Meghan was seen positively by 38 percent and negatively by 36 percent, giving her a net approval rating of +2 among the same age group.
By contrast, the queen had a net score of +69 among U.K. adults and +42 among 18-to-24-year-olds.
Brits also felt Prince William would make a better role model than Prince Harry.
Of those surveyed, 72 percent felt William would make a good role model compared to 6 percent who viewed him as a bad role model.
Prince Harry was viewed as a good role model by 31 percent and a bad role model by 36 percent.
Meghan and Harry polled well in Britain prior to their decision to quit royal duties in January 2020 when a steady decline in public opinion began.
Harry was viewed positively by 71 percent of Brits as late as October 2019, following months of mostly negative press in the U.K. media.
In October 2019, Meghan was liked by 55 percent of British adults, according to the same set of YouGov data, but these figures now seem a distant memory.
The swing away from the couple accelerated again after their Oprah Winfrey interview in March 2021.
For more royal news and commentary check out Newsweek's The Royal Report podcast: