Meghan Markle is more respected by Brits from "Generation Z" than Kate Middleton, according to research by a charity.
The Duchess of Sussex has seen her approval rating in Britain plunge since she and husband Prince Harry did a bombshell interview with Oprah Winfrey in March.
However, the California-based couple generally poll better among young people, with most surveys covering respondents aged 18 and over.
Now, youth health charity, stem4, has conducted research focusing specifically on 13-to 25-year olds, an age group commonly referred to as Generation Z.
The inclusion of under 18s is rare and offers insight into the attitudes of the next generation of soon-to-be adults.
Meghan is more respected than Kate when the polling is restricted to the younger audience, the charity's data suggests.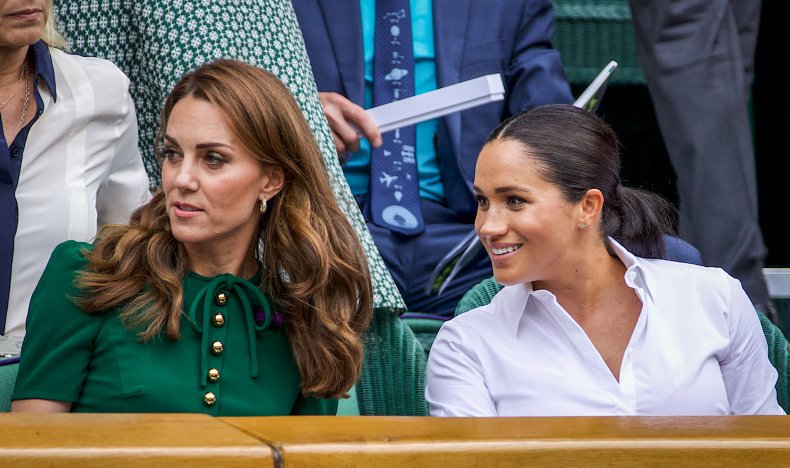 However, both women were still outstripped by Queen Elizabeth II, who after almost 70 years on the throne, was the most popular among the notable figures section of the data.
Elizabeth gained 25 percent of the vote compared to Prince Harry on 22 percent, Meghan on 21 percent, Kate Middleton on 11 percent and Prince William on 10 percent.
Within a separate inspiring figures category, Sir David Attenborough was the most popular with 54 percent of the vote.
The charity surveyed 1,032 people between May 26 and 29 in the U.K.
Quoted on Yahoo News, Dr. Nihara Krause, founder and chief executive at stem4, said: "To earn the respect of young people today you don't need to earn a fortune or have good looks.
"It's far more important that you show bravery, resilience, and compassion for others and for nature.
"Those are certainly qualities the Queen shares with some of the other names on this list such as David Attenborough and [English soccer player] Marcus Rashford.
"It's also significant that many of the most admired famous people are those, like Billie Eilish and Prince Harry, who have been open about their own mental health challenges.
"Problems like anxiety, depression and self-harm are sadly very common among young people and it makes a huge difference to them when public figures have the courage to open up."
The survey identified the most common characteristic young people looked for in a leader as: "They are brave and resilient, and even when things go wrong and they are criticized, they carry on."
The second most popular reason was: "They stand up for people's rights and make society a better place."
The polling of young people paints a different picture to a survey of U.K. adults conducted by Redfield & Wilton for Newsweek in May.
Elizabeth was still the most popular with a net approval rating of +60 percent but, with older people included, Meghan was on -20 percent.
Prince Harry was on +three percent while Prince William was on +52 percent, based on an online poll of 1,500 adults with a margin of error of 2.53 percent.