Meghan Markle's Passport Comments Echo Princess Diana's Longing for Own ID
Princess Diana said she "looked forward to using her own passport" in comments reminiscent of Meghan Markle's about having to hand over her travel documents.
The Princess of Wales liked to send letters to her friends and one of them sheds light on an aspect of Meghan and Prince Harry's Oprah Winfrey interview.
Diana wrote to fashion designer Roberto Devorik during the tale end of her marriage to Prince Charles to say she was looking forward to her freedom.
And she also expressed a desire to return to using "her own passport," her confidante told the official U.K. police investigation into her death, codenamed Operation Paget.
Quoted in the publicly available Paget report, Devorik told police: "She never compromised herself in her letters. She would not discuss private matters in her letters. She did mention in one letter she sent me the fact that she will become free and looked forward to using her own passport."
Meghan also spoke of feeling trapped within the royal family and said she had to hand over her documents on becoming royal.
The duchess told Oprah: "I mean, you have to understand, as well, when I joined that family, that was the last time, until we came here, that I saw my passport, my driver's licence, my keys. All that gets turned over. I didn't see any of that any more."
Meghan's comments were challenged in the British press with news stories outlining numerous trips abroad during her two years as a royal.
Among them were official visits, including to a 2019 royal tour of Southern Africa, a 2018 tour of Australia, New Zealand, Fiji and Tonga, and shorter trips to the Republic of Ireland and Morocco.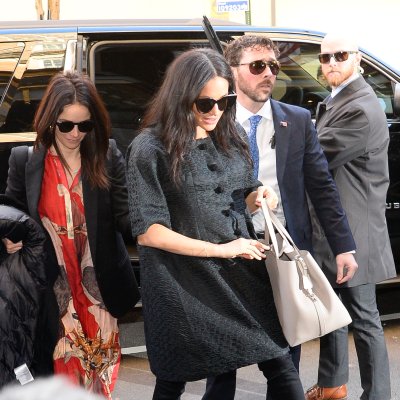 However, she also travelled abroad in a personal capacity, including for her star-studded New York baby shower organized by Serena Williams and Amal Clooney.
Meghan and Harry stayed with celebrity friend Elton John at his villa in Nice, France, in summer 2019.
And according to biography Finding Freedom they had a holiday with George and Amal Clooney at their villa by beauty spot Lake Como shortly after their 2018 wedding.
The exact nature of the palace system that required Meghan to hand over her passport is not clear and nor is it clear how difficult it was for her to travel independently.
However, Diana's own comments more than 20 years ago appear to lend weight to the idea there was an issue around the system for managing passports for royal women.
However, all royals apart from Queen Elizabeth II do need documentation when they travel overseas.
The queen's official response to the CBS tell-all made no mention of passports but sources quoted in the British press suggested passports were held by aides for safe keeping.
The Royal Family website states: "As a British passport is issued in the name of Her Majesty, it is unnecessary for The Queen to possess one. All other members of the Royal Family, including The Duke of Edinburgh and The Prince of Wales, have passports."
Royals do not queue at the border like ordinary citizens or go through a normal passport control process, often being driven straight onto the runway.
Quoted by the BBC, royal historian Robert Lacey said: "Meghan had to hand in her driving licence under security rules. If she went out driving on her own, she would not be protected."