Meghan Markle Pregnant With Second Child as Baby Bump Photo Goes Viral
Meghan Markle and Prince Harry announced the duchess is pregnant—in a Valentine's Day message saying: "Archie is going to be a big brother."
The Duchess of Sussex confirmed she is expecting their second child just three months after she revealed she suffered a miscarriage in July.
The news comes at the end of a rollercoaster week in which she scored a dramatic victory in her tabloid privacy lawsuit against the Mail on Sunday.
A spokesperson for Meghan and Harry said: "We can confirm that Archie is going to be a big brother.
"The Duke and Duchess of Sussex are overjoyed to be expecting their second child."
The announcement was made along with the couple releasing a black and white photograph of Harry and Meghan under a tree, with Meghan's baby bump apparent.
Misan Harriman, a friend of the Duke and Duchess of Sussex and photographer who took the picture, shared the image on his Twitter account. It has already gone viral, with the tweet being liked nearly 4,000 times and retweeted over 1,000 times at the time of writing.
Alongside the photo, Harriman tweeted: "Meg, I was there at your wedding to witness this love story begin, and my friend, I am honoured to capture it grow. Congratulations to The Duke and Duchess of Sussex on this joyous news!"
Meghan and Prince Harry welcomed their first born, Archie Harrison Mountbatten-Windsor, into the world in May 2019.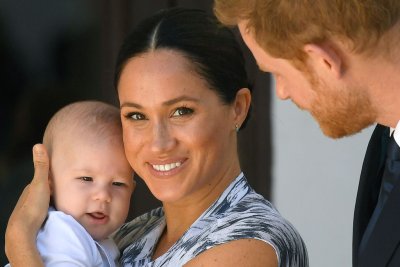 Meghan got pregnant just months after their May 2018 wedding at Windsor Castle and after Archie's birth proud father Harry could barely contain his excitement.
Quoted on the BBC, he said: "I haven't been at many births. This is definitely my first birth. It was amazing, absolutely incredible, and, as I said, I'm so incredibly proud of my wife.
"As every father and parent will ever say, you know, your baby is absolutely amazing, but this little thing is absolutely to-die-for, so I'm just over the moon."
He added: "It's been the most amazing experience I could ever have possibly imagined.
"How any woman does what they do is beyond comprehension."
The happy news follows a difficult 2020 for the couple—with Meghan losing a pregnancy in July.
In an essay for the New York Times, titled "The Losses We Share," she described how the tragedy struck on an otherwise ordinary day while she was holding Archie.
Meghan wrote: "Losing a child means carrying an almost unbearable grief, experienced by many but talked about by few.
"In the pain of our loss, my husband and I discovered that in a room of 100 women, 10 to 20 of them will have suffered from miscarriage.
"Yet despite the staggering commonality of this pain, the conversation remains taboo, riddled with (unwarranted) shame, and perpetuating a cycle of solitary mourning."
She added: "In being invited to share our pain, together we take the first steps toward healing."
Rumours Meghan might be pregnant first began to circulate when she asked for her tabloid privacy trial against the Mail on Sunday to be postponed for around nine months for a reason kept confidential by the court.
Fittingly, she chose to announce the news just days after she got the trial cancelled altogether and was handed a resounding victory.