Why Meghan Markle, Prince Harry's Bombshell Oprah Interview Has Been Edited in U.K.
Meghan Markle and Prince Harry's tell-all interview has come under fire over claims the production company distorted U.K. newspaper headlines.
The Duchess of Sussex told Oprah Winfrey negative U.K. press coverage had left her suicidal in early 2019 while she was pregnant with baby Archie.
Harpo Productions flashed up a series of headlines to demonstrate media racism as Meghan spoke.
However, it has since emerged that many of the articles were from U.S. or Australian gossip magazines, including Us Weekly and the National Enquirer.
Others appear to have been doctored by the production company, leading Associated Newspapers, publisher of the Daily Mail and Mail on Sunday, to send a legal letter.
U.K. network ITV has now removed four headlines from the version of the interview that is available to British viewers on its streaming platform.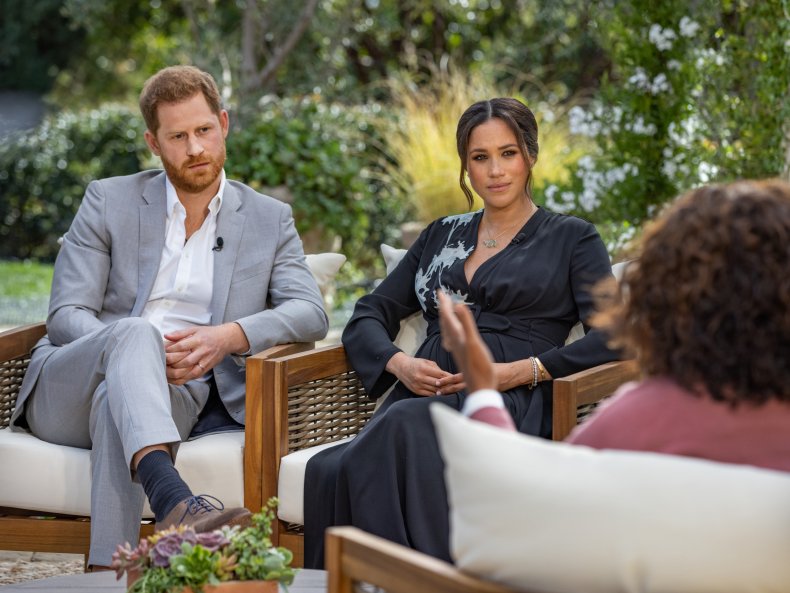 CBS has yet to comment on the allegations but a Harpo Productions spokesperson told Variety: "Prince Harry and Meghan, the Duke and Duchess of Sussex, shared in the interview their personal story. We stand by the broadcast in its entirety."
One of the headlines was about a widely reported scandal in which the girlfriend of a right-wing populist politician made racist remarks about Meghan.
The real Mail Online headline read: "'Meghan's seed will taint our Royal Family': UKIP chief's glamour model lover, 25, is suspended from the party over racist texts about Prince Harry's wife-to-be."
The version that appeared in the interview does not appear to exist anywhere online and reads simply: "'Meghan's seed will taint our Royal Family'."
The Mail on Sunday wrote in a leader column: "The presentation on CBS contrived to suggest that we were expressing the very thing we were condemning.
"How could CBS, once the home of the greatest and most principled of all American broadcasters, Edward R. Murrow, have sunk to such depths of distortion?
"How could ITV, the inheritor of decades of superb news and current affairs broadcasting, have allowed itself to be used as a conduit for such televisual effluent?
"No interpretation of the principle of free speech permits such behaviour. Those responsible should be identified and held to account.
"The broadcasters should swiftly admit their wrongdoing, and apologise."
ITV responded by pledging to re-edit the interview so anyone watching it on demand would not see four of the headlines that originally appeared.
Quoted in the trade journal Press Gazette, an ITV spokesperson said: "Regarding the headlines the Mail on Sunday have drawn to our attention, we have taken steps to edit these on the ITV Hub."
The other headlines include one attributed by Harpo to The Guardian and reading: "BBC's Danny Baker on comparing royal baby to a chimp."
Press Gazette reported that The Guardian has found no record of that headline appearing.
The newspaper had written about the firing of BBC radio DJ Danny Baker for what he described as an "error of judgment"—he had tweeted a picture of a couple holding hands with a chimpanzee wearing a suit, adding the caption: "Royal baby leaves hospital."
The actual Guardian headline read: "Danny Baker fired by BBC over 'offensive' royal baby ape tweet."
A separate comment piece read "Sorry, Danny Baker—sometimes comedy is just off limits," and carried the subhead: "At a time when resurgent racism infests the public debate, 'mistakes' like the broadcaster's can't be excused."
The Guardian quoted Baker saying: "Sorry my gag pic of the little fella in the posh outfit has whipped some up. Never occurred to me because, well, mind not diseased."
Another headline included by Harpo read: "Rich and exotic DNA, Miss Markle's mother is a dread-locked African-American lady from the wrong side of the tracks..."
However, the actual headline for the comment piece was: "Sorry Harry, but your beautiful bolter has failed my Mum Test."
It was written by Rachel Johnson, sister of the prime minister Boris Johnson, and did spark a backlash for the reference to "exotic DNA."
The full quote was: "Genetically, she is blessed. If there is issue from her alleged union with Prince Harry, the Windsors will thicken their watery, thin blue blood and Spencer pale skin and ginger hair with some rich and exotic DNA.
"Miss Markle's mother is a dreadlocked African-American lady from the wrong side of the tracks who lives in LA, and even the sourest spinster has to admit that the 35-year-old actress is extremely easy on the eye.
"Miss Markle has an active social conscience, and anti-landmine campaigner Princess Diana would be delighted that she is the Ambassador for World Vision and has toured Afghanistan and Rwanda as part of her humanitarian effort."
Two years after the piece was published, Rachel Johnson told ITV documentary The Royal Wives of Windsor: "I for one celebrated the fact that she was mixed race, but I used an unfortunate word, which was 'exotic.'
"I meant that in marvellous contrast to the gingery white blood of his own blood family on his maternal side.
"But it didn't go down well and I hereby apologise, Harry."