What Meghan Markle and Prince Harry Did in Their Final Royal Appearances and What's Next for the Couple
A Commonwealth Day service on Monday marks Meghan Markle and Prince Harry's final scheduled appearance as senior members of the royal family, concluding a whirlwind farewell tour packed with starry photo opportunities and predictable press scrutiny.
Monday's event at Westminster Abbey was a fitting end to the Duke and Duchess of Sussex's time in public service as working royals as they joined their immediate family, including Queen Elizabeth II, Prince Charles and Camilla, the Duchess of Cornwall, Prince William and Kate Middleton.
Harry and Meghan have dominated headlines in the U.K. since they began their final run of royal engagements last Thursday when they walked the red carpet together at the Endeavour Fund Awards in London. The couple kept a tightly-packed schedule of visits and appearances over the weekend, which has fueled remorse and relief at their departure in Britain, where opinion of the Sussexes is divided.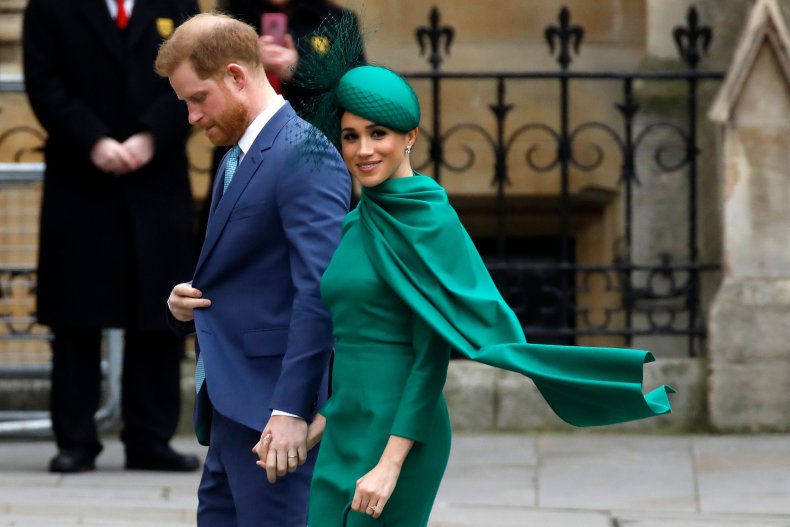 The couple will not officially step down as working members of the royal family until March 31, but with the Westminster Abbey service they have completed all of their scheduled appearances and are expected to return to Canada, where they have set up a new home base in recent months. Meghan and Harry reportedly left their 10-month-old son Archie behind in Canada and will be looking to reunite with him this week.
Last Thursday, Harry and Meghan made their first public appearance together since they announced in January their decision to step down as senior members of the royal family, become financially independent, and split their time between the U.K. and North America.
The couple made an appearance at the Endeavour Fund Awards, which recognizes the achievements of injured, sick and wounded servicepeople who have achieved great sporting feats.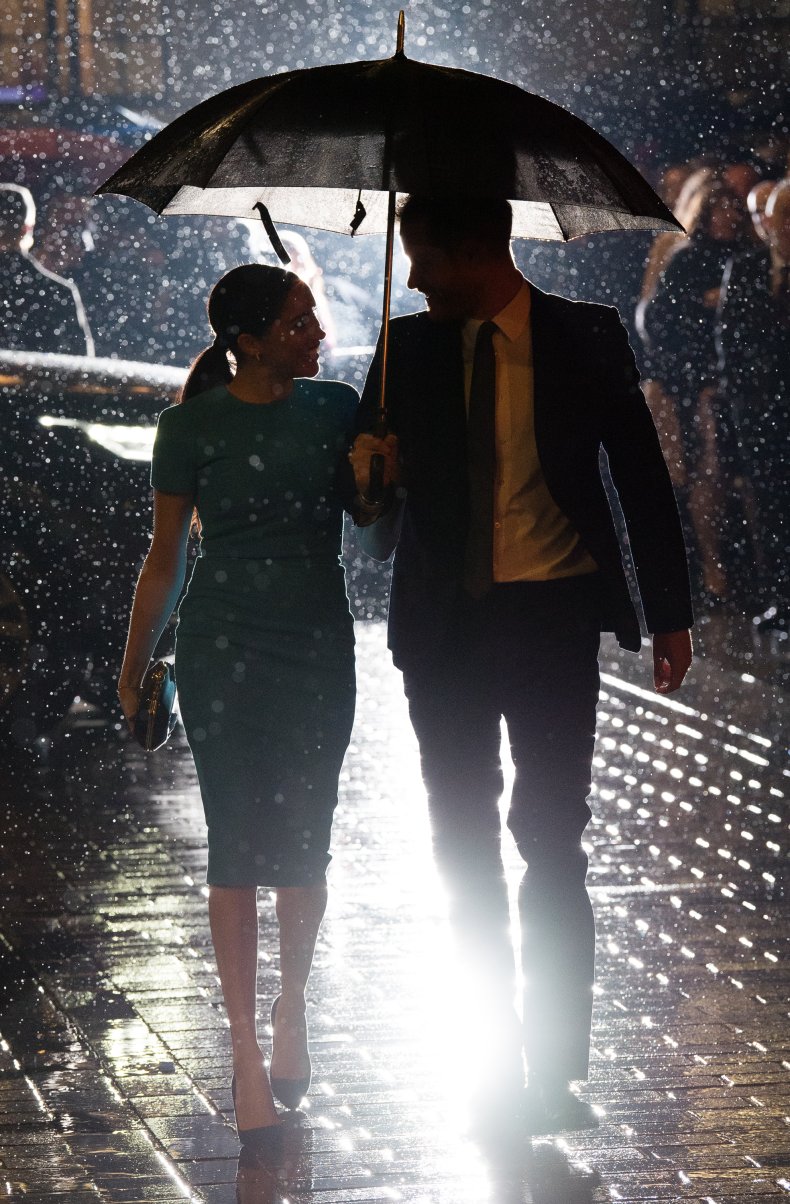 Meghan, in a turquoise Victoria Beckham dress, and Harry, looking dapper in a blue suit with a turquoise tie to match Meghan's outfit, had a picture-perfect moment as they arrived at Mansion House. Photographers caught the couple against the backdrop of heavy London rainfall, making for a romantic scene that set social media alight.
In his speech, Harry spoke of his own military service, telling those in attendance that he is "deeply proud to have served alongside you as Captain Wales."
"A lot of you tonight have told me you have my back, well I'm also here to tell you I've always got yours," Harry added.
On Saturday, Meghan and Harry had yet another glamorous red carpet moment when they attended the Mountbatten Festival of Music, a concert put on by military musicians.
Harry and Meghan matched for the occasion—Harry in his red Royal Marines mess jacket, a nod to his position as captain general of the Marines, and Meghan in a gorgeously silhouetted floor-length red cape dress designed by London fashion brand Safiyaa.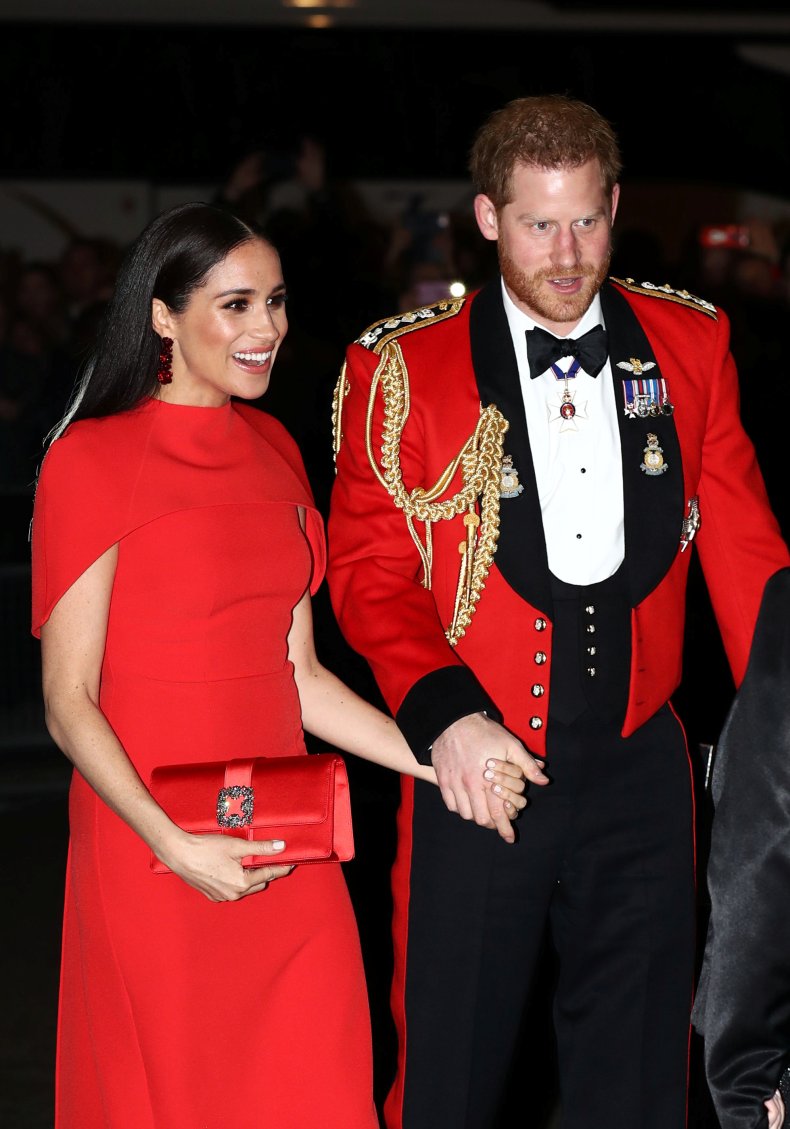 Sky News reported that the couple received a standing ovation as they took their seats in the royal box at the Royal Albert Hall auditorium for the concert.
Meghan also took part in some solo endeavors, making a private visit to the National Theatre, of which she is a patron, on Thursday.
On Instagram, Meghan shared photos of her visit to the Immersive Storytelling Studio where she was given a tour of a new virtual reality exhibition.
On Friday, Meghan made a surprise visit to a school in Dagenham, east London, to give an address in recognition of International Women's Day.
In her speech to the students of Robert Clack Upper School, Meghan paid particular attention to the boys in attendance, telling them to "value the women in your lives."
"You have your mothers, sisters, girlfriends, friends in your life, protect them," said the duchess. "Make sure that they are feeling valued and safe and let's all just rally together to make International Women's Day something that is not just on Sunday, but frankly feels like every day of the year."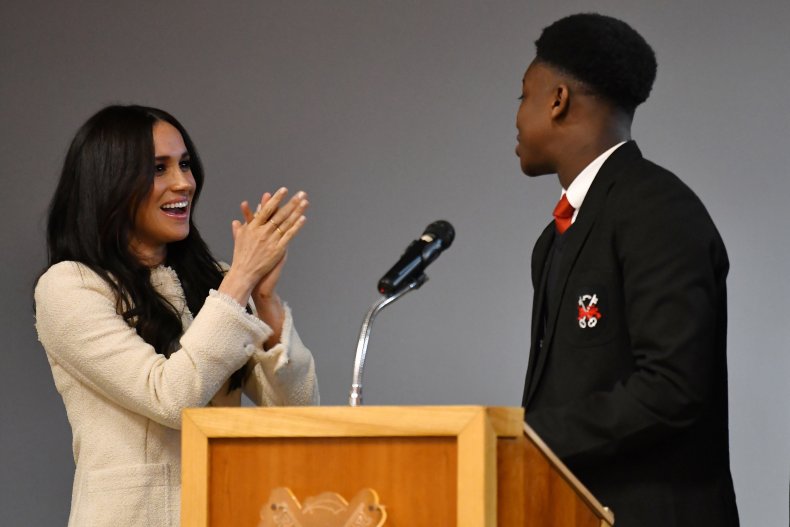 But Meghan's speech was somewhat overshadowed by her interaction with the school's head boy, cheeky 16-year-old Aker Okoye, who gave the duchess a kiss on the cheek and declared to the school: "She really is beautiful, innit?" The bold move prompted a chorus of applause and laughter from the gathered students, and Meghan also burst out laughing and wagged her finger at the young schoolboy.
On Monday, Okoye made further headlines when he appeared on the ITV show Good Morning Britain to talk about his encounter with the royal.
Okoye said he was "really embarrassed" initially that the kiss and his off-the-cuff comments were recorded, but then continued: "It was one of those moments I will cherish for the rest of my life, to see that she is more than a pretty face and that she is actually an amazing person who is strong, committed and inspirational."
Okoye also joked that he has sent a letter of apology to Harry for cuddling his wife.
Meghan's positive impression on the young students of Robert Clack, however, has been contrasted with continued negativity about the Duke and Duchess of Sussex in the press—which is part of the reason the couple have opted to live a more private life.
Over the weekend, U.K. tabloid reports claimed there was "fury" that the Sussexes shared photos of Meghan's National Theatre visit on Instagram the same day that Camilla was due to give a speech on domestic violence at a London festival. And there was further controversy when journalist Victoria Mather appeared as a pundit on MSNBC and said that "many people" consider Meghan as "five clicks up from trailer trash." The interview with Mather, who was billed as a "royal watcher" for Vanity Fair, was quickly cut short by anchor Lindsey Reiser. BuzzFeed News later reported that Mather has not worked for Vanity Fair since 2018.
The reprise of negative press attention will be to many royal watchers a reminder of just why Meghan and Harry are retreating to Canada and invoking their right to more privacy. For example, the Financial Times' Janine Gibson said: "The [tabloids] really did kill their golden goose."
With their final royal engagements now in the bag, what next for Meghan and Harry?
In the immediate future, it's expected the couple will return to Vancouver Island in British Columbia this week to be reunited with their son, Archie.
In the long term, the Sussexes will step down as senior members of the royal family on March 31 and begin their new lives as independent royals thereafter.
"The Duke and Duchess will be spending their time in both the United Kingdom and North America. In addition to continuing to work closely with their existing patronages as they build a plan for engagements in the U.K. and the Commonwealth throughout the year," a spokesperson for the couple said in February.
The couple are also working on a new non-profit organization which will launch later this year.