Meghan Markle and Prince Harry Financial Independence Explained: Who Pays For Frogmore Cottage, Their Travel and More?
Meghan Markle and Prince Harry's surprise announcement on Wednesday that they will step down as "senior" members of the British family and "work to become financially independent" of the monarchy raised many questions about their income. Now, we have some answers.
The Duke and Duchess of Sussex launched a brand new website on Wednesday—SussexRoyal.com—after the bombshell news they will distance themselves from royal duties.
The website expands on where their money currently comes from, who pays for their royal residence, Frogmore Cottage in Windsor, and travel, as well as how they will become financially independent.
Meghan, 38, and Harry, 37, said they will continue to support Queen Elizabeth II and honor their royal patronages—through which they are ambassadors for various charities—but have decided to split their time between the U.K. and North America going forward to "enable us to raise our son with an appreciation for the royal tradition into which he was born, while also providing our family with the space to focus on the next chapter."
Buckingham Palace said that discussions with the Sussexes about their new approach to royal life is in the "early stages," adding: "We understand their desire to take a different approach, but these are complicated issues that will take time to work through."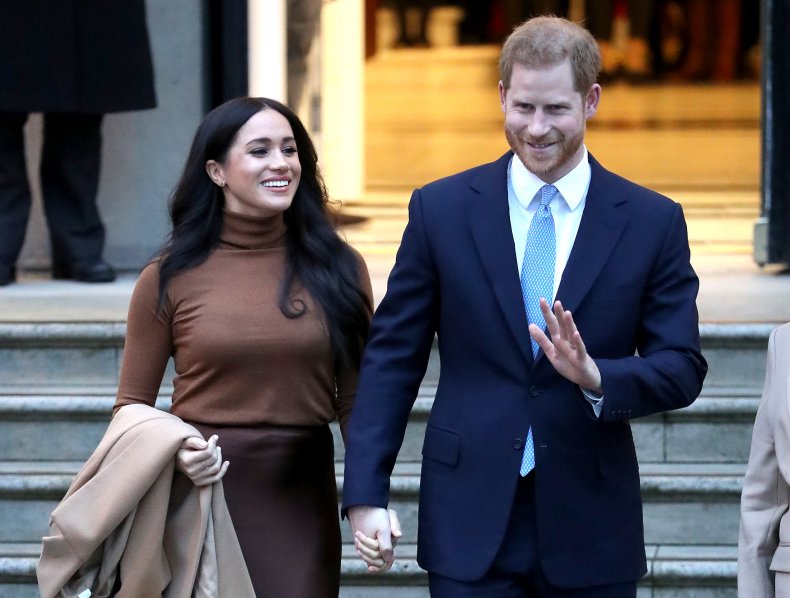 Here is what we know so far about Meghan and Harry's current funding and their plans for the future:
How do Meghan and Harry make their money?
Meghan and Harry's sources of income for their official household are currently both private and public.
According to the new Sussex Royal website, 95 percent of the Sussexes' income is derived from profits from the Duchy of Cornwall, a private estate owned and operated by Harry's father, Prince Charles.
The Duchy is a commercial entity, the purpose of which is to create a source of private income for the Prince of Wales and his children. The Duchy owns and operates livestock farms, properties, holiday cottages and gardening attractions, all of which generate income for the Duchy.
The other 5 percent of Meghan and Harry's income comes from public funding through the Sovereign Grant. Queen Elizabeth II allocates a percentage of the grant to members of the royal family to use to fund official royal engagements, such as overseas trips and events.
Meghan and Harry say the 5 percent of income received through taxpayer funding is never used for their private costs and is used for "costs associated with employing members of their official office," for example, communications staff to deal with public press inquiries.
How will Meghan and Harry become financially independent?
Meghan and Harry plan to give up the 5 percent of income they get from the Sovereign Grant, thus effectively making them independent of the working monarchy. (Remember, the other 95 percent of their income is privately funded by Prince Charles.)
Currently, because they are working members of the royal family who earn an income through the Sovereign Grant, they are not allowed to take on any external work. By giving up the 5 percent of income from public funding, they can agree to additional work and use the income to themselves pay for the 5 percent of their household currently paid for by the public.
Although this 5 percent of their income is only used for official royal engagements, they do not want to be beholden to the monarchy going forward.
Why are Meghan and Harry giving up public funding?
According to their website, the royals "value the ability to earn a professional income, which in the current structure they are prohibited from doing. For this reason they have made the choice to become members of the Royal Family with financial independence."
Simply put, they want to earn their own money and not be handed it.
Are Meghan and Harry giving up royal life?
No. Meghan and Harry have insisted they will still show their support for the queen by honoring their official royal patronages and taking part in royal engagements in the U.K. and abroad, like their recent Africa trip.
What will be different, however, is they plan to pay for the costs of any engagements themselves rather than through the income provided by the Sovereign Grant.
Meghan and Harry are also pulling out of the Royal Rota, which gives traditional British media institutions exclusive access to the royals when covering events.
Some of the media outlets in the Royal Rota have been criticized for their coverage of Meghan—last year Harry said that various tabloids had "vilified" Meghan. And in October, the couple sued the publisher of the Mail on Sunday newspaper for misuse of private information after it published a private letter sent to Meghan by her father, Thomas Markle.
The Mail is part of the Royal Rota, so, effectively, the couple are striking back by no longer giving access to publications that they deem overtly harmful to them.
The infographic below, provided by Statista, shows British public perception of the treatment of the royal family by the media.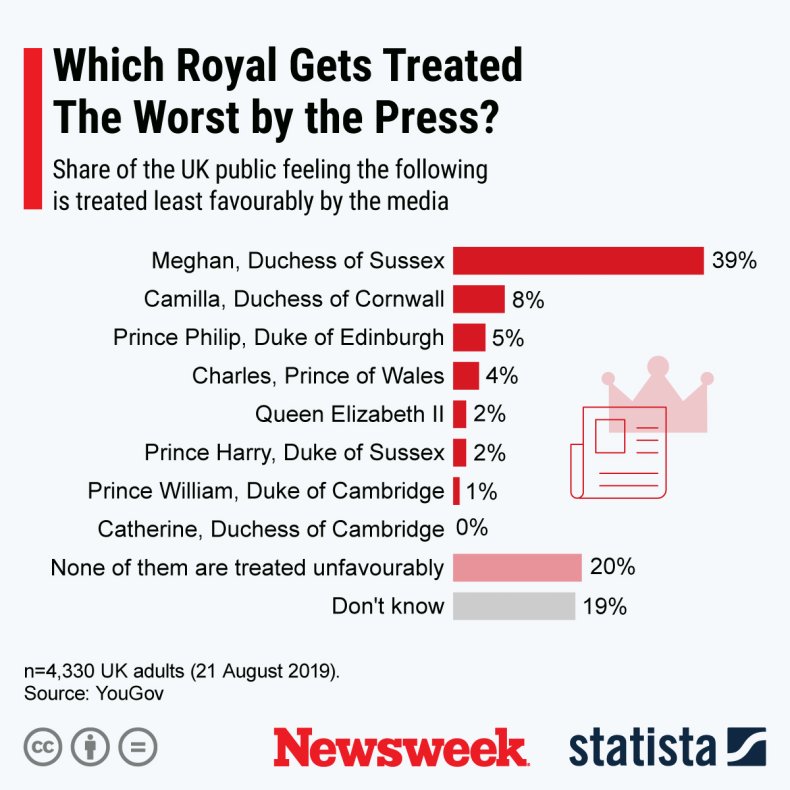 Who pays for Meghan and Harry's house, Frogmore Cottage?
Frogmore Cottage, the couple's official home in Windsor, England, is owned by Queen Elizabeth II, who gave Meghan, Harry and baby Archie use of the home.
The upkeep of Frogmore Cottage is paid for by the queen through the Sovereign Grant, because it is the monarchy's responsibility to take care of royal buildings.
However, Meghan and Harry say they pay for all "fixtures, furnishings and fittings" themselves.
Will Meghan and Harry give up their residence at Frogmore Cottage?
The couple say they do not plan to vacate Frogmore Cottage as their U.K. home, unless, of course, the queen asks them to.
Who pays for Meghan and Harry's travel?
As mentioned above, up to now, travel for official engagements—including overseas trips like the trip to Africa in October—has been paid using the public funding Meghan and Harry receive through the Sovereign Grant "as well as contributions from the host country, when appropriate," according to Sussex Royal.
Meghan and Harry pay for all their private travel themselves and going forward aim to pay for all travel themselves.
"Wherever possible and unless advised otherwise on security grounds, their logistical arrangements are undertaken via commercial air carriers, local trains and fuel-efficient vehicles, be it for official or personal travel," the couple's website says.
Who pays for Meghan and Harry's security?
Meghan and Harry are classified as "internationally protected people" by the U.K.'s Metropolitan Police Service, therefore, like other members of the royal family, they are mandated to have armed security by the U.K. Home Office, a government department responsible for security, law and order.
Security is provided and paid for by the Home Office.