Meghan Markle and Prince Harry Face Fresh Security Nightmare
Prince Harry and Meghan Markle are set to be evicted from their U.K. home—which a security expert told Newsweek comes with "everything that the police can offer."
The Duke and Duchess of Sussex will reportedly lose Frogmore Cottage by early summer, stripping them of their last guaranteed form of police protection on trips to Britain.
The Grade II listed building is more than just a home for the couple as it sits on the private royal estate around Windsor Castle, which comes with armed police guards and beefed up laws against trespassing.
That means that however fraught relations with the wider royal family might have been, Harry and Meghan were always guaranteed a level of Metropolitan Police security around their U.K. residence leaving them free to focus on worrying about the rest of their visit.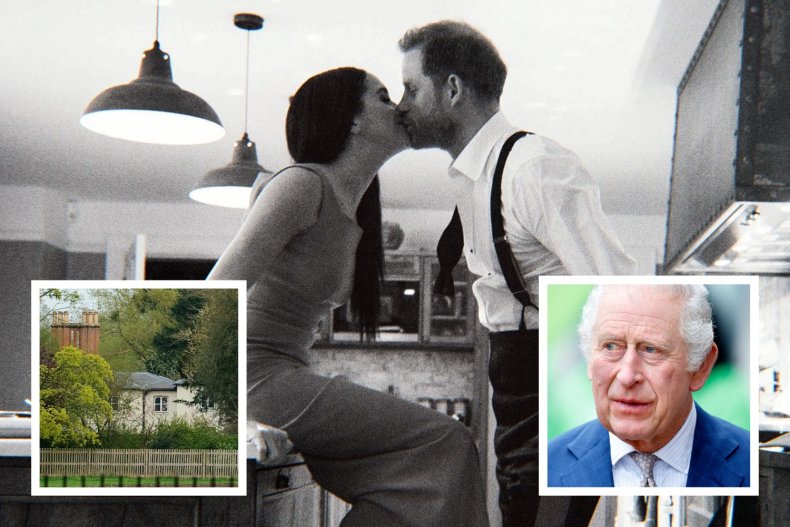 Without Frogmore, the couple will either have to find private accommodation, for example in a hotel, or a room at another residence, forcing them to engage with the royals or the palace.
Simon Morgan, who was a Metropolitan Police royal protection officer between 2007 and 2013, told Newsweek: "Frogmore is part of the Windsor Castle protected site, which is everything that the Metropolitan Police, in conjunction with Thames Valley Police, can offer.
"So the Met look after the inside of it and Thames Valley look after the outside of it. You're getting everything that the police can offer in a protected site, armed police officers, technical equipment, walls, fences, everything that goes with creating a protected site and also the legislation as well."
Specific laws have been passed giving the police powers of arrest for trespassers, who would otherwise be treated as a civil problem.
Operating drones in the vicinity is also more difficult because of laws requiring the operator to have line of sight of the device, which Morgan said cannot be maintained for much of the airspace over the Windsor estate.
Losing Frogmore would place more pressure on Harry's two judicial review lawsuits against the U.K. government for removing his personal police bodyguards when the Sussexes moved to America.
In the first, the duke's lawyers argue that the Home Office took the decision without consulting him first and in the second he wants to overturn a decision that he should not be allowed to pay privately to have his team re-instated.
Morgan, now director of operations at Trojan Consultancy, said: "It all comes down to the threat risk. That's the big question. As we know there's currently a court case involving the Sussexes with regard to their protection withdrawal.
"It would fall to their private sector security team to identify the threat and risk. You would look at that, what is the threat risk with them coming to the U.K. and if you're comfortable mitigating and managing that risk then where do they actually stay?
"Do they go into a hotel? Do they stay at a private residence and how does the security team then secure the environment where they are going to be staying.
"To stay in a protected environment is always the preferred option because you're getting that complete support and everything else that goes with it. We see it at Buckingham Palace, we see it at Windsor and at Downing Street, you see everything that the protected environment gives you."
Omid Scobie, co-author of biography Finding Freedom, wrote in his Yahoo! News column: "Now, less than three years into that long-term lease, Prince Harry has been dealt a crushing blow after his father, King Charles, announced he is evicting the family from their Windsor property— a decision made shortly after his revealing memoir, Spare, was released in January.
"At a time when communication between Harry and his family has reached an all-time low, further details provided to the couple by the institution have been scant. The property, they were told, is needed for someone else. It's news, sources tell me, that has left Harry and Meghan stunned, and at least two members of the Royal Family 'appalled.'"
A legal representative for Harry and Meghan said in a January 2022 statement: "Prince Harry inherited a security risk at birth, for life. He remains sixth in line to the throne, served two tours of combat duty in Afghanistan, and in recent years his family has been subjected to well-documented neo-Nazi and extremist threats.
"While his role within the Institution has changed, his profile as a member of the Royal Family has not. Nor has the threat to him and his family.
"The Duke and Duchess of Sussex personally fund a private security team for their family, yet that security cannot replicate the necessary police protection needed whilst in the UK. In the absence of such protection, Prince Harry and his family are unable to return to his home."