After Prince Harry's Swipe at Royal Sources, More Briefings to U.K. Press
Prince Harry and Meghan Markle's possible attendance at King Charles III's coronation has led to briefings in British newspapers of the kind the duke swiped at in interviews.
The Duke and Duchess of Sussex have reportedly been invited to the historic ceremony in May at which Charles and Queen Camilla will be crowned at Westminster Abbey, on May 6, 2023, though there has been no confirmation about whether they will attend.
Asked whether he would go, Harry told ITV in January: "There's a lot that can happen between now and then."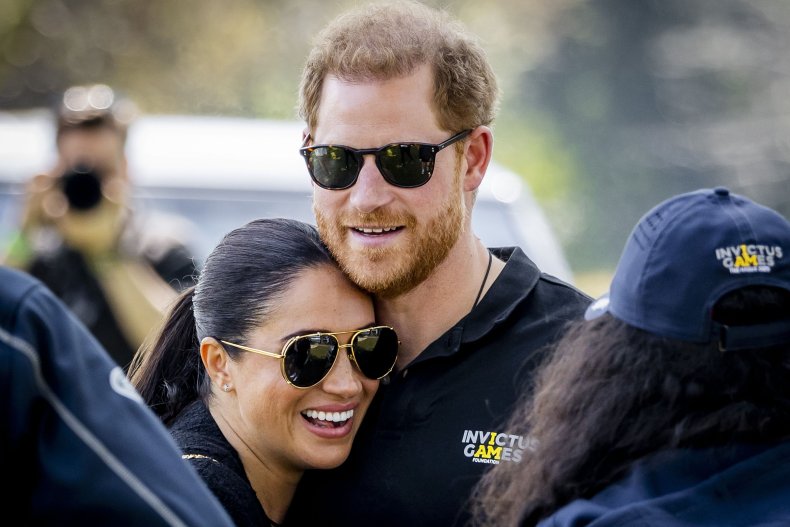 With no official verdict on whether the Sussexes will be at the coronation, reports attributed to unnamed sources have been circulating in British newspapers describing how Harry and Meghan would like an apology.
U.K. broadsheet The Times, for example, quoted a source "close to the family" suggesting the royals do not feel an apology is owed. Another source told the newspaper the royals do not recognize Harry's version of events.
Meanwhile, The Daily Mail, whose publisher the couple have sued more times than any other, reported that ill will is boiling over on both sides.
Newsweek cannot attest to the exact source of the quotes but Harry has made it clear in interviews how he perceives such stories.
Harry was asked on 60 Minutes why he was talking publicly about private family matters and said: "Every single time I've tried to do it privately there have been briefings and leakings and planting of stories against me and my wife. You know, the family motto is never complain, never explain. But it's just a motto. And it doesn't really hold."
"So now," he continued. "Trying to speak a language that perhaps they understand, I will sit here and speak truth to you with the words that come out of my mouth, rather than using someone else, an unnamed source, to feed in lies or a narrative to a tabloid media that literally radicalizes its readers to then potentially cause harm to my family, my wife, my kids."
"They will feed or have a conversation with the correspondent," he told Anderson Cooper. "And that correspondent will literally be spoon-fed information and write the story. And at the bottom of it they will say that they've reached out to Buckingham Palace for comment.
"But the whole story is Buckingham Palace commenting. So when we're being told for the last six years, 'We can't put a statement out to protect you.' But you do it for other members of the family. It becomes... there becomes a point when silence is betrayal."
In other words, whatever the reality of negotiations over Harry and Meghan's possible attendance, the mere presence of anonymous quotes in newspapers may add to already sour relations between the two sides.
Jack Royston is the chief royal correspondent at Newsweek, based in London. You can find him on Twitter at @jack_royston and read his stories on Newsweek's The Royals Facebook page.
Do you have a question about King Charles III, William and Kate, Meghan and Harry, or their family that you would like our experienced royal correspondents to answer? Email royals@newsweek.com. We'd love to hear from you.