Prince Harry, Meghan Markle Losing U.K. Home Would Have Major Implications
Prince Harry and Meghan Markle are reportedly at the point of losing their U.K. home, despite having repaid $3.2 million in renovation costs.
The Duke and Duchess of Sussex were given Frogmore Cottage, in Windsor Home Park, after they moved out of London in 2019. They kept the property as a place to stay on trips back to Britain even after quitting their royal jobs for a new life in America.
Now though, The Sun is reporting that King Charles III wants to take back Frogmore and offer it to Prince Andrew, who does not appear to want to relocate from his home, the 30-bedroom Royal Lodge.
The newspaper's unconfirmed account suggests Harry and Meghan were sent an eviction notice days after the release of Harry's memoir Spare.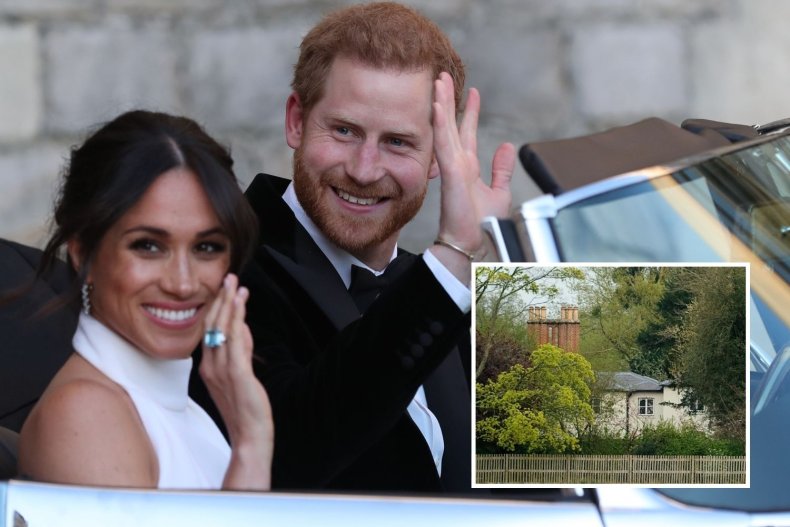 If Harry and Meghan do lose Frogmore it will sever a final major tie between them and Britain, which would make return visits to the country far more complex.
Frogmore comes with de facto police security because it is on the private estate around Windsor Castle, meaning it is not only a haven from press intrusion and royal watchers but is also protected from terrorist attacks and assassination attempts.
So losing Frogmore for Harry and Meghan would mean far more than losing a home. When they came to Britain for the Platinum Jubilee in June they only attended official events where they were offered police protection because they had been invited.
Beyond those, Harry and Meghan chose to stay in police protected Frogmore rather than step out with no armed Metropolitan Police bodyguards.
While they have their own private security, those bodyguards are not legally allowed to carry guns in Britain and cannot speed them through red traffic lights.
Future visits to the U.K. would therefore have to be carefully planned without Frogmore Cottage as a base.
If they wanted to benefit from police protection around their residence they would likely have to negotiate a room at another royal residence making them far more dependent on the wider royal family and palace institution.
By contrast, in a hotel they would be left with their private security and easier access for members of the public as well as, potentially, journalists and press photographers.
Any move to force them out of the house would therefore have major implications for their attendance at King Charles III's coronation in May, which remains unconfirmed.
Harry is currently suing the U.K. government over the removal of his Metropolitan Police security guards and a legal representative made clear in January 2022 just how seriously he sees the issue.
A statement sent to Newsweek at the time read: "While his role within the Institution has changed, his profile as a member of the Royal Family has not. Nor has the threat to him and his family.
"The Duke and Duchess of Sussex personally fund a private security team for their family, yet that security cannot replicate the necessary police protection needed whilst in the UK. In the absence of such protection, Prince Harry and his family are unable to return to his home."
A dispute of the kind suggested by The Sun might also be leave a bad taste in the mouth for Harry and Meghan because of the money they ploughed into renovating Frogmore Cottage.
Initially, $3.2 million in public money was spent converting what had been staff accommodation into a family home with a nursery for baby Archie.
However, after leaving Britain, the couple paid back the money to swerve the allegation they had wasted public funds.
If The Sun is correct, then Prince Andrew will be the new beneficiary of their investment, despite the fact that he has fallen from grace following sex abuse allegations, albeit ones that he denies.
Jack Royston is the chief royal correspondent at Newsweek, based in London. You can find him on Twitter at @jack_royston and read his stories on Newsweek's The Royals Facebook page.
Do you have a question about King Charles III, William and Kate, Meghan and Harry, or their family that you would like our experienced royal correspondents to answer? Email royals@newsweek.com. We'd love to hear from you.