Prince Harry's New U.K. Government Lawsuit Risks Creating a 'Wild West'
Prince Harry's campaign to get his U.K. police protection re-instated is poised to spill out into a second lawsuit which—if successful—could open up a flurry of claims by the rich and famous, a lawyer has told Newsweek.
The Duke and Duchess of Sussex were stripped of their taxpayer-funded police bodyguards through a decision taken by the Home Office's Royal and VIP Executive Committee (RAVEC) in February 2020, a month after they announced they would quit royal duties.
However, Harry wants the right to pay privately to continue with a Metropolitan Police security detail during visits to Britain, and his lawyers indicated they will soon file his second judicial review on the subject.
Amber Melville-Brown, of international law firm Withers, told Newsweek that if he is successful there could be more cases further down the line from other rich and famous people who want to upgrade from their private security teams.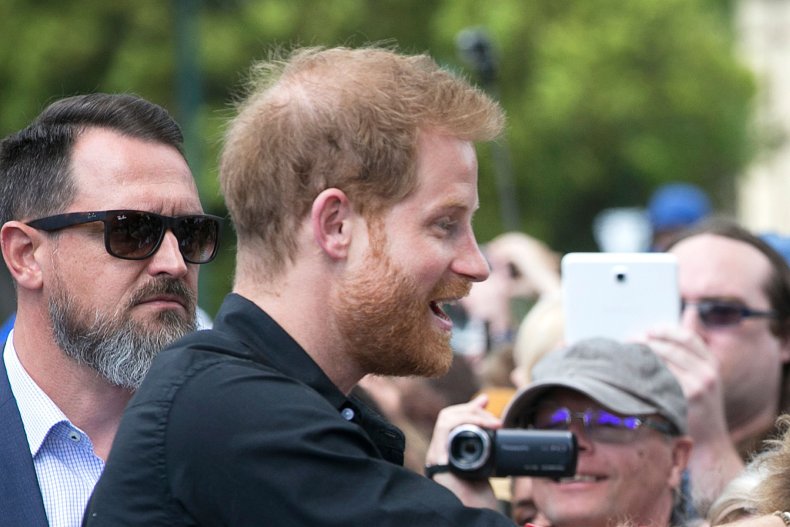 She told Newsweek: "If Harry were successful in a judicial review which sought to fight his own private, security corner, it might leave the door ajar for others—the devil will be in the detail of the claim and the court's ultimate ruling."
Currently, private security teams in Britain are not allowed to carry guns and police protection officers also have the ability to leave photographers in their dust by using their blue lights to pass through traffic jams and red lights.
Melville-Brown added: "The remit of Prince Harry's anticipated new Judicial Review is as yet unknown, but if it is as wide as forecast in his current claim—'to determine in principle whether an individual whose position had been determined by RAVEC not to justify Protective Security should be permitted to receive Protective Security but to reimburse the public purse for the cost of that security'—some will fear a win for Harry risks turning the West End, Westminster and the West Country into the Wild West.
"Currently, State security is not available on a privately funded basis—but a change in the rules, if it applied to any 'individual' who did not justify private security, could theoretically enable those with the will and the wherewithal to pay privately for protection, leading to armed entourages accompanying them as they toured around the British Isles."
In January 2020, Harry told his family and royal staff during a meeting at Sandringham that if he could keep the police team he would be willing to fund it himself.
However, that offer was rejected by The Royal Household without being passed on to RAVEC and he has since taken his campaign to the High Court, in London.
His first claim was filed against the decision to remove his police protection while his new lawsuit will relate to a wider decision taken by RAVEC in December 2021 that no one should be entitled to pay for their own police team.
Harry's lawyers have already begun pre-action correspondence and are anticipating filing the case soon.
At such an early stage, it is not yet known exactly what argument Harry will put forward or how far reaching it will be.
However, Melville-Brown suggested that a ruling in Harry's favor could create a precedent that other rich and famous people might use to try to get their own Metropolitan Police bodyguards.
She said: "This is a high-profile, high-octane, hotly fought case involving big names and bigger issues—as such, it is bound to capture the attention of the media, and the interest of the public.
"But from his own reputational perspective Harry will have bigger fish to fry than worrying how any court application will be perceived in the court of public opinion.
"The lion's share of his concern is the safety and security of his family; add a soupcon of seeming beef with RAVEC; and we can't ignore the underlying, uneasy relationship with members of his family; these are likely the ingredients fueling the next course of Harry's quest.
"Prince Harry has the stomach for another legal fight, for sure—how it goes down with the public or impacts his reputation more widely is likely the last thing on his mind."
'Prince Harry Has an Outrageous Cheek'
Her comments echo concerns raised by other experts, including former Metropolitan Police protection officer Ken Wharfe, who guarded Princess Diana as well as Prince Harry and Prince William when they were children.
He wrote in the Daily Mail in January, 2022: "Police protection should not be for sale. Prince Harry has an outrageous cheek, demanding a full royal security detail to be reinstated when he visits the UK.
"For the Queen and her government to accede to his demand and set this precedent is unthinkable.
"Harry is now a private citizen, domiciled in a foreign country—entirely by his own choice. None of the royals wanted this to happen, least of all his father and brother, but it has.
"If he is granted the services of the Metropolitan's royal protection squad, for which he has magnanimously offered to pay, every visiting Hollywood star and wealthy celebrity may as well expect the same privileges."
He 'Inherited a Security Risk at Birth, for Life'
However, that same month, Harry set out how the duke perceives the stakes in his quest to get his security reinstated.
A statement from his legal representative read: "Prince Harry inherited a security risk at birth, for life. He remains sixth in line to the throne, served two tours of combat duty in Afghanistan, and in recent years his family has been subjected to well-documented neo-Nazi and extremist threats.
"While his role within the Institution has changed, his profile as a member of the Royal Family has not. Nor has the threat to him and his family.
The Duke and Duchess of Sussex personally fund a private security team for their family, yet that security cannot replicate the necessary police protection needed whilst in the UK. In the absence of such protection, Prince Harry and his family are unable to return to his home."
A court filing by Harry's legal team in a hearing for the first judicial review, on July 7, read: "On 21 December 2021 [The Home Office] asked RAVEC to determine in principle whether an individual whose position had been determined by RAVEC not to justify Protective Security should be permitted to receive Protective Security but to reimburse the public purse for the cost of that security.
"On 24 January 2022, RAVEC took the decision that State security should not be available on a privately financed basis."
It added: "[Prince Harry] has engaged in pre-action correspondence for a proposed second judicial review claim in relation to these matters, and intends to issue that claim shortly."
For more royal news and commentary check out Newsweek's The Royal Report podcast: