Meghan, Harry Hand-Holding At Queen's Funeral Defended by Brit Comedian
A British comedian has defended Prince Harry and Meghan Markle's hand-holding during official events commemorating the death of Queen Elizabeth II, after the couple faced criticism for the gesture on social media.
Jason Manford, a prominent U.K. comedian from Manchester, called out the criticism on Twitter on Thursday while commenting on another social media drama that arose as a result of the queen's death, over two television presenters who were accused of "skipping the queue" to view the lying-in-state while members of the public lined up for over 14 hours.
Holly Willoughby and Phillip Schofield, two presenters of popular magazine show, This Morning, are facing down a storm of criticism after being filmed bypassing the line for the lying-in-state while other celebrities such as David Beckham waited with everyone else.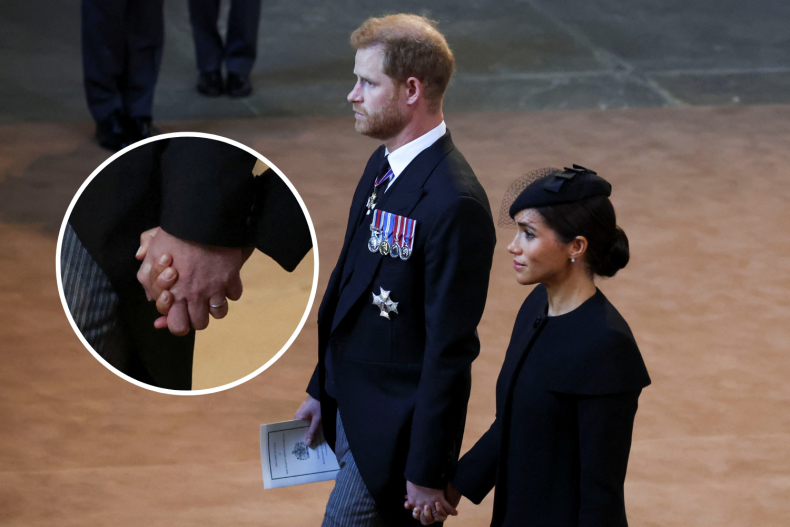 The presenters have since said that they were taken into Westminster Hall, where the queen's coffin was placed before the state funeral, under arrangements made for media members, to cover the event for their show. This has done little to assuage the furore with a change.org petition calling for the two to be fired reaching in excess of 60,000 signatures.
Manford voiced his opinion on Twitter that there may be bigger world issues to be concerned about than the This Morning drama.
"Putin threatening us with nukes, cost of living, fuel at record prices, rudderless government, queues for food banks but what are people crying about? 2 people in the media used media pass to 'queue jump' to see Queen's coffin. Good God I wish I had these peoples problems!" he wrote.
In response, one fan voiced relief that the focus had moved on from Harry and Meghan's holding hands during the lying-in-state service and funeral for the queen on Monday, which had dominated social media.
"At least they've stopped crying about Harry and Meghan holding hands," they wrote.
"Ha yeah imagine holding someone's hand at their granny's funeral!" said Manford. "The uproar shouldn't be that someone held his hand at his Nan's funeral, it's that nobody held it at his mum's."
The Sussexes were photographed holding hands twice during the official events organized to commemorate the queen's life.
After the pair walked hand-in-hand from Westminster Hall after the first of these, the lying-in-state service on September 14, Jesus Enrique Rosas, the name behind the YouTube channel The Body Language Guy, quoted a social media post which said that the hand-holding was "disrespectful" adding: "The woke despise traditions and respect, so not surprising."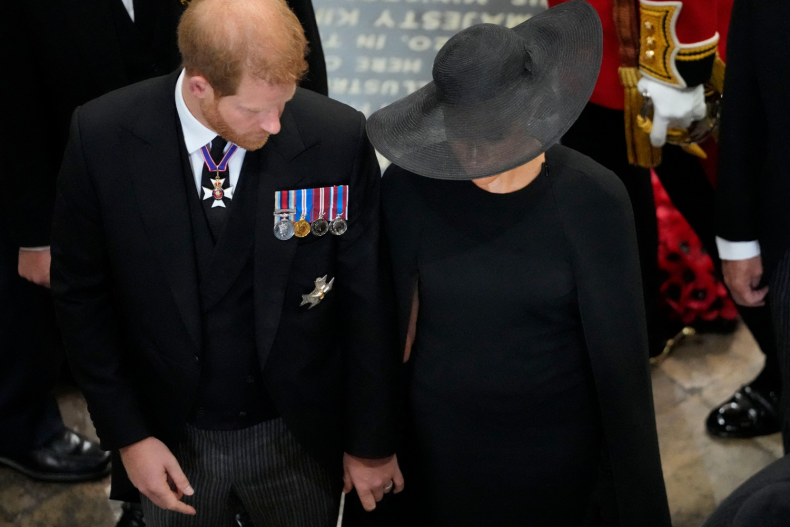 Another Twitter user added: "The Royal Family leave our beloved Queen in Westminster Hall with grace and dignity except for Harry and Meghan who just have to hold hands like two lovesick teenagers. They really get on my nerves."
Commentary about the gesture was revived on Monday during the state funeral when President Biden and the First Lady held hands at Westminster Abbey.
"The Bidens walk into the Abbey hand-in-hand. Meghan probably stifling a smile—yes we Americans hold hands. It's not improper," wrote broadcaster Smita Prakash on social media.
"By the way President Joe Biden and FLOTUS just walked into the Westminister Abbey HOLDING HANDS. So to you #Britishmedia and derangers, people who are in love hold hands just like Prince Harry & Meghan, Eugenie & husband did," posted another user.
Manford's reference to Princess Diana's funeral in 1997 comes after the 25th anniversary of her death on August 31.
The anniversary was not marked officially, though both Harry and Prince William paid individual tributes to their mother throughout the year.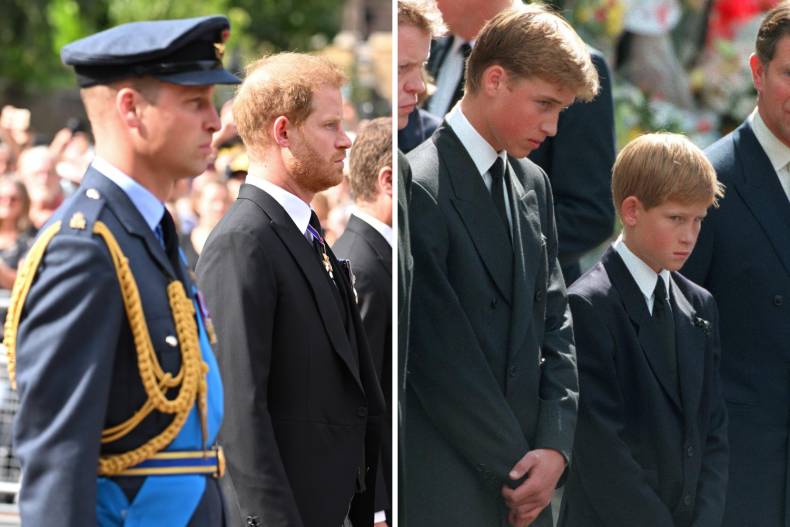 In the days leading up to the date, Harry said in a speech at a polo event that he wanted it to be a day of "memories."
"Next week is the 25th anniversary of my mother's death, and she most certainly will never be forgotten," he said. "I want it to be a day filled with memories of her incredible work and love for the way she did it. I want it to be a day to share the spirit of my mum with my family, with my children, who I wish could have met her."
During the commemorative events for Queen Elizabeth II, William and Harry participated in a walk from Buckingham Palace to Westminster behind the monarch's coffin, echoing the walk the brother's made behind their mother's coffin in 1997. In the days afterwards William is quoted as having told a well-wisher that the experience was "very difficult."
Newsweek approached representatives of Manford for comment.
Do you have a question about Queen Elizabeth II, King Charles III or their family that you would like our experienced royal correspondents to answer? Email royals@newsweek.com. We'd love to hear from you.