Meghan Markle and Prince Harry Will 'Rarely' Return to U.K. After Princess Eugenie Home Deal: Experts
Meghan Markle and Prince Harry are letting Princess Eugenie live in their official U.K. residence—and experts say it shows a new break with the country
The Duke and Duchess of Sussex will stay in Frogmore Cottage when in Britain but Harry's cousin and her husband Jack Brooksbank will live there full time.
The grade II listed house, within the grounds of Windsor Home Park, was refurbished as a family home for Meghan, Harry and Archie.
However, the young family moved to California in March and now live in a $14.7 million mansion in Santa Barbara.
They are not known to have made any trips back to the U.K. since then, missing Britain's Remembrance Sunday service for war dead, when palace aides refused requests for a wreath to be laid on his behalf.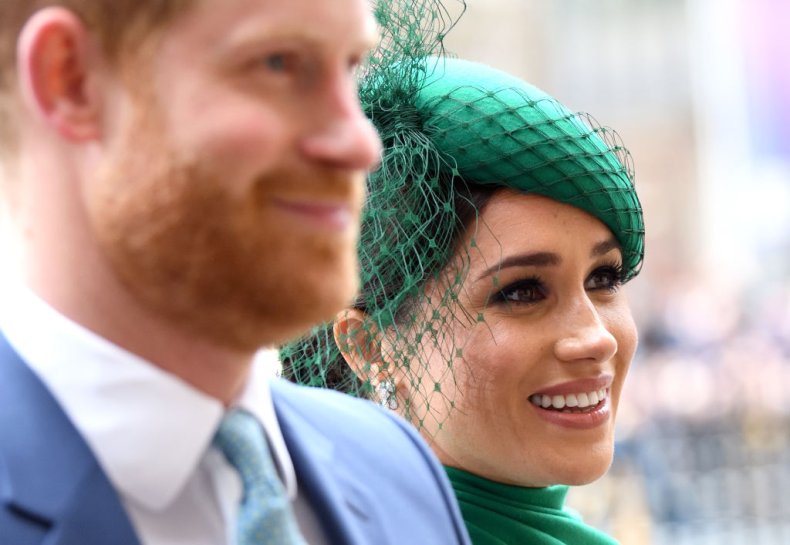 Now Princess Eugenie, who is expecting her first child, will start her own family at Frogmore. Buckingham Palace announced in September that Princess Eugenie is expecting her first child in "early 2021."
Meghan and Harry retain financial responsibility for the property and the deal was discussed with the wider royal family.
Ingrid Seward, author of Prince Philip Revealed, told Newsweek: "I would have thought that Harry needed an address here because he's a British citizen.
"Frogmore is his only one so he does need to keep that. I think this means we'll rarely see them in Britain now.
"They don't want it to look like that though because it's not good for their standing in America.
"They've got to come over when they can. I would think Harry will want to see his grandparents."
Frogmore Cottage was refurbished with $3.1 million of U.K. public money before the couple moved in. The couple repaid that sum over the summer.
A Sussex source told Newsweek: "Frogmore Cottage continues to be The Duke and Duchess of Sussex's residence in the UK and they are delighted to be able to open up their home to Princess Eugenie and Jack as they start their own family."
Harry and Meghan had been due back in Britain for New Year in advance of Meghan's privacy and copyright trial against the Mail on Sunday.
The case was originally going to be heard by the High Court on January 11, requiring the duke and duchess to arrive in the U.K. two weeks earlier.
However, it was adjourned until autumn next year following a confidential request from Meghan.
The move means it could be months before the couple next arrive back in the country of Harry's birth.
He is due to appear in person when a statue to his mother is unveiled in the Sunken Garden of Kensington Palace to mark what would have been Diana's 60th birthday on July 1.
If no additional U.K. dates are added to his diary before then, it will have been over a year since his last publicly disclosed face-to-face meeting with the royals.
Dickie Arbiter, Queen Elizabeth II's former press secretary, said on Twitter: "The #Sussexes might have paid rent in advance for #FrogmoreCottage but as they've done a deal to allow Princess Eugenie and her husband Jack Brooksbank to live there, isn't that a clear indication they have no intention of returning to the #UK?"