Why Meghan Markle and Prince Harry's Thanksgiving Follows a Life-Changing Year
Meghan Markle and Prince Harry's Thanksgiving marks an extraordinary milestone this year—after a life-changing 12 months.
The Duke and Duchess of Sussex spent the holiday with baby Archie in Canada last year and used it to drop their first hint they were spending time out of the U.K.
Up to that point, there had been gossip in the tabloids about a possible move to the country.
However, by adding a maple leaf to an Instagram post they gave their first concrete indication they were out of Britain.
A picture alongside the emoji read: "Wishing you a very happy Thanksgiving from our family to yours."
The time away from a toxic situation ultimately led to seismic upheaval that carried them out of the royal family and into a new life in California.
Thanksgiving with Doria
Meghan and Harry flew out in mid-November to an $18 million estate on Vancouver Island in time for Thanksgiving. Meghan's mother Doria Ragland came to visit.
Biography Finding Freedom described how the couple had to baby-proof their temporary home, since Archie at six months was already standing and walking while holding onto furniture.
Authors Omid Scobie and Carolyn Durand describe how they added additional fencing to "paparazzi proof" the property and settled in to plan their futures together.
The book states: "The Christmas decorations were not going up yet.
"They still had Thanksgiving to think about, and Meghan's mother, Doria, was preparing at that moment to travel from her home in LA to the estate in Victoria.
"Meghan and her mother, who couldn't wait to see her Archie, had been excitedly exchanging texts before the trip.
"Her grandson was growing fast and had gotten much taller since she last saw him in the summer."
Christmas in Canada and a very New Year
Finding Freedom describes how the couple contacted Prince Charles, Harry's father, and Queen Elizabeth II, his grandmother, before Christmas to let them know they were planning a different future.
The book describes how they gave only a rough outline of their plans to have a different working relationship with more time spent abroad, fearing the details would leak in the media.
Then in January they were due to meet the Queen to discuss more concrete plans.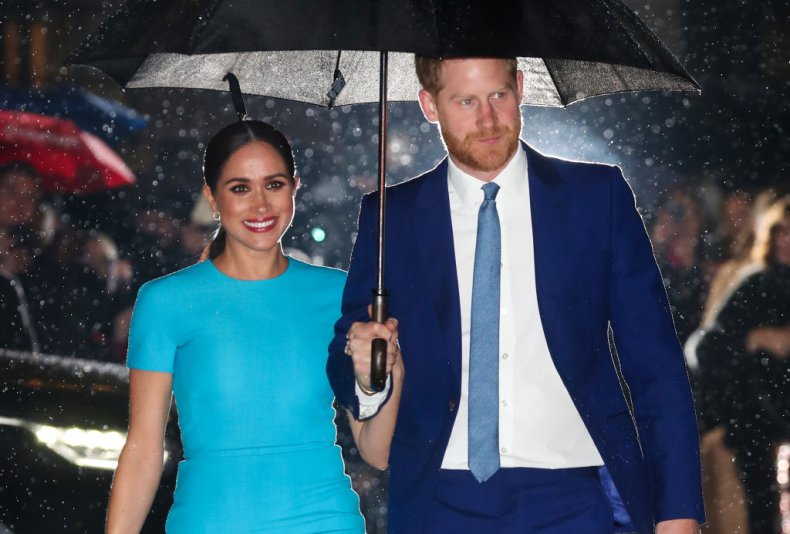 However, their proposals leaked to The Sun during a trip back to Britain at the beginning of the month, leading the couple to send their Sussex Royal website live.
It detailed a road map for how they saw their future, continuing to represent the Queen while also living independently.
An Instagram post at the same time read: "After many months of reflection and internal discussions, we have chosen to make a transition this year in starting to carve out a progressive new role within this institution.
"We intend to step back as 'senior' members of the Royal Family and work to become financially independent, while continuing to fully support Her Majesty The Queen."
The ensuing negotiations with the royal family proved complicated but the two sides eventually thrashed out a deal involving a 12-month transition period.
They committed to no longer using their titles and to dropping their Sussex Royal foundation.
The new regime came into force in April, with the couple no longer representing the queen but free to earn their own money and live independently.
Relocating to California
After performing their final royal engagements in March, Harry and Meghan moved to California, initially living in Tyler Perry's Los Angeles mansion.
By June, it was clear the new regime was going to see a new, more outspoken version of the royal couple.
Meghan used a speech for graduating students of her old high school, Immaculate Heart, to speak out about the death of George Floyd while detained by police.
As America erupted in protests, she said: "As we've all seen over the last week, what is happening in our country and in our state and in our hometown of LA has been absolutely devastating.
"And I wasn't sure what I could say to you.
"I wanted to say the right thing and I was really nervous that I wouldn't or that it would get picked apart and I realized the only wrong thing to say is to say nothing.
"Because, George Floyd's life mattered and Breonna Taylor's life mattered and Philando Castile's life mattered and Tamir Rice's life mattered and so did so many other people whose names we know and whose names we do not know.
"Stephon Clark, his life mattered."
The summer saw the couple speak regularly on the subject of racial injustice and join the campaign Stop Hate for Profit, which called for ad boycotts against Facebook.
However, the period was not without heartache.
"I knew, as I clutched my firstborn child, that I was losing my second."
Meghan this week revealed she lost her second child to a miscarriage in July—though she kept the tragedy secret at the time.
Prince Harry told other members of the royal family, who were supportive, but did not tell fans.
Yesterday, the New York Times published an article by Meghan titled "The Losses We Share," in which she described how her life changed on a seemingly normal day.
She wrote: "It was a July morning that began as ordinarily as any other day: Make breakfast. Feed the dogs.
"Take vitamins. Find that missing sock. Pick up the rogue crayon that rolled under the table. Throw my hair in a ponytail before getting my son from his crib.
"After changing his diaper, I felt a sharp cramp. I dropped to the floor with him in my arms, humming a lullaby to keep us both calm, the cheerful tune a stark contrast to my sense that something was not right.
"I knew, as I clutched my firstborn child, that I was losing my second.
"Hours later, I lay in a hospital bed, holding my husband's hand. I felt the clamminess of his palm and kissed his knuckles, wet from both our tears.
"Staring at the cold white walls, my eyes glazed over. I tried to imagine how we'd heal."
Mega Netflix Deal and Financial Independence
Meghan and Harry signed a mega multi-year Netflix deal estimated by Professor Johnathan Shalit, founder of InterTalent Rights Group, to be worth around $50 million to $100 million plus bonuses.
The couple said in a statement: "Our focus will be on creating content that informs but also gives hope.
"As new parents, making inspirational family programming is also important to us."
On the back of the deal, Newsweek revealed the couple had stopped receiving money from Harry's father Prince Charles.
The move meant they had achieved the financial independence they had promised when they announced their split from royal duties in January.
The same day our story broke, they announced they had repaid public money spent on their U.K. residence, Frogmore Cottage.
The past year has also seen them announce their new charitable foundation, Archewell, although the full, official launch is yet to take place.