Name the Racist Royal, Lift the Cloud Over Charles and William, Campaign Tells Palace
Buckingham Palace must identify the royal facing racism allegations rather than leave suspicion hanging over future "King Charles" and Prince William, campaigners tell Newsweek.
Meghan Markle and Prince Harry's bombshell interview with Oprah Winfrey saw the couple claim a family member commented on how dark their child's skin would be.
Meghan said in the prime time special on Sunday: "All around this same time, we have in tandem the conversation of he won't be given security, he's not going to be given a title and also concerns and conversations as how dark his skin might be when he's born."
Off camera, they ruled out Queen Elizabeth II and Prince Philip but left the stage open for a guessing game over who made the incendiary remarks.
The palace was today yet to respond to the allegations amid claims in U.K. newspaper The Times that the monarch stopped a statement going out yesterday, saying she needed more time to consider her response.
Now campaigners are saying the public have a right to know whether the accusation targets either of Britain's future heads of state: Prince Charles and Prince William.
Harry's father Charles is next in line to the throne and Elizabeth, 94, has already begun the process of handing some of her responsibilities to him as she advances in age.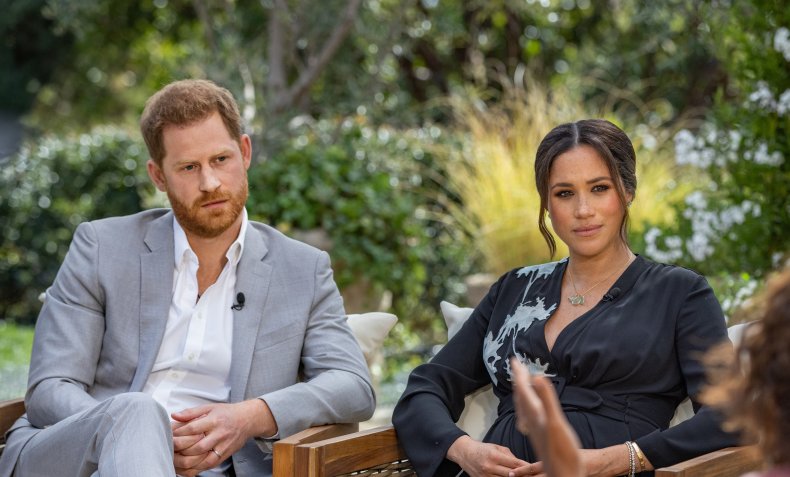 Prince William would be next in line after that when the 72-year-old Prince of Wales either steps back or passes away.
Graham Smith, chief executive of Republic, said: "The palace needs to be open and say 'serious accusations have been made, here's what's happened and we'll be looking into it.'
"They were very keen to investigate accusations of bullying against Meghan last week
But if they remain silent on accusations of racism I think that speaks volumes about their priorities and their agenda.
"There can't be that many people that it could be, I think it's unlikely that it would have been talked about if it was someone a long way down the line of succession.
"I think the implication is that it was someone senior and they have said it wasn't the queen or Prince Philip and that kind of narrows it down a bit.
"There are serious questions about who that might be because at some point in the next few years the monarchy is going to be reduced, King Charles and Prince William.
"They haven't said who it is and if this hasn't been cleared up there's always going to be this lingering doubt over whether it is one of them and that's not really okay."
On CBS This Morning yesterday, Gayle King told Oprah: "There's a big guessing game all around the world: 'Who was it, who was it, who was it?'"
Oprah replied: "He did not share the identity with me but he wanted to make sure that I knew and, if I had the opportunity to share it, that it was not his grandmother nor his grandfather that was a part of those conversations."
The Queen is not only Britain's monarch but also head of the Commonwealth and remains sovereign to 16 countries, including many in the Caribbean and Indian Ocean.
These include: Antigua and Barbuda, Barbados, The Bahamas, Belize, Grenada, Jamaica, Papua New Guinea, Saint Lucia, Solomon Islands, St Kitts and Nevis, and St Vincent and the Grenadines.
Barbados announced in September it intended to remove the queen as head of state in order to "leave our colonial past behind."
Two months earlier, Harry had been criticized for saying there is a need to acknowledge the past in order for the Commonwealth to move on.
In a video for the Queen's Commonwealth Trust, the Duke of Sussex said in July: "When you look across the Commonwealth, there is no way that we can move forward unless we acknowledge the past."
Journalist Gordon Rayner, from the Daily Telegraph, wrote on Twitter: "As my colleague @rmendick has pointed out, unless Harry & Meghan name the 'racist' royal, the other members of the Royal family would have a clear-cut libel case against them as they have put them all under suspicion."
Media law trainer David Banks posted: "Well, it depends on how one defines the family—if it is the wider family with sons daughters etc, that is too big a group to sue for group libel.
"If you're saying the inner circle, then yes they could. But, a massive BUT, it will never happen. Ever."