Meghan Markle's Podcast on Spotify Set To Launch Despite Joe Rogan Drama
Meghan Markle's first solo podcast is due to begin with a release this summer, following ongoing discussions regarding the prevention of spreading misinformation between the duchess' Archewell Audio production company and Spotify.
An Archewell Audio spokesperson told Newsweek that it is "encouraged by ongoing conversations" with Spotify after Prince Harry and Meghan raised concerns in January regarding COVID-19 vaccine misinformation which was broadcast on the streaming platform.
A statement from Meghan and Harry's Archewell charity in January, tweeted by royal author Omid Scobie, read: "Since the inception of Archewell, we have worked to address the real-time global misinformation crisis... Last April, our co-founders began expressing concerns to our partners at Spotify about the all too real consequences of COVID-19 misinformation on its platform.
"We have continued to express our concerns to Spotify to ensure changes to its platform are made to help address this public health crisis. We look to Spotify to meet this moment and are committed to continuing our work together as it does."
This statement was prompted by a wave of public backlash against Spotify podcast host Joe Rogan. The comedian was accused of using his platform to spread misinformation about the COVID-19 vaccine. The comments on The Joe Rogan Experience podcast in 2021, which included the host saying that he would not advise a young "healthy" person to get the COVID-19 vaccine, caused artists, lead by Neil Young, to boycott Spotify and call for their music to be removed from the streaming platform earlier this year.
Meghan and Harry signed a lucrative contract with the streaming giant in 2020 and produced a festive special episode of their new joint podcast that same year.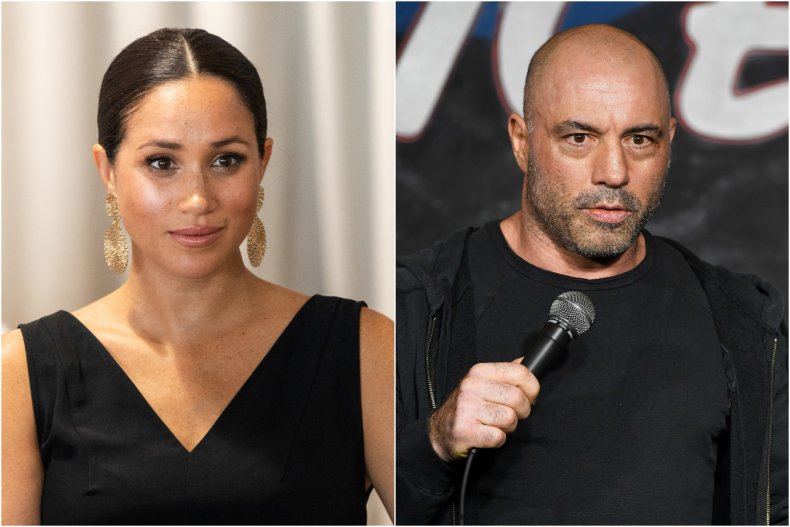 It was subsequently announced by the couple that Harry and Meghan would "host and produce podcasts that build community through shared experience, narratives, and values." This was seen to be in potential jeopardy amid the Joe Rogan controversy as both Meghan and Harry have been passionate advocates for vaccine equality since the start of the pandemic.
The situation prompted Harry to discuss the Rogan commentary during a conversation with Dax Shepard at the Vax Live concert in May 2021. The prince said that the likes of Rogan should "just stay out of it. If you have a platform, with a platform comes responsibility."
The Rogan drama has caused the royals, through their production company, to closely evaluate Spotify's mission and values moving forward.
A spokesperson for Archewell Audio told Newsweek: "As we all continue to tackle the misinformation era, Archewell Audio has found it important to work with our partners at Spotify to ensure that the digital technologies so many of us use every day are rooted in strong principles of trust and safety.
"We are encouraged by ongoing conversations we've had with Spotify on this shared goal and have been working closely with their team—as well as their senior leadership—towards policies, practices, and strategies meant to raise creator awareness, minimize the spread of misinformation, and support transparency."
The statement goes on to say that Meghan's "groundbreaking first podcast series" is set to launch this summer.
The Sussex's had received criticism online for the lack of content produced since signing the deal with Spotify in 2020. So far the couple has released only one 33-minute episode of their joint podcast in December of that year. In the episode, Harry and Meghan established their hopes for the future of the project, reminisced about their wedding day and spoke to celebrity friends including James Corden, Elton John and Tyler Perry.
This year is set to be a busy one for the royal couple's media output. Meghan's podcast announcement comes as Harry prepares to produce a documentary series with streaming platform Netflix following this year's Invictus Games in the Netherlands. Harry's much anticipated memoir is also due for publication later this year.