One of the most shocking revelations from Meghan Markle and Prince Harry's Oprah interview was the Duchess of Sussex opening up about feeling suicidal amid intense tabloid scrutiny and a lack of support from the royal family. Coincidentally, her comments came as Prince William and Kate Middleton took part in a conversation around the importance of mental health for a suicide helpline.
Meghan told Oprah Winfrey that while in the royal family she had "methodical" thoughts about ending her life, and that and one point she "didn't want to be alive anymore" but that when she approached senior officials to get for help she was told it wouldn't look good.
"And that was a very clear and real and frightening constant thought," she said. "And I remember, I remember how [Harry] just cradled me and I was... I went to the institution, and I said that I needed to go somewhere to get help. I said that I've never felt this way before and I need to go somewhere. And I was told that I couldn't, that it wouldn't be good for the institution."
Speaking about a photo from that same day where she had those suicidal thoughts, Markle said: "And I zoomed in, and what I saw was the truth of what that moment was. Because right before we had to leave for that, I had just had that conversation with Harry that morning."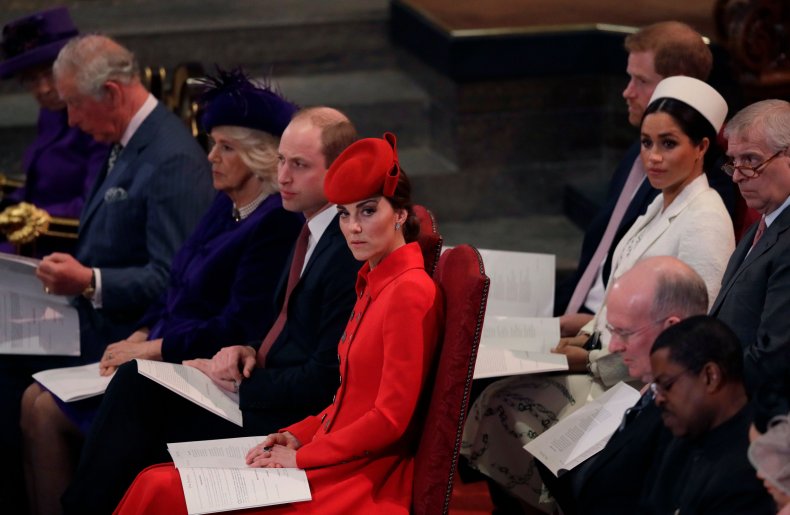 Harry tried to convince her not to go to the event, she said. But Markle said she told him she couldn't "be left alone."
"And that picture, if you zoom in, what I see is how tightly his knuckles are gripped around mine," she continued. "You can see the whites of our knuckles, because we are smiling and doing our job, but we're both just trying to hold on.
"And every time that those lights went down in that royal box, I was just weeping, and he was gripping my hand."
She also explained that she reached out to a friend of Princess Diana.
"Yes, this was very clear and very scary. I did not know who to turn to," Markle said. "One of the people I reached out to, who has been a friend and a confidante, was one of Diana's best friends. Who else could understand what it is actually like on the inside."
Markle's comments come just days after the Duke and Duchess of Cambridge participated in a campaign for suicide helpline, Shout 85258.
The royal couple shared a clip of a video chat they had with a family whose son's life was saved by the confidential phone service that provides help and assistance for those who may be struggling with their emotional or mental health.
"This service is doing exactly what we hoped it would, which is be there for families in crisis," said Prince William during the conversation. "It's nice to be able to speak to you directly and hear about what has gone on here, how it has helped you, and really what it has done."
The couple founded Heads Together, a mental health initiative that combines a campaign to tackle stigma and change the conversation on mental health with fundraising for a series of innovative new mental health services.
If you have thoughts of suicide, confidential help is available for free at the National Suicide Prevention Lifeline. Call 1-800-273-8255. The line is available 24 hours, every day.