Meghan Tries to Swerve 'Spectacle' of Father's Testimony Against Her
Meghan Markle's lawyers are attempting to block moves by her half-sister to depose their father Thomas Markle in a defamation lawsuit.
The Duchess of Sussex is being sued by Samantha Markle over her interview with Oprah Winfrey and material published in a biography, Finding Freedom.
Lawyers for Samantha have indicated they want to depose (testify to under oath or by sworn affidavit) Thomas Markle between October 5 and 21, and are also seeking testimony from Prince Harry and Oprah herself.
However, Meghan's team have asked the judge to halt the process of collecting and releasing evidence, known as discovery, until after a ruling on whether the lawsuit should be thrown out.
Their motion argues the duchess did not make the statements in Finding Freedom, which was written by Omid Scobie and Carolyn Durand, and that her statements to Oprah about her relationship with her half-sister were "non-actionable opinion that are also substantially true."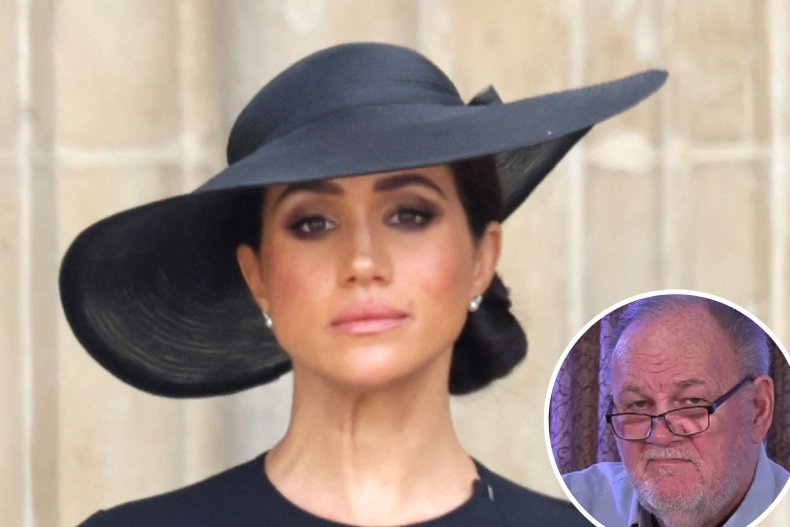 Their filing read: "A deposition of Mr. Markle at this juncture, along with other discovery, would be an unnecessary spectacle and waste of the parties' time, money, and resources.
"[Samantha Markle] should not be permitted to force Meghan and, potentially, numerous non parties to devote substantial resources to extraneous discovery while a meritorious motion that could dispose of the entire case is pending."
Her lawyers added that Meghan was "exercising fundamental First Amendment rights" to free speech and added that allowing discovery to take place now, when the case could be thrown out anyway, would be unfair.
The filing read: "As discussed below, discovery in this case should be stayed pending resolution of the Motion to Dismiss because (1) the Motion is clearly meritorious and will dispose of the case; (2) a brief stay of discovery will not prejudice or harm [Samantha Markle]; and (3) discovery will harm Meghan, other non-parties, the Court, and the interests protected by the First Amendment."
It is unclear whether Samantha will succeed in all her requests for depositions but the list of potential witnesses is substantially longer than in Prince Andrew's sexual abuse lawsuit brought by Virginia Giuffre.
The Duke of York was accused of raping Giuffre when she was a 17-year-old Jeffrey Epstein sex trafficking victim. He settled out of court while completely denying the allegations.
That case was set to involve only a handful of depositions, including from a former aide of the royal and a woman who said she saw him in a London nightclub.
The filing by Meghan's team read: "In addition to the parties, she [Samantha] identified a whopping 19 non-party witnesses, including Prince Harry, Meghan's mother, Oprah Winfrey, and several journalists/media personalities who reside in the United Kingdom, including Scobie and Durand, the authors of Finding Freedom."