Meghan McCain Rebukes Kamala Harris Over 'Joker Laugh' After Border Visit Question
The View co-host Meghan McCain hit out at Vice President Kamala Harris for laughing when a reporter pressed her on when she would visit the U.S. border with Mexico amid the ongoing crisis.
The conservative commentator said the situation was "not funny" and accused the vice president of having a "nervous joker laugh" when she was interrupted as she began to answer a question about the border.
"That nervous joker laugh... it's not funny Vice President," she tweeted Friday. "None of this is."
The co-host also shared a clip of Harris in an interview with the Spanish-language broadcaster Noticiero Univision. "I've said I'm going to the border," the vice president said at the start of the clip.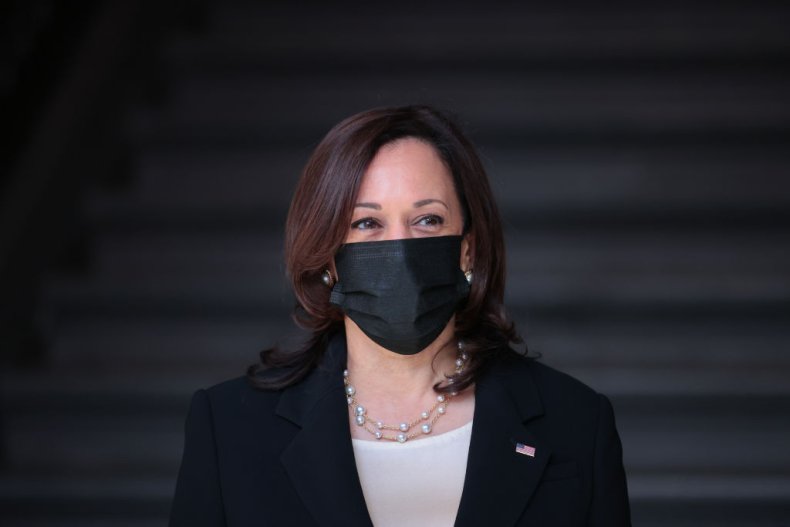 She was then interrupted by the Noticiero Univision host. "When are you going to the border, vice president?" she asked. "I'm not finished," Harris replied with a nervous chuckle in the clip. "I've said I'm going to the border."
She then added in a longer clip: "If we are going to deal with the problems at the border, we have to deal with the problems that cause people to go to the border. To flee to the border. And that is the root causes.
"So, my first trip as vice president of the United States was to go, in terms of a foreign trip, to Guatemala. To be on the ground there to address and be informed of the root causes. Why are the people of Guatemala leaving?"
Newsweek has contacted the White House for further comment.
Harris urged migrants not to come to the U.S.-Mexico border during a two-day visit earlier this week to Guatemala and Mexico, two countries at the root of migration to the U.S.'s southwestern border.
Speaking at a news conference on Monday, the vice president said: "I want to be clear to folks in this region who are thinking about making that dangerous trek to the United States-Mexico border: Do not come. Do not come."
The message appeared to mark a shift in the administration's immigration policy, and drew the ire of some progressives in the Democratic caucus. Rep. Alexandria Ocasio-Cortez (D-NY) said the statement was "disappointing."
Rep. Rashida Tlaib went a step further and referred to the Biden administration's position on immigration from Mexico and Guatemala as the "stay there and die" position.
However, some Texas and Arizona border mayors praised Harris' speech, with the mayor of Presidio, John Ferguson, telling Newsweek that it was "the best thing she could offer right now."