Meghan McCain Recounts 'Weird' Call From Trump Amid His Attacks on Her Dad
Meghan McCain has recounted a "weird" phone call she received from former President Donald Trump following reports he had mocked her terminally ill father, Senator John McCain.
Trump had a well-documented feud with fellow Republican John McCain, and even continued to criticize the Vietnam veteran after his 2018 death from brain cancer.
But Meghan McCain has revealed that she received a phone call from Trump to deny a report in 2017 that he had physically mocked her father's walk, which was affected from the torturing he had endured as a prisoner of war.
Making an appearance on Watch What Happens Live With Andy Cohen on Thursday, McCain shared details of Trump's phone call to her, which she has also recounted in her new book, Bad Republican.
When asked by host Andy Cohen why the former president had contacted her, she said: "He called because there was a report in Axios by Mike Allen that he had been making fun of my dad's injuries."
She went on: "It had been reported that [Trump] was making fun of him. I tweeted, 'What more must my family be put through right now?' And then I got a phone call, a voice message, that was like, 'President Trump would like to speak to you.'
"I was like, 'Haha... No!' And then I called my dad and told him what happened and he was like, 'You have to respect the White House and you have to respect him.' And I was like, 'I don't think I can hold back.'"
Respecting her father's wishes, Meghan McCain took the call and ended up speaking with both the then-president and his wife, Melania Trump.
"It was a very weird conversation," the former The View panelist shared. "He said, 'It's all fake news. It's a lie. I never did that.' And then he put Melania on the speakerphone.... and then she said, 'We love you.' I was like, 'No you don't! I don't know what this is.'
"It was very uncomfortable, because it's the only time I ever had an interaction with them, and it was the closest they've ever come, I felt, to realizing what they were doing and the damage it caused."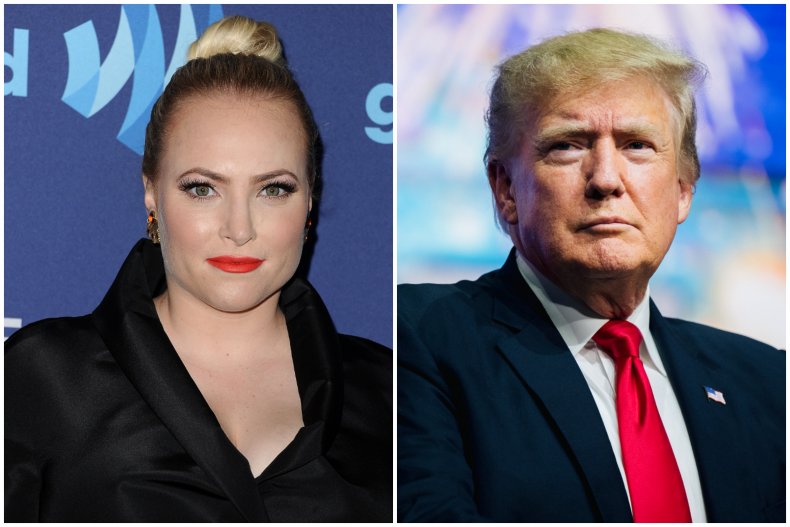 "And he lost Arizona, so all is well now," she quipped, referring to Donald Trump's loss in the 2020 presidential election.
In her book, per the Daily Mail, Meghan McCain described the phone call as "the weirdest experience because Trump had said so many things on the record trashing my dad, and now he was telling me that I shouldn't be mad about it.
"He wouldn't change his tactics either. He would go on to talk about my father over and over again, always in derogatory ways.
"For years he made a sport of beating the crap out of my family, and he didn't let up once he got into the Oval Office. Trump had supporters boo my father at a rally. He fought the lowering of the flag in my dad's honor when he died."
Reacting to seeing another attack aimed at her father by Trump as she wrote the manuscript for her book, Meghan McCain revealed: "I thought: Go to sleep a**hole it's 12:30 at night."
Also during her appearance on Watch What Happens Live, the mother-of-one criticized Trump's daughter, Ivanka Trump, and her husband, Jared Kushner, for attending her father's funeral.
"They should never have come," said Meghan McCain, who referred to the couple as "funeral crashers" in her book. "They had no business being there. I remember seeing them, and seeing her specifically. They had no goddamn business being there and it's something that still angers me, clearly."
During a speech at an Ohio military manufacturing plant in 2019, Donald Trump voiced his frustration about John McCain's funeral.
"I gave him the kind of funeral he wanted, which as president I had to approve. I don't care about this, I didn't get a thank you—that's OK. We sent him on the way, but I wasn't a fan of John McCain," Trump told the crowd.