Meghan McCain Slams Ivanka Trump, Jared Kushner For 'Crashing' Her Dad's Funeral
Meghan McCain has slammed Ivanka Trump and her husband, Jared Kushner, for attending her father John McCain's funeral in 2018.
The Arizona senator—who passed away on August 24, 2018, after fighting cancer for more than a year—was the target of numerous public verbal attacks from former President Donald Trump over the years.
While prominent politicians from both sides of the aisle were seen at John McCain's funeral, held at the Washington National Cathedral in Washington, D.C., Donald Trump did not attend, nor was he invited by the McCain family.
And in her new book, Bad Republican, Meghan McCain has referred to the former president's daughter and son-in-law as "funeral crashers."
She further addressed their presence at the service during an appearance on Watch What Happens Live With Andy Cohen, which aired on Thursday.
"They should never have come," the former View co-host said. "They had no business being there. I remember seeing them, and seeing her specifically. They had no goddamn business being there and it's something that still angers me, clearly."
Elsewhere, when asked by host Andy Cohen what motivated them to attend the funeral, the TV personality responded: "I've heard lots of different stories. One of my dad's old advisors told me that it was just like an event that they wanted to go to, because his funeral at the National Cathedral kind of ended up being this enormous moment.
"I was told that Lindsey Graham invited him. I have been told many different things from many different people."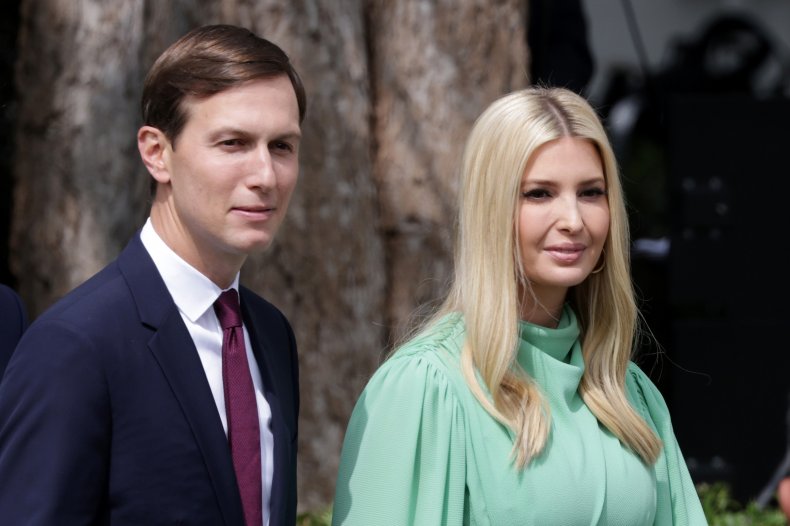 Meghan McCain had previously addressed the presence of the couple at her father's funeral during an appearance on The Late Show with Stephen Colbert in 2019.
Titular host Stephen Colbert asked whether she had been expecting the couple to be in the audience when she delivered her eulogy, a part of which was widely interpreted as criticism of the then-president.
She told the congregation at the time: "We gather here to mourn the passing of American greatness, the real thing, not cheap rhetoric from men who will never come near the sacrifice he gave so willingly, nor the opportunistic appropriation of those who live lives of comfort and privilege."
Speaking with Colbert about the service, McCain said: "A funeral is obviously a sacred time, and I thought that my family had made it clear, or at least I had that the Trumps are unwelcome around me and that my father had been clear about the line between the McCains and the Trumps.
"So I was surprised when they were there, and it made me uncomfortable. And I hope I made them uncomfortable, honestly, with everything."
Borrowing a line from rapper Cardi B, McCain added, "I really want it made very clear that the Trumps had beef with me then and, in the words of Cardi B, they have beef with me forever."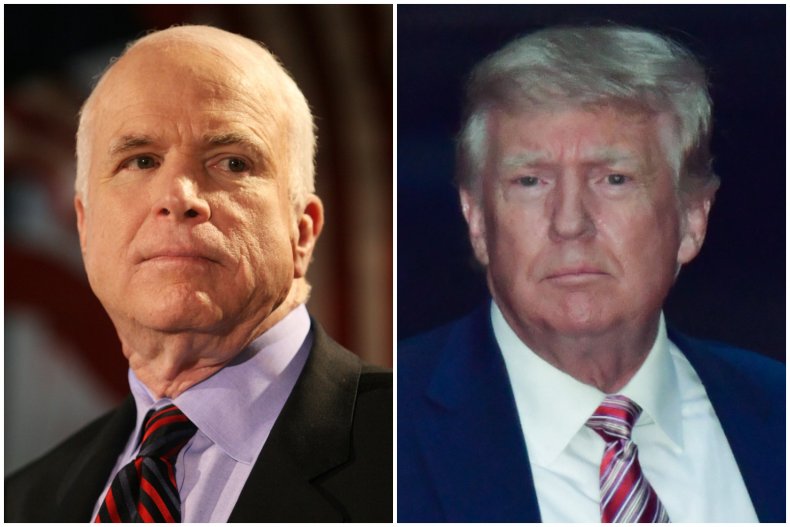 Donald Trump's attacks on fellow Republican John McCain were well documented over the years, and continued long after the two-time presidential candidate's death.
In 2019, Donald Trump made a speech at a military manufacturing plant in Ohio, during which he expressed frustration about John McCain's funeral.
"I gave him the kind of funeral he wanted, which as president I had to approve. I don't care about this, I didn't get a thank you—that's OK. We sent him on the way, but I wasn't a fan of John McCain," Trump told the crowd.
Vietnam veteran John McCain famously voted against a bill that would have repealed certain aspects of the Affordable Care Act in 2017, prompting the then-president to sarcastically tweet: "So great that John McCain is coming back to vote. Brave - American hero! Thank you John."