Meghan McCain Hopes She Made Ivanka Trump and Jared Kushner 'Uncomfortable' at Father's Funeral: Her 'Beef' With Trump Family Is 'Forever'
Meghan McCain hasn't forgiven Trump family members for attending her father John McCain's funeral, given the president's repeated attacks on the Arizona senator.
Speaking on The Late Show, she told Stephen Colbert she wished Ivanka Trump and Jared Kushner had not attended the service out of respect for her father. McCain died August 24 last year at the age of 81, after ending treatment for the brain cancer he fought for more than a year.
Colbert asked The View co-host if she had been expecting the president's daughter and son-in-law to be sitting in the audience when she delivered her eulogy at the funeral. President Donald Trump did not attend, reportedly opting to play golf.
In remarks widely interpreted as a criticism of Trump, she told mourners: "We gather here to mourn the passing of American greatness, the real thing, not cheap rhetoric from men who will never come near the sacrifice he gave so willingly, nor the opportunistic appropriation of those who live lives of comfort and privilege."
McCain told Colbert she hadn't thought the couple would show up and said she hasn't forgiven them for doing so. "A funeral is obviously a sacred time, and I thought that my family had made it clear, or at least I had," she said, "that the Trumps are unwelcome around me and that my father had been clear about the line between the McCains and the Trumps.
"So I was surprised when they were there, and it made me uncomfortable. And I hope I made them uncomfortable, honestly, with everything," McCain said.
Borrowing a lyric from rapper Cardi B to describe her feelings toward the president's daughter and her husband, McCain added, "I really want it made very clear that the Trumps had beef with me then and, in the words of Cardi B, they have beef with me forever."
Cardi B made headlines for criticizing Trump back in January after she blasted his plans for a U.S.-Mexico border wall. "You promised these fucking racist rednecks that you was gonna build the wall, but you know that was impossible," Cardi B told her fans in a video released during the recent 35-day government shutdown.
The president criticized John McCain repeatedly over his term, particularly after the senator voted against a bill that would had repealed certain aspects of the Affordable Care Act. "So great that John McCain is coming back to vote. Brave - American hero! Thank you John," Trump wrote in a presumably sarcastic tweet.
Months after his death, the president continues to insult McCain. On Tuesday, The New York Times reported that he criticized the Vietnam veteran during a private lunch with TV anchors. "By the way," Trump reportedly said after bringing up the health care vote, "he wrote a book and the book bombed."
"The president's obsession with my father 6 months after his death is pathetic and telling," Meghan McCain tweeted Tuesday. "Even at a time when he should be focusing on his message to the American public and the state of our union - the greatness of my father's life and legacy haunts you."
Earlier this week, McCain slammed Trump's executive time–heavy schedule on an episode of The View. "We know in real time that he's watching morning shows like Fox & Friends because he tweets in response to it in the morning," she said. "Some of this we can intuit just by reading his Twitter and having a brain."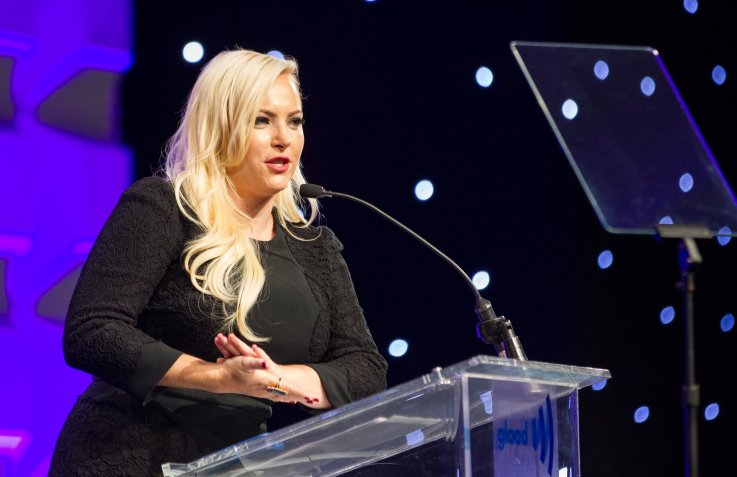 Meghan McCain Hopes She Made Ivanka Trump and Jared Kushner 'Uncomfortable' at Father's Funeral: Her 'Beef' With Trump Family Is 'Forever' | U.S.