Megyn Kelly 'Gagging on the Narcissism' of Meghan Markle's 'Diva' Podcast
Meghan Markle's Spotify podcast about divas had Megyn Kelly "gagging on the narcissism," the latter said in a clip that went viral on TikTok.
The former Fox News anchor reacted to the Duchess of Sussex "squirming" at the thought she could be viewed as a "diva."
During a segment on The Megyn Kelly Show, on Sirius XM, the host said: "I'm gagging on the narcissism."
In the clip, which initially aired on August 30 and has since been viewed 2.3 million times on TikTok, she added: "She can't understand why anyone would think she's a diva? I mean, let me count the ways. During the queen's jubilee she's making sure to put the window down so everyone can get her photograph, right?
"And she's always got to be wearing Princess Diana's jewelry and she's got to have just the right angle and photographer and she'll only deal with this certain stenographer, press guy, Scobie, whatever his name is."
Meghan and Prince Harry were barred from the Buckingham Palace balcony appearance during Queen Elizabeth II's Trooping the Colour ceremony on the opening day of her Platinum Jubilee. They were given permission to join some of the less prominent royals in a side office. Meghan was photographed watching from the window.
Omid Scobie wrote the bombshell Meghan and Harry biography Finding Freedom and has broken many updates about the couple through his Twitter account.
"She sues every magazine that writes something negative about her," Kelly continued. "She pulls the meanest comment about herself, tries to blow it up into what a victim she's been because she's only used to the good things being said about her.
"I mean, the fact that she didn't want to live in the royal cottage, in Frogmore, it wasn't good enough for her, they had to redo it on the taxpayer dime. All of it, I could keep going.
"And now to be like, 'oh, the indignation. My God, thank God it was just about my appearance. Thank God. That I understand. Look at me.'"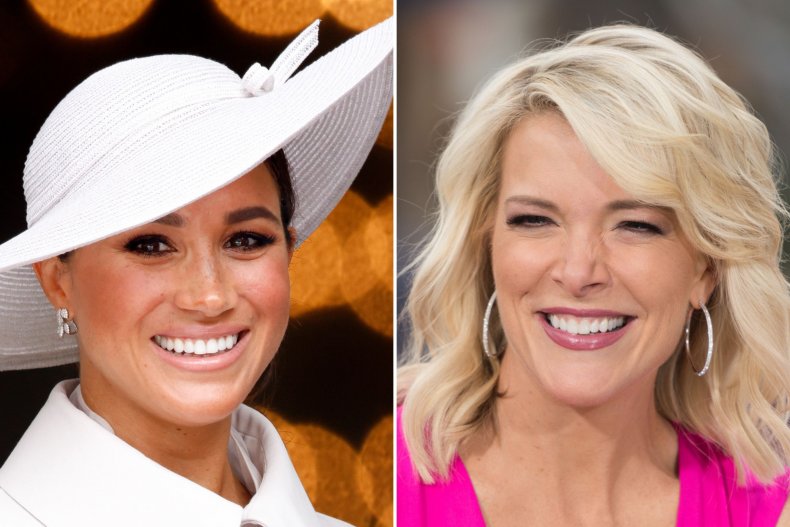 The Duchess of Sussex had interviewed pop star Mariah Carey about the negative stigma attached to the word "diva" during the second episode of her Archetypes podcast, titled "The Duality of Diva."
The show included a moment in which Carey said: "You give us diva moments sometimes Meghan, don't even act like..."
The duchess wrapped up the show by revealing she had initially bristled at the brief exchange, fearing she was being criticized, before realizing Carey was talking about a diva aesthetic.
Meghan said: "You couldn't see me obviously but I started to sweat a little bit. I started squirming in my chair in this quiet revolt like 'wait, what, no, what? How could you? That's not true. Why would you say that?'
"My mind genuinely was just spinning with what nonsense she must have read or clicked on to make her say that. I just kept thinking in that moment, was my girl crush coming to a quick demise? Does she actually not see me?"
Newsweek has contacted Meghan Markle and Megyn Kelly through Sirius XM.
Carey tweeted about the exchange on Friday, September 2: "Really enjoyed talking to Duchess and Diva Meghan Markle about 'The Duality of Diva.'
"Yes! I called her a diva, in the most fabulous, gorgeous, and empowering meaning of the word!!!"
Meghan and Harry's U.K. home Frogmore Cottage was transformed from separate apartments for Windsor-based royal staff into a single home using £2.4 million (nearly $2.8 million today) of public money.
The interior decoration was paid for by Meghan and Harry privately, and her legal team previously suggested allegations the refurbishing was at public expense were "false."
In a separate segment, Kelly said: "The only reason we know who you are is because you married into the royal family.
"No one knew you as back up girl number 40 on [comedian] Howie Mandel's game show and nobody but a few people in Toronto knew you from your show Suits.
"We were all focused on the hot guy who was the lead in all of the advertising but we never clicked in to watch the show and you.
"We knew you because you married into the royal family which you now cannot stop bashing, just for the record."