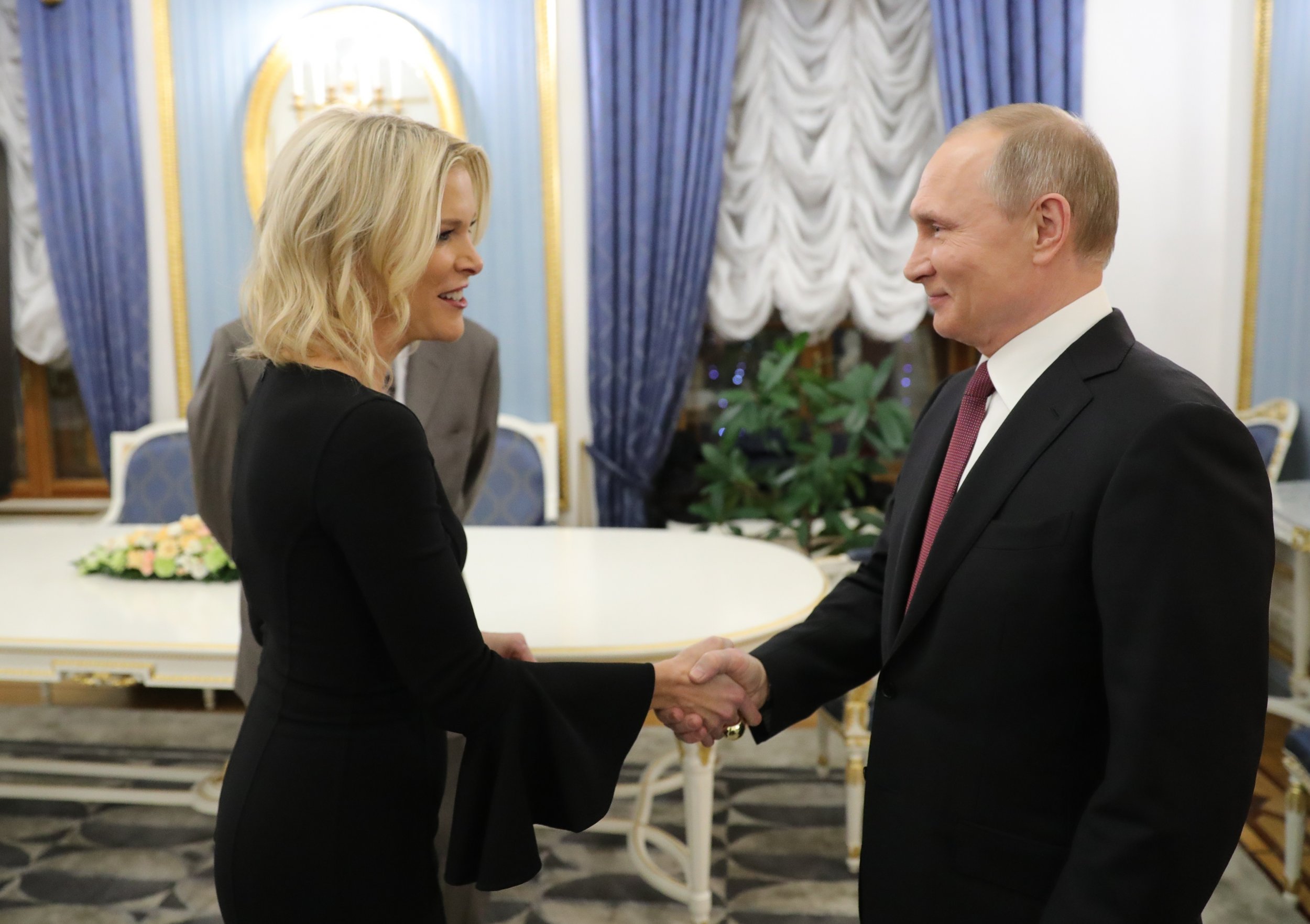 A Russian television anchor has invited Megyn Kelly to host a television show in Moscow after she was dropped from NBC due to controversial comments on race.
Kirill Kleimenov, a presenter on Russia's semi-official Channel 1 news station, defended Kelly's remarks, in which she defended white people dressing in blackface for Halloween during a discussion Tuesday on her NBC show Megyn Kelly Today. Addressing her as "dear Megyn," Kleimenov said she should "stop giving a damn" about her bosses and join him in hosting the Vremya evening newscast.
"Come to Russia, to the heroic city of Moscow. Come straight to the studio, we will host Vremya together. You will be loved by millions of Russian men, while a million women will be jealous of you," Kleymenov said as translated by The Moscow Times.
The channel later reportedly said the offer was made in jest, but that it would seriously review her resume should she apply. It also drew a response from the Kremlin.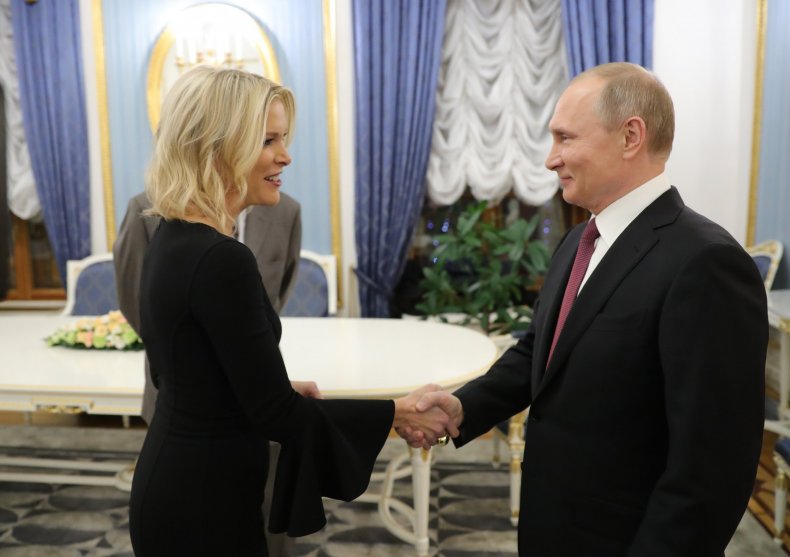 Asked about his thoughts on the matter, Russian presidential spokesperson Dmitry Peskov responded, "you know, her salary is very big" at a press conference that same day. He joked that Russian state-run television channels may not have the budget to cover Kelly's contract, but said that—as a journalist—"her employment doesn't concern the Kremlin," as reported by Russia's government-owned RIA Novosti media outlet.
Peskov praised Kelly's interview with Russia President Vladimir Putin in March, calling it "dynamic and energetic." The segment, entitled "Confronting Putin," saw the Russian leader deny persistent allegations that he attempted to influence the 2016 U.S. presidential election in favor of President Donald Trump and call for better relations between the two countries.
She previously interviewed Putin in June of last year, when he compared what he viewed as anti-Russian hysteria in the U.S. to anti-Semitism, saying "an idiot cannot do anything himself, so the Jews are to blame. But we know what such attitudes lead to. They end with nothing good."
Kelly has apologized for the remarks that cost her her job earlier this week. After facing social media backlash for a panel discussion in which she said, "you do get in trouble if you are a white person who puts on blackface on Halloween, or a black person that puts on whiteface for Halloween. Back when I was a kid, that was OK, as long as you were dressing up as, like, a character" during a debate on "what is racist" on Halloween, Kelly said the following day she had "never been a 'PC' kind of person" but understood "we do need to be more sensitive in this day and age" in an internal email.
"I realize now that such behavior is indeed wrong, and I'm sorry. The history of blackface in our culture is abhorrent; the wounds too deep," Kelly wrote.
On Friday, NBC said in a statement that "Megyn Kelly Today is not returning." Vanity Fair reported that Kelly, who has a history of making controversial comments regarding race, may be seeking to return to Fox News, citing a source at the station she worked at for 13 years prior to switching to NBC.