All the Times Mel Gibson Has Been Accused of Anti-Semitism and Racism
Mel Gibson is facing backlash once again for alleged anti-semitic comments as actress Winona Ryder has opened up about him calling her an "oven dodger."
The Stranger Things actress, 50, opened up about the incident in an interview with The Sunday Times this week.
Ryder, who identifies as Jewish, recalled her run-in with the Braveheart star, explaining: "We were at a crowded party with one of my good friends, and Mel Gibson was smoking a cigar, and we're all talking and he said to my friend, who's gay, 'Oh wait, am I gonna get AIDS?' And then something came up about Jews, and he said, 'You're not an oven dodger, are you?'"
Newsweek has reached out to Gibson's representatives for comment in light of Ryder's claim.
However, the prolific Australian actor has faced similar controversies for racist and anti-semitic outbursts before.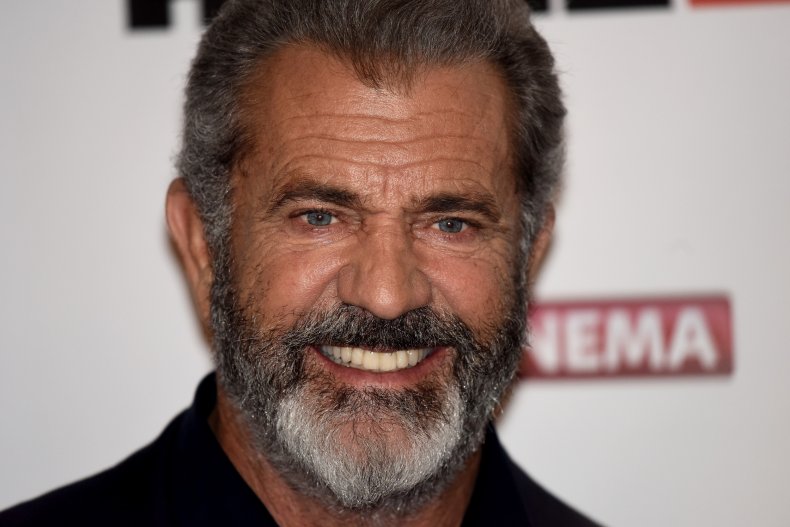 Here are all the times Mel Gibson has faced racism and anti-semitism accusations.
2004
Gibson's 2004 film The Passion of the Christ has been criticized for being anti-semitic, with The Anti-Defamation League (ADL) releasing a statement ahead of its release at the time that concluded by saying: "The Passion could likely falsify history and fuel the animus of those who hate Jews."
2006
In 2006, Gibson was forced to apologize to a Los Angeles police officer who claimed the actor had shouted abuse at him during an arrest, including a claim that "the Jews are responsible for all the wars in the world."
He later issued an apology asking Jewish people for forgiveness.
"There is no excuse, nor should there be any tolerance, for anyone who thinks or expresses any kind of anti-Semitic remark," Gibson said in a statement per the New York Times.
He continued, in part: "I want to apologize specifically to everyone in the Jewish community for the vitriolic and harmful words that I said to a law enforcement officer the night I was arrested on a D.U.I. charge. I am a public person, and when I say something, either articulated and thought out, or blurted out in a moment of insanity, my words carry weight in the public arena."
Abraham H. Foxman, the director of the ADL said at the time: "We're glad that he owned up that what he said was not only offensive, but bigoted. When he's finished with alcohol rehabilitation, we will be ready and willing to meet with him and to help him get rid of his other addiction, which is prejudice."
Speaking about the incident 10 years later on Variety's "Playback" podcast, Gibson said the arrest had been "recorded illegally."
"I was loaded and angry and arrested. I was recorded illegally by an unscrupulous police officer who was never prosecuted for that crime. And then it was made public by him for profit, and by members of—we'll call it the press. So, not fair. I guess as who I am, I'm not allowed to have a nervous breakdown, ever."
2010
Gibson faced backlash when in 2019, audio was released capturing an argument between the actor and his ex-girlfriend Oksana Grigorieva, in which he launches into a racist, sexist rant against her.
At one point on the tape, Gibson is heard saying: "You go out in public and it's a f***ing embarrassment to me. You look like a f***ing b**** on heat and if you get raped by a pack of n****** it will be your fault."
President of the Los Angeles NAACP, Leon Jenkins, commented on the tirade at the time, telling TMZ: "It's unfortunate a man who has made his millions off of women, African-Americans and Jews harbors such racist, sexist, and anti-semitic feeling against people who have admired and respected him for decades."
This same year, Ryder spoke about the "oven-dodger" comments made to her by Gibson, telling GQ: "I was with my friend, who's gay. [Gibson] made a really horrible gay joke. And somehow it came up that I was Jewish. He said something about 'oven dodgers', but I didn't get it. I'd never heard that before."
2013
In 2015, Fox News reported that Gibson gave an interview two years prior to former Republican speechwriter Peggy Noonan for Reader's Digest where he downplayed the number of Jews murdered in the Holocaust,
Of the Holocaust, Gibson told Noonan: "I mean when the war was over they said it was 12 million. Then it was six. Now it's four. I mean it's that kind of numbers game..."
2019
In 2019, Gibson shocked social media users when it was announced he will play a major role in Rothchild, an upcoming film chronicling a black sheep's attempt to get back into the good graces of a wealthy Jewish family.