Melania Trump Denies Buying Her Own NFT for $185,000
Melania Trump has denied buying her own NFT after an investigation found that the winning bid in the auction appeared to come from the project's creators.
An investigation by Bloomberg News revealed that a series of blockchain transactions show that the cryptocurrency used to purchase the NFT came from a wallet belonging to the entity that initially put the token up for sale.
Solana blockchain, a form of cryptocurrency, hosted the auction of Melania Trump's "Head of State Collection 2022."
The publication found transactional links on the Solana blockchain between Trump—or her team—and the winning bid.
The winning bid was 1,800 SOL [currently equivalent to $185,000].
Non-fungible tokens (NFTs) are unique digital tokens used to represent the ownership of items like art, collectibles and music.
In January, Trump launched an NFT that included a digital artwork of a white hat that she wore for a state visit in 2019.
In the same month, Trump's website published the address of the wallet that won the bid as well as the bid history.
This allowed crypto experts to trace where the payment originated from via these blockchain transactions.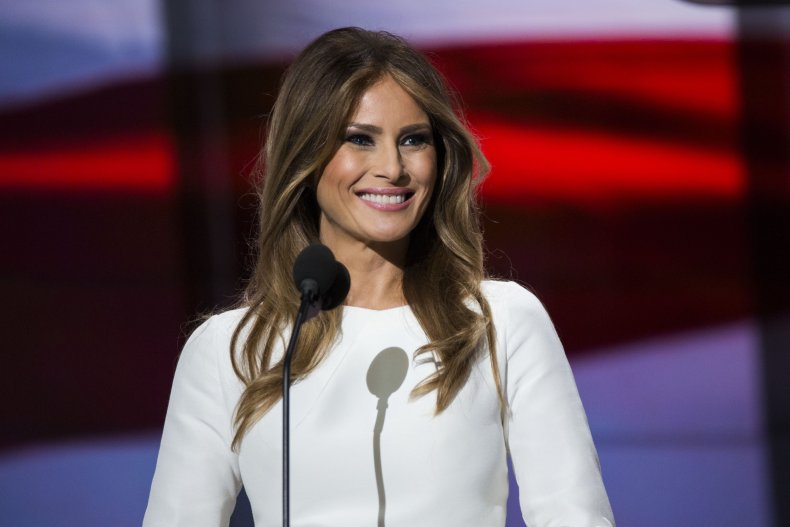 The former first lady has denied that the transaction came from her office.
"The nature of Blockchain protocol is entirely transparent," the Office of Melania Trump said in a statement to Bloomberg.
"Accordingly, the public can view each transaction on the Blockchain. The transaction was facilitated on behalf of a third-party buyer."
The former first lady made her foray into the world of non-fungible tokens late last year with the launch of her digital asset titled "Melania's Vision," which was available to purchase for a limited time.
The NFT was a digital artwork that "embodies Mrs. Trump's cobalt blue eyes, providing the collector with an amulet to inspire," according to a press release at the time.
Her office confirmed then that she planned to release more NFTs at "regular intervals" on the Parler-powered platform.
The tokens would be "a one-of-a-kind auction of historical importance scheduled in January 2022, including three elements: digital artwork, physical artwork, and a physical one-of-a-kind accessory."
She also stated that a portion of the proceeds would "assist children aging out of the foster care system by way of economic empowerment and with expanded access to resources needed to excel in the fields of computer science and technology."
NFTs have become an unusual status symbol, prompting much debate in recent months, as many internet users struggle to see their value.