How Did Melania Trump Secure 'Genius Visa' For 'Extraordinary Ability' While Dating the Future President?
Updated | Seventeen years ago, Melania Knauss was granted legal residency in the United States through a green card with the elite EB-1 program—dubbed the "Einstein visa"—reserved for those who demonstrate that they have "an extraordinary ability, are an outstanding professor or researcher, or are a multinational executive or manager."
Related: Are Melania Trump's Parents on Immigration Programs the President Wants to Cut?
At the time she was a Slovenian model who had appeared in European runway shows, the Sports Illustrated swimsuit edition and a Camel cigarette Times Square billboard. She was also dating Donald Trump.
The year the future first lady obtained legal residency, 2001, only five people from her home country got green cards through the EB-1 program, according to State Department statistics reported by The Washington Post on Thursday. That year, a fraction of one percent, just 3,376 of more than one million green cards issued, were granted to immigrants with "extraordinary ability," government data indicates.
It is unclear how Knauss—who married Trump in 2005—qualified for the so-called "genius visa," or "Einstein visa," as Bruce Morrison, a former Democratic congressman who wrote the Immigration Act of 1990 defining EB-1, calls it. Applicants "must be able to demonstrate extraordinary ability in the sciences, arts, education, business, or athletics through sustained national or international acclaim," according to U.S. Citizenship and Immigration Services. "Your achievements must be recognized in your field through extensive documentation."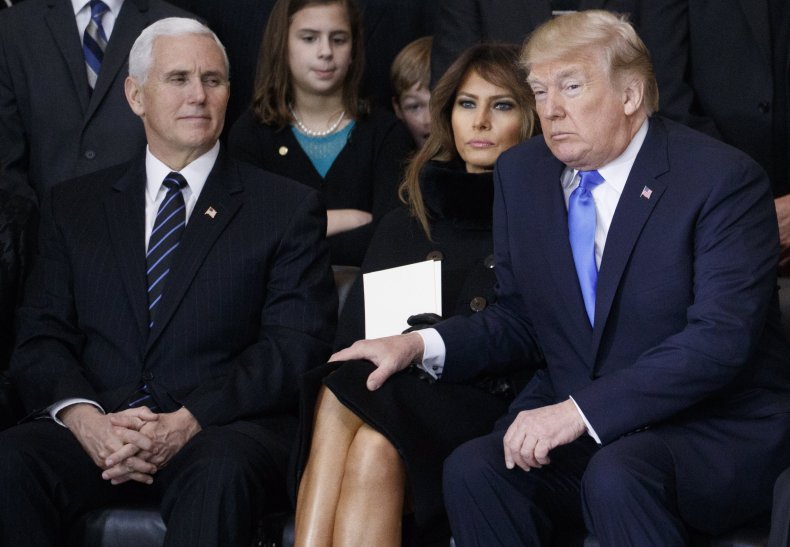 To do so, applicants need to meet three of 10 criteria, which include being showcased in artistic exhibitions, having material published in major publications and making original contributions to their field. Other acceptable criteria include commercial success and commanding an exceptionally high salary.
"What did she submit? There are a lot of questions about how she procured entry into the United States," immigration lawyer David Leopold told the Post.
Morrison added that her accomplishments when she applied for the visa appeared "inconsistent" with its requirements.
Michael Wildes, an attorney for Melania Trump and her family, defended the granting of the visa. "Mrs. Trump obtained her Green Card legally and was more than amply qualified and solidly eligible for the Extraordinary Ability Green Card," he said in an email to Newsweek Friday. "No further comment will be issued to protect Mrs. Trump's privacy."
The future first lady first came to the U.S. in 1996 on a visitor's visa and between October of that year and 2001, received five H-1B visas, Wildes said. Her husband, President Trump, has recently considered and implemented restrictions to the H-1B visa program for highly skilled foreign workers.
The first lady's ability to get a green card also enabled her to sponsor her parents Viktor and Amalija Knavs for legal residency and put them on the path to U.S. citizenship. The president has also vowed to end such sponsorship of immediate family, called "chain migration." In a November tweet, Trump wrote: "Some people come in, and they bring their whole family with them, who can be truly evil."
As a candidate for president, Trump said at an August 2016 rally in North Carolina that his wife came into the U.S. legally and promised she would hold a press conference in the following weeks to address accusations that she entered illegally.
"I said to her: 'No no, let it simmer for a little while. Let them go wild, let it simmer, and then let's have a little news conference,'" Trump said.
But such a press conference never materialized.
Melania Trump is not the only foreign-born model to have dated a famous, wealthy man and obtain the "genius visa." Canada native Shera Bechard, the ex-girlfriend of Playboy Enterprises founder Hugh Hefner, was granted one as well. Bechard's credentials included being named Miss November in Playboy magazine and starting an online photo-sharing craze named "Frisky Friday."
This story has been updated with further background on claims about Melania Trump's immigration history and a comment from her attorney to Newsweek.